This page is closed and is not accepting further donations
Recent donations
£20.00
Crazy and so courageous! Well done fam 💖👏🏼😘
3 months ago
Caz, Ian & Luca
4 months ago
Sidrah Ashraf

Fehmina Shah is raising money for England Amputee Football Association
Fehmina-Skydive-EAFA-2021
My story
Well what can I say but You're not alive until you Skydive
I am helping to raise money to support the England Amputee Football Association, their charity, the juniors and national squad and everyone involved. Such a great bunch of people of all ages who play mainstream and national and juniors who are the future of EAFA Football.
I'm really looking forward to jumping out of an aeroplane at 15,000 feet which by the way is the highest you can jump in the UK without the aid of oxygen.
So, please do try and make a small donation to show your support for me and everyone within the Oscar Onsite EAFA Skydive team.
MAIN TRACKER PAGE: https://donate.giveasyoulive.com/events/eafa-oscaronsite-skydive
CELEBRITY VIDEOS: https://www.youtube.com/channel/UCYYQIVJgLvdotmIB8Fay3EQ/videos
---
Thank you for checking out my page. Making a donation is fast, easy and secure thanks to Give as you Live Donate. They'll take your donation and pass it onto England Amputee Football Association.
Fehmina Shah is fundraising as part of
OSCAR ONSITE EAFA SKYDIVES 2021 & 2022
26th March 2022 - 27th March 2022
View campaign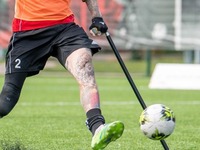 More great ways you can raise funds