This page is closed and is not accepting further donations

Sharon Kilner is raising money for Paws2Rescue
Josh and Lucy's 20k dog walk for paws 2 rescue
My story
Our children are wanting to help Paws2Rescue a charity which recently has become part of our life by helping them raise funds for a new shelter in Romania. We've been asked a few times why Romania why not an English dog charity the answer is simple any life saved is a life saved no matter where the origin.
Romania has very few animal welfare laws. Dogs which are caught by dog catchers (paid by the Romanian government) in a inhumane way & get sent to kill shelters. The Romanian law is catch, hold, kill. They are held for 14 days & then they are killed. The stray dog problem is beyond crisis point. Dog shelters are dirty, they have disease. They don't get enough food, puppies & dogs are huddled together this often leads to injury or death as they fight for scraps that's if they survive the brutal methods used by the dog catchers. Our search for a rescue dog lead us to this charity who not only help dogs but cats, horses & recently a sheep. Their work supported by Battersea involves not just rehoming unloved dogs but a neuter campaign for cats & dogs, they help educate the Romanian children which sometimes torture dogs in the street. Take a look at their website they do an amazing job to help the Romanian dog plight.
---
Thank you for checking out my page. Making a donation is fast, easy and secure thanks to Give as you Live Donate. They'll take your donation and pass it onto Paws2Rescue.
Sharon Kilner is fundraising as part of
Walk a kilometre in their paws
1st April 2021 - 31st May 2021
View campaign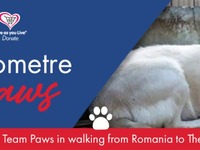 More great ways you can raise funds