Recent donations
£10.00
Well done Lily, lots of love from Kerri, Pete and kiddies x x x x
£10.00
Hope you have fun at the sleepover Lilly love 'the Watmough's
1 week ago
Laura Critchlow
£5.00
1 week ago
Caroline Hollis
£5.00
Enjoy Lily hope you raise lots of money xx Caz
Enjoy your camp out love you loads Mum and Dad xxx
1 week ago
Uncle Rob and Aunty Rach xx
£5.00
Yeeey well done Lily-George lots of live Uncle Rob and Aunty Rach xx
1 week ago
Uncle Ant and Aunty Kerry
£5.00
Lots of love Aunty Kerry and Uncle Ant xx
1 week ago
Nanny and Grandad
£10.00
Enjoy Lily-George live from nanny and grandad xx

Nicola Naden is raising money for Buxton Junior School PTFA
Lily-George Big Camp Out
Event dates: 12th June 2021 – 13th June 2021
---
Share this page with your friends:
My story
Lily will be camping with a friend to raise money
Money raised will go to improving the school grounds to support outdoor learning and also shared High Peak homeless help. A local charity that offers assistance to homeless people and those experiencing housing related issues.
---
Thank you for checking out my page. Making a donation is fast, easy and secure thanks to Give as you Live Donate. They'll take your donation and pass it onto Buxton Junior School PTFA.
Nicola Naden is fundraising as part of
THE BIG CAMP OUT
12th June 2021 - 13th June 2021
View campaign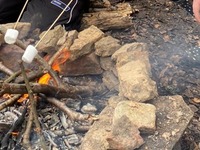 More great ways you can raise funds
Help me raise more
Your donations will help the great work Buxton Junior School PTFA do.
Donate now