Lindsay Shepherd is raising money for The Lord's Taverners
Lindsay Shepherd- London Marathon 2021
---
Share this page with your friends:
My story
Thanks for taking the time to visit my page.
Our mission is to enhance the lives of disadvantaged and disabled young people through sport and recreation
I have the pleasure of being the Chair of Wessex Lady Taverners, so I have been able to witness the work of The Lord's Taverners at first hand. The photo above shows me at a school where we presented some playground equipment for the schools wheelchair users. I'm having some fun on the marvellous trampoline which is especially for wheelchair users. The children love it! (I did too)
Every time our work directly impacts the life of a young person, we create a new sporting chance for them.
It's the chance to interact, play and train
The chance to compete, win and lose
The chance to learn, have fun and make friends
Our programmes support some of the most marginalised and at risk young people in the UK
We create a range of opportunities for young people from deprived areas and those with disabilities to engage in sport and recreational activities in their local communities
Our outcomes:
Increase opportunities for regular participation
Motivate young people to engage in sport
Improve health, social and psychological wellbeing
Empower volunteers, coaches and teachers to deliver training sessions
Of course all this takes money! And that is why I'm running the London Marathon in 2021.
London Marathon Team Tav's really appreciate any help you can give us, donations of money, raffle & prizes or sponsorship.
Thank you!
---
Thank you for checking out my page. Making a donation is fast, easy and secure thanks to Give as you Live Donate. They'll take your donation and pass it onto The Lord's Taverners.
Lindsay Shepherd is fundraising as part of
The Lord's Taverners - London Marathon
3rd October 2021
View campaign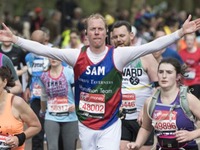 More great ways you can raise funds
Help me reach my £5,000 target
Your donations will help the great work The Lord's Taverners do.
Donate now