Recent donations
7 hours ago
Michelle Scott
Well done, this is fantastic, keep going the finish line is within touching distance 👏👏👏👍😊
Whoop Whoop - Come on GIRLS!
1 week ago
Trevor Needham
Go for it girls, you will smash it.

Tanya, Sally, Gina, Stacy, Fay & Michelle are raising money for Sporting Force Ltd
Sporting Force Ladies team
Event dates: 29th July 2021 – 1st August 2021
---
Share this page with your friends:
Our story
We are a team of 6 ladies going up against the corporate world as part of a multi disciplinary challenge in the Lake District 29th of July to 1st of August 2021. Every stage will test the core skills the team have spent their careers and lives perfecting; fitness is not enough, they will need patience, strategy, humility, leadership, intelligence, compassion but most of all teamwork. It is often said the strength of one person is nothing compared to the power of a team. This is why every UK Challenge event is designed with team-oriented obstacles that turn competitors into colleagues, and colleagues into friends. UK Challenge is about more than the physical, this event typically tests the intelligence and motor skills of the teams.
Leading up to the UK Challenge event is a virtual event, and in the last 3months we have:
Run - around 1600kms
Cycled - around 4300kms
Swam - around 90kms
Paddled - around 440kms
We will continue to run, bike, swim and paddle right the way up to the event!
---
Thank you for checking out our page. Making a donation is fast, easy and secure thanks to Give as you Live Donate. They'll take your donation and pass it onto Sporting Force Ltd.
Tanya, Sally, Gina, Stacy, Fay & Michelle are fundraising as part of
UK Challenge 2021
29th July 2021 - 1st August 2021
View campaign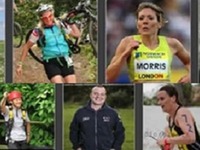 More great ways you can raise funds
Help us reach our £1,000 target
Your donations will help the great work Sporting Force Ltd do.
Donate now