Two Sisters Challenge! is raising money for Ape Action Africa
The Two Sisters Challenge!
Event dates: 1st August 2021 – 1st September 2021
---
Share this page with your friends:
My story
As you know, Mac is currently out in Cameroon, busy volunteering with Ape Action Africa. Toshie is back in the UK, running around like a blue arsed fly, running her family and holding down a job!
To raise some much-needed funds for the running costs of the sanctuary, we have both signed up to walk 100 miles each in August.
To help motivate us, two of the forest team have agreed to be our 'buddies' and walk the same distance!!
Mac is paired up with the lovely Léonéla, one of our amazing cooks and Toshie is paired up with Jamal, the fabulous caregiver who now looks after her namesake in the forest!
We would love to smash our target of £800, and every pound you can donate will make a real difference to the team back in Cameroon.
With huge thanks and much love. xxx
---
Thank you for checking out my page. Making a donation is fast, easy and secure thanks to Give as you Live Donate. They'll take your donation and pass it onto Ape Action Africa.
Two Sisters Challenge! is fundraising as part of
The Silver Jubilee Challenge
1st August 2021 - 1st September 2021
View campaign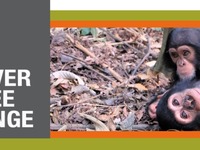 More great ways you can raise funds
Help me reach my £800 target
Your donations will help the great work Ape Action Africa do.
Donate now