Recent donations
£30.00
Hope there's something to cheer once you get there
Good luck and happy wombling.
Go Darren go. No, I mean just go.
2 months ago
Malcolm Rothera
2 months ago
Michelle Denslow
Hope you will be singing like a Womble for the whole 10k

Darren Ziants is raising money for AFC Wimbledon Foundation
twentyonewombles
Event date: 30th April 2022
---
Share this page with your friends:
My story
I'm walking 10km on 30th April to raise funds for the AFC Wimbledon Foundation to celebrate the 20 year Anniversary of AFC Wimbledon and because of the life changing work they do.
Starting on Wimbledon Common, where AFC Wimbledon held football trials 20 years ago, I will be walking 10km around the streets and parks of Merton ending up back at Plough Lane, so please give generously..
• AFC Wimbledon Foundation uses the power of sport to reach those who desperately need help.
• Their coaches give young people new skills and show them what a brighter future could look like.
• They help those who are unemployed discover new pathways into work.
• They create opportunities for people struggling with their mental health to find support and they help older adults to keep active and tackle loneliness.
They need more funding to help people like J and A
'When I first got in touch with J about the all-inclusive league, J was not keen. Although sociable amongst his peers, J was not comfortable playing with others. J finally agreed to take part. J has since attended all tournaments and training sessions, and managed to find the confidence to find paid work for the first time in his life. I honestly believe that J would not of had the confidence to do this if it was not through football. Playing and training in a safe environment, has seen his quality of life improve dramatically.'
'A lives in supported living. A has no social life.. the AFC sessions benefit him in terms of spending time with his peers and staff have informed me that his mental health has improved dramatically since doing so. He had a lot of pent-up anger and frustration before. The exercise and opportunity to play football has helped him to deal with this.
---
Thank you for checking out my page. Making a donation is fast, easy and secure thanks to Give as you Live Donate. They'll take your donation and pass it onto AFC Wimbledon Foundation.
Darren Ziants is fundraising as part of
Wombles Walk... back to Plough Lane
View campaign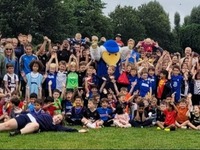 More great ways you can raise funds
I've smashed my £151 target - help me raise more
Your donations will help the great work AFC Wimbledon Foundation do.
Donate now