Sophie Nevitt is raising money for Paws2Rescue
Walking 15 km a day to raise money for PAWS2RESCUE
Event dates: 1st April 2021 – 31st May 2021
---
Share this page with your friends:
My story
As many of you know, adopting Mabel was the best thing I've ever done. Without Paws2Rescue and the work that they do, this would not have been possible. Without the amazing rescuers that Paws2Rescue work with in Romania, Mabel would have spent her life on the streets, hungry, lonely, and at risk of being caught and sent to a kill shelter. Once in a kill shelter, if not adopted within 14 days - they are killed. Instead Mabel spends her days going for walks, catching the ball, chasing bees, playing with her dog friends, rolling in dog poo and chewing up all the slippers in the house. She doesn't have to worry about finding her next meal or avoiding dog catchers. I'm walking 15km a day (20,000 steps) in May to raise £500 to go towards the building of a dog sanctuary in Romania that is so desperately needed.
---
Thank you for checking out my page. Making a donation is fast, easy and secure thanks to Give as you Live Donate. They'll take your donation and pass it onto Paws2Rescue.
Sophie Nevitt is fundraising as part of
Walk a kilometre in their paws
1st April 2021 - 31st May 2021
View campaign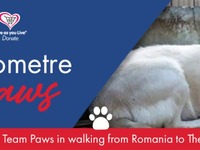 More great ways you can raise funds
Help me reach my £500 target
Your donations will help the great work Paws2Rescue do.
Donate now