About us
The Friends Of Chelsea Children's Hospital School (Charity No 1060218) support the advancement of a broad education for children and young people admitted to Chelsea & Westminster Hospital, The Royal Brompton Hospital, St. Mary's Hospital, Collingham Child and Family Unit, The Lavender Walk Adolescent Mental Health Unit, and any children and young people in the Royal Borough of Kensington and Chelsea who are unable to attend school due to medical or mental health problems.
Help Chelsea Community Hospital School remain open 50 weeks a year
Event date: Sunday 9th October
FCCHS, our school charity, works to support the work of Chelsea Community Hospital School by helping to raise additional funding so that the Hospital School can stay open during the 12 weeks of school holidays, whilst also providing a youth club in the evenings so that chronically ill children and young people in hospital can have access to stimulating educational events and activities all year round.
Our team of fundraisers will be getting involved in all sorts of fundraising activities and running the Royal Parks Half Marathon on 9th of October to help raise money for our school charity, FCCHS.
We would be most grateful for your support. Your donations and sponsorships will help to provide fun, stimulating activities, events, and outings for children in hospital, and also help keep the Hospital School open for 50 weeks each and every year.
If you would like to find out more about the work of The Friends of Chelsea Children's Hospital School, please visit our charity and school website www.cchs.org.uk.
Our runners (Martin and Micaela) and fundraisers will be posting updates on their events and training for the half marathon below.
Please share this page on your social media with your friends, family, neighbours, and work colleagues.
Updates to follow (watch this space!)
Many thanks. :-)
---
Share this campaign with your friends:
How it works
Create your page
It takes just a few steps to create your page supporting Friends Of Chelsea Children's Hospital School.
Share online
Share across your social media channels to encourage donations.
Receive donations
Collect donations on your page including Gift Aid where eligible.
Our updates
1 week ago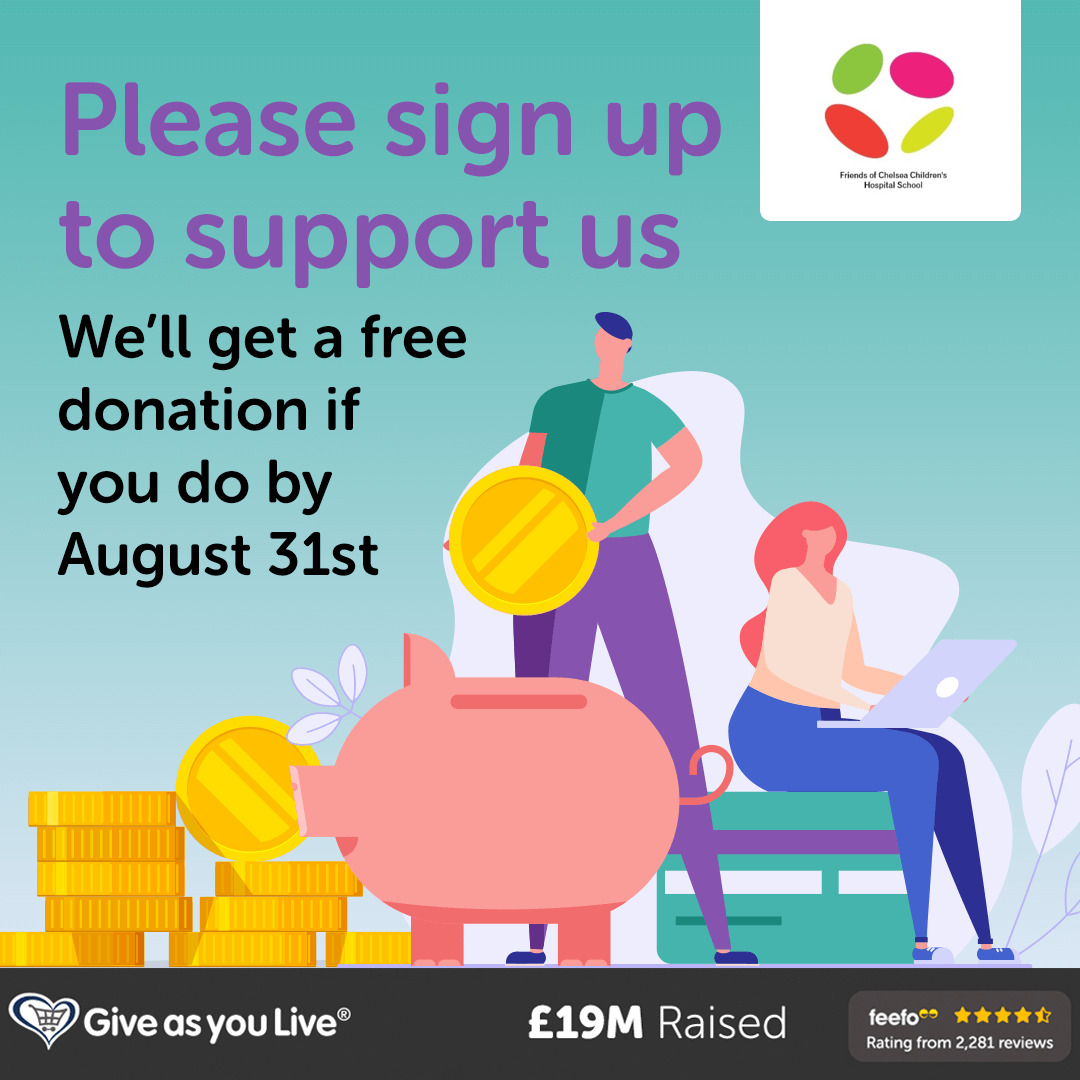 Let's get started
Start raising donations for Friends Of Chelsea Children's Hospital School!