Recent donations
£500.00
+ £125.00 Gift Aid
2 months ago
Gemma Abbott
£250.00
+ £62.50 Gift Aid
2 months ago
Alex Burrett
2 months ago
Nathan Roberts
£100.00
+ £25.00 Gift Aid
2 months ago
Debbie Bliss
4 months ago
Bronwen Jones
Well done, Allan and good luck!
£100.00
+ £25.00 Gift Aid
£20.00
I am giving this donation in support of Alan Briddock's campaign of raising funds for bladder cancer

Allan Briddock is raising money for Rainbow Migration and Fight Bladder Cancer
A personal challenge to raise a few quid for small charities
---
Share this page with your friends:
My story
Hello.
I am in the midst of treatment for bladder cancer. My bladder was removed on 3 May 2022 and I am currently trying to learn how to use my 'neobladder'. Chemo starts in a couple of weeks, followed, hopefully, by immunotherapy as the cancer is Stage 3. I am very lucky to have access to the most amazing medical team and treatment and the prognosis is good.
Having some goals works for me personally and I thought I would take the opportunity to raise a few quid for a couple of small and amazing charities.
I cannot say exactly which events I will do or when exactly I will do them, but I am pledging to do these events by September 2023:
[1] 1500 metre swim (aim by September 2022)
[2] 10k run (aim by January 2023)
[3] 100k cycle (aim by May 2023)
[4] Walk the Kerry Ring (135miles / 215 km) (aim by July 2023) (join me! )
[5] Do an Olympic distance triathlon (no promises on time, I always came last when I was 10 years younger and wasn't recovering from cancer!) (aim by September 2023)
Flight Bladder Cancer is a small UK charity that supports people with or who had bladder cancer and who raise crucial awareness of this not well-known cancer. https://www.fightbladdercancer.co.uk/
Rainbow Migration supports LGBTQI refugees and advocates for the better and fairer treatment of LGBTQI refugees in the UK. https://www.rainbowmigration.org.uk/
Both charities rely on donations and both punch above their weight with what they do with the funds they receive. Any donation will be shared equally between the two and will literally make a difference to someone's life. I know things are tough financially at the moment and any size donation is very welcome and gratefully received.
Thank you for reading.
Allan
---
Thank you for checking out my page. Making a donation is fast, easy and secure thanks to Give as you Live Donate. They'll take your donation and pass it onto Rainbow Migration and Fight Bladder Cancer.
My updates
7 months ago
Hello All. I have now arranged by first pledge - the 1500m swim (1600m in fact) on 24 September. Why not do it with me?
9 months ago
Today I progressed a little bit on the way to doing my pledges - I went for a swim! Highgate Ponds on a glorious morning and I did one lap nice and gently, resting at each lifebelt. It made me feel alive again. Chemo tomorrow so not sure when I'll get the next swim in, but today was wonderful.
9 months ago
On the day I started chemo, I reached my taget again! (Thanks Sonia x). Going to raise it again to £4k. I'm so so grateful.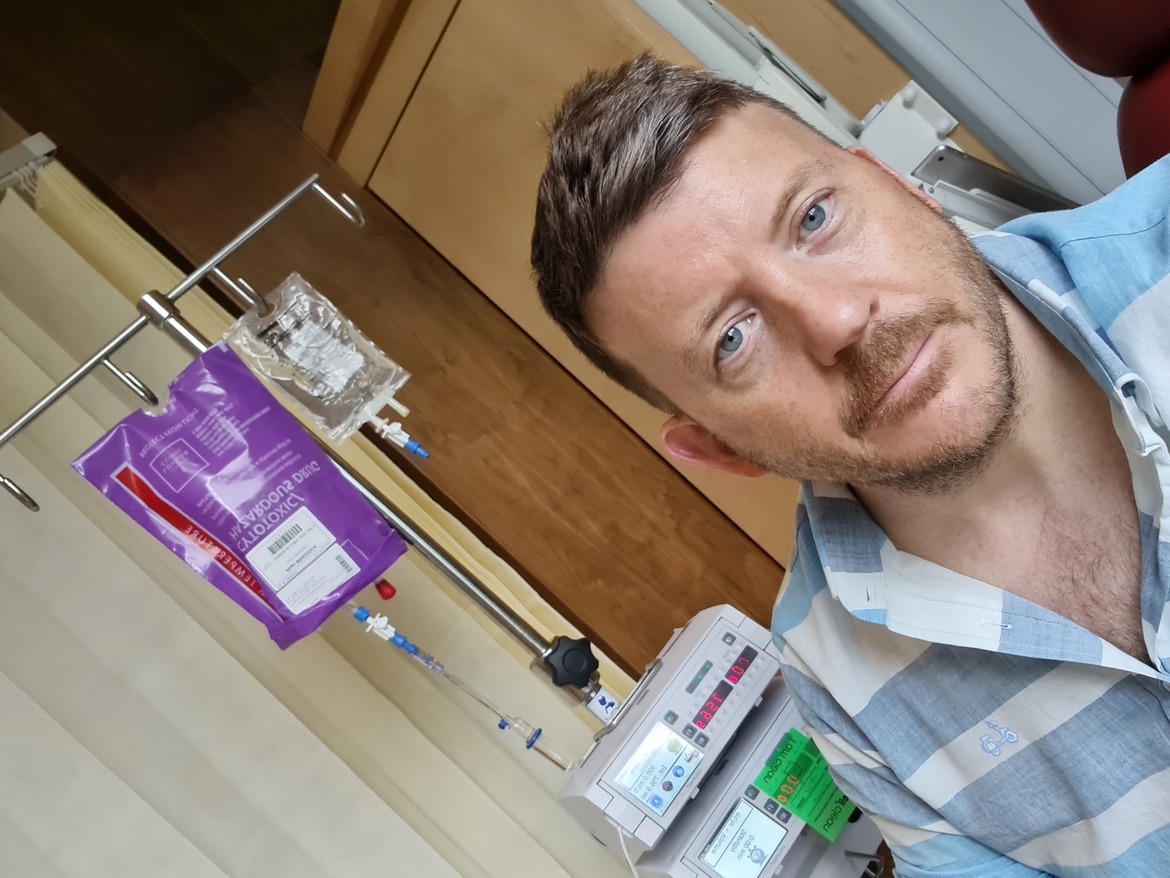 10 months ago
Wow - I've reached 94% of my target in one day. I am humbled and so so grateful. I've raised my target to £3000.
Allan Briddock is fundraising for 2 charities
More great ways you can raise funds
I've smashed my £5,000 target - help me raise more
Your donations will help the great work Rainbow Migration and Fight Bladder Cancer do.
Donate now