This page is closed and is not accepting further donations
Recent donations
£100.00
+ £25.00 Gift Aid
2 months ago
Carl Plummer
2 months ago
David Sidney Wightman
£5.00
From David at Corrour bothy and received with thanks.
3 months ago
Sue Marshall
£24.00
With best wishes. Stay safe this time.
£500.00
+ £125.00 Gift Aid
High road or low road, we'll get there together this time!

David Wightman and Colin Marshall are raising money for Aberdeen Mountain Rescue, Braemar Mountain Rescue and Cairngorm Mountain Rescue Association
Cairngorms Take Two
Event dates: 30th June 2022 – 3rd July 2022
Our story
During the first weekend of October 2021, Colin and David set off to Scotland for a four day hike in the Cairngorms, starting from Kingussie and finishing at Aviemore. The route plan was challenging with several steep ascents and descents, crossing a number of water courses and using basic shelters (bothies) and a campsite.
On the Cairngorm Plateau, weather conditions deteriorated and, in low cloud and howling wind, Colin and David became separated. Colin managed to walk off the Plateau and raise the alarm with Braemar Police that David was missing. This led to Braemar, Aberdeen and Cairngorm mountain rescue teams and the Inverness based Coastguard Search & Rescue helicopter being deployed to search for David. Colin became located at the Cairngorm Mountain Rescue control centre and provided information to support the search. Fortunately, the weather conditions improved over the weekend with higher than usual temperatures and dry conditions overnight. The experience highlights how unexpected dangers that exist in such a remote area. Thankfully, after nearly 48 hours, David was located safe but exhausted.
The story received media attention and we ended up being interviewed on BBC Scotland, BBC Essex Radio and appeared on BBC Breakfast during the following week. This gave us the opportunity to highlight a couple of simple things which would have helped during the ordeal, but also the opportunity to applaud the mountain rescue teams whose volunteer members selflessly go out in all weathers to help people in difficulty. The mountain rescue teams are entirely voluntary and supported by charitable support which is often overlooked but they quietly get on with the job which requires equipment and training to maintain their high standards. This fundraising is aimed at helping the three mountain rescue teams involved in our story, namely: Cairngorm, Braemar and Aberdeen which will each receive a third of any donations made.
The weather conditions on the first day were generally good with light rain and the first night's destination at the bothy in Glen Feshie was reached in good time. Day 2 was a challenging hike onto the Cairngorm Plateau up to altitude over 1000 metres with the goal of reaching two famous local landmarks; Angel's Peak and Devil's Point. Around 2pm, the weather conditions deteriorated very quickly with very poor visibility, wind and rain. A couple of errors of judgment led to David and Colin getting separated and finding it impossible to find each other. We were both lost independently.
It took Colin nine hours (instead of four) to find the Corrour bothy in Glen Dee where he pitched the tent shortly before midnight as the bothy was full. He had expected to find David there and was surprised and worried by his absence. Colin was able to get a few hours sleep. At first light, David was still missing and Colin left a message at the bothy and informed a number of walkers of his intention to set off for Aviemore to raise the alarm. After about three hours he was able to connect to a mobile network and raise the alarm with Braemar Police who coordinated the rescue and called on support from three mountain rescue teams which mustered about 40 people and a couple of dogs to undertake the search. Later, Colin circulated the detailed route plan in support of the rescue effort and David's wife Tracey provided access to David's Fitbit details which was able to confirm he was moving.
Meanwhile, David, using a partial printed map of the area and a compass, tried to make his way to the bothy but eventually realised he was not starting from the point he thought he was at. That miscalculation resulted in being significantly off course and when dusk fell at 7.15pm, he found a large, flattish slab of granite to lie on and sheltered behind his rucksack. Fortunately, the air temperature was mild at about 15 C, although the wind made it feel about 8 C. Thankfully, the rain stopped for the night! At dawn on Day 3, David was able to see very briefly where he was on his mobile phone OS Map before the phone died. It was impossible to use the charger as it was wet. Consequently, it was possible to work out how to descend to the River Dee valley floor and follow the river. The descent was difficult in places and after one head-over-heels fall resulting in a bent walking pole, David slowed the pace. Unfortunately, David couldn't remember accurately which route the river took at a fork and went left into the wrong valley. If the right fork had been taken, the bothy was just a mile away. At about 6pm, David saw a rescue helicopter going up and down and around the valley. Despite waving like a madman and wearing a bright orange rucksack cover, the pilot couldn't see David and, instead, landed at the bothy out of sight. A strong wind and rain shower swept through at this time and the sky cleared revealing a remarkably beautiful sunset completely at odds with the situation. David was looking to spend another night out in the cold and found a flattish area of boulders which formed a somewhat lumpy bed for the night. At least he had plenty of water although food was running low. At daybreak, David tried the charger again and it worked! Thankfully, it was now easy to see where to go and so no longer lost. This was day 4 and it was already looking to be a better day.
On turning the corner, David heard people calling his name from across the river. The group waded across, introduced themselves and shared their food. The group were four students from Aberdeen University who interrupted their walk to check that David was alright. One was a medical student who made some checks before they escorted David to the bothy where they shared more food, made tea and lit the fire. The rescue helicopter was now back in the area and everyone was trying to attract its attention. Eventually, it landed and David was quickly airlifted to Glenmore Lodge where he was received by the manager and a member of the Cairngorm MRT. After more food, David was driven to the mountain rescue centre where he was reunited with a relieved Colin and given time to call home before giving police a debrief.
In normal circumstances, we all go walking in the UK without really thinking too much about the support services available in an emergency because it's so rare to actually need them. However, this experience really brings home to us the importance of their continued ability to operate with good training and the necessary equipment. Please donate what you can to support the three teams involved in our story. They have our immense gratitude for being there.
---
Thank you for checking out our page. Making a donation is fast, easy and secure thanks to Give as you Live Donate. They'll take your donation and pass it onto Aberdeen Mountain Rescue, Braemar Mountain Rescue and Cairngorm Mountain Rescue Association.
Our updates
2 months ago
We finished our walk successfully on Saturday 2nd July and visited Cairngorm Mountain Rescue on Sunday. We had a radio interview with the BBC and were able to record our thanks for the help the three mountain rescue teams gave us last October. Thanks to all those who have supported this fundraising and to those who donated immediately after the event.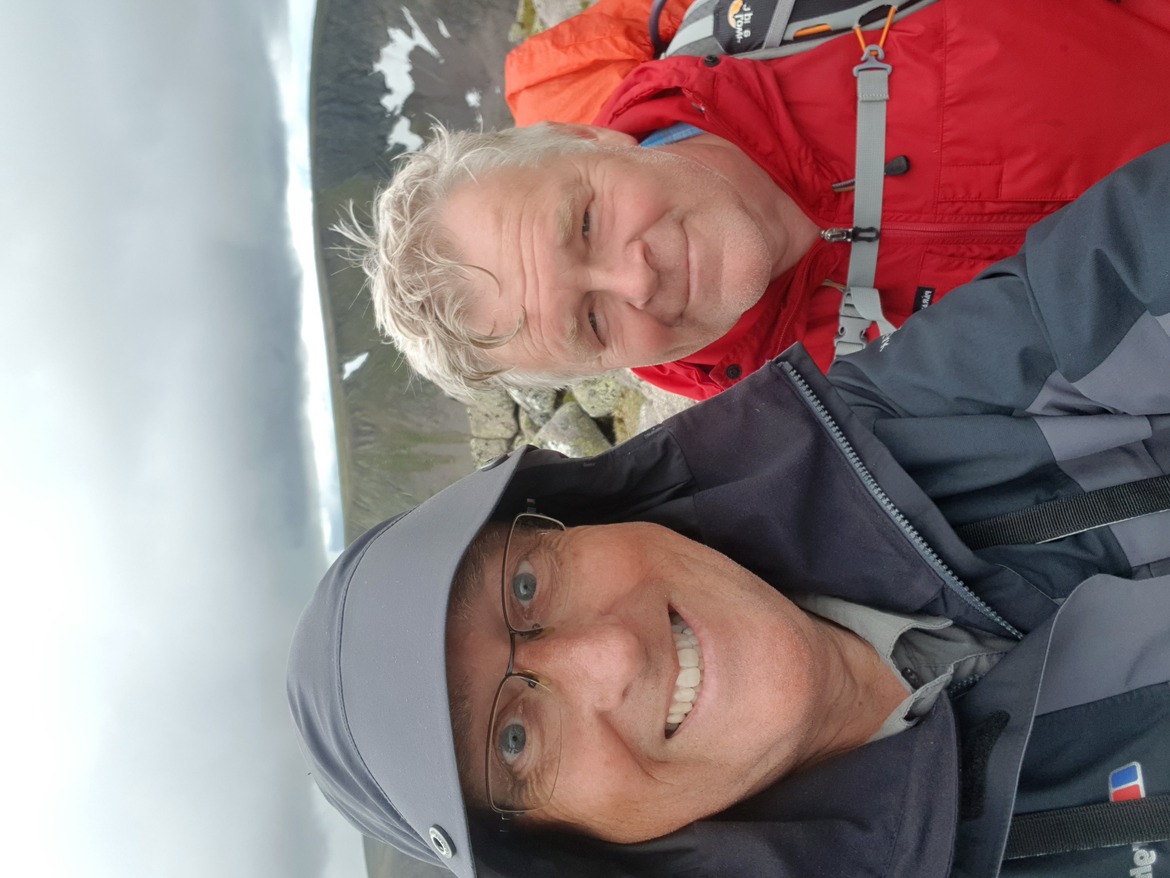 More great ways you can raise funds