Recent donations
£10.00
You're gonna smash it love you x
2 days ago
Mike, Claire, Sofia, Emilia & Olivia
Mind over matter, you've got this!! :-D Let's go Daniella!!! xxxxx
Go Daniella 🫶🏼👏🏼👏🏼 #shinsarmy
2 months ago
Andrew Davies
Well done on reaching your target
3 months ago
Zachary Rebeiro
£30.00

Daniella Lobo is raising money for Heathrow Community Trust and Blood Cancer UK
Daniella runs the London Marathon!
---
Share this page with your friends:
My story
It's always been my goal to run the London Marathon and when I turned the big 3-0 it became my ultimate goal to complete! 🏃🏽‍♀️💨💨
I feel so lucky and blessed to have made it this far in life to be healthy enough to accept this challenge when I know many aren't so fortunate…
One of my school friends, Sinead, has recently been diagnosed with Leukaemia and since then has raised a phenomenal amount of money for both Blood Cancer UK and the Adelaide ward in the hospital she is being treated in. Sinead's positivity and courage has been an inspiration to everyone who knows her, especially me and therefore I have chosen to fundraise for Blood Cancer UK ❤️
As I didn't get chosen through the ballot; I've been lucky to enough to be given a place by Heathrow Community Trust charity therefore my fundraising will be split equally between Blood Cancer UK and HCT.
Please sponsor me for my very first marathon (26.2 miles 😅🤢🥲 I'm literally having nightmares about it already 🤣) for a very worthy cause ❤️
Thank you so much for ANYTHING you donate! Please keep my knees in your prayers! 🤣
---
Thank you for checking out my page. Making a donation is fast, easy and secure thanks to Give as you Live Donate. They'll take your donation and pass it onto Heathrow Community Trust and Blood Cancer UK.
Daniella Lobo is fundraising as part of
London Marathon 2022
View campaign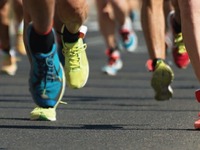 More great ways you can raise funds
Help me reach my £1,500 target
Your donations will help the great work Heathrow Community Trust and Blood Cancer UK do.
Donate now