Recent donations
2 weeks ago
Rachel Tidman
1 month ago
Rachel Catton
£25.00
2 months ago
Lucy Goddard
Well done Alice! You are amazing!
2 months ago
Katie Jackson
£20.00
2 months ago
Kodi Andrews
£10.00
2 months ago
Simon Hulett

IF ANYONE CAN ALICE CAN FUNDRAISING & AWEARNESS
ALICE GREAVES is raising money for Rainbows Children's Hospice and Hope Against Cancer
---
Share this page with your friends:
My story
On the 24/02/2023 my world fell apart, it shattered into a million pieces when I was told at the age of 24 I had Breastcancer... CANCER?! I'M 24! WHY ME?! WHAT HAVE I DONE?! I'VE EATEN ALL MY VEGGIES! but hey ho, here we are..THE FIGHT IS ON. As all my friends and family know I will not be sitting around feeling sorry for myself (okay maybe some days) but I will do everything and anything to fight this! The ball is very much rolling, I'm well stuck into my chemo journey now...I am scared, no actually I am PETRIFIED at the thought of this journey I am now on, I am not really a fighter but now I've got to be! I will fight this until it well and truly GETS LOST!! I am already overwhelmed with the support behind me, it certainly will make this journey easier! At the start of this I signed up to run 5k for cancer research and have raised over £16,000 but there are also some amazing local charities out there that I'd also like to support. I have lots of amazing fundraising ideas up my sleeve from a huge raffle, to t-shirt sales to fundraising events and no doubt I'll come up with more but everything I do I want 100% of the money to go to charity so I'm setting up this page and people can donate directly to it for everything I do (I will share info over on my insta @ifanyonecanalicecan as the journey goes on) Rainbows and Hope against cancer & Nottingham Breast cancer research Center are three amazing local charities and I cant wait to support them! With this site, any money raised will be 50/50 split between rainbows and hope for cancer and all cash donations will be donated directly to NBCRC every penny will be going to help the amazing work and research they do <3 Thank you all SO SO much for taking the time to donate and supporting the amazing work these charities do, without the donations they couldn't do it!
---
Thank you for checking out my page. Making a donation is fast, easy and secure thanks to Give as you Live Donate. They'll take your donation and pass it onto Rainbows Children's Hospice and Hope Against Cancer.
My updates
4 months ago
£200 DONATED TODAY TO NOTTINGHAM BREAST CANCER REASERCH CENTER - FROM CASH DONATIONS <3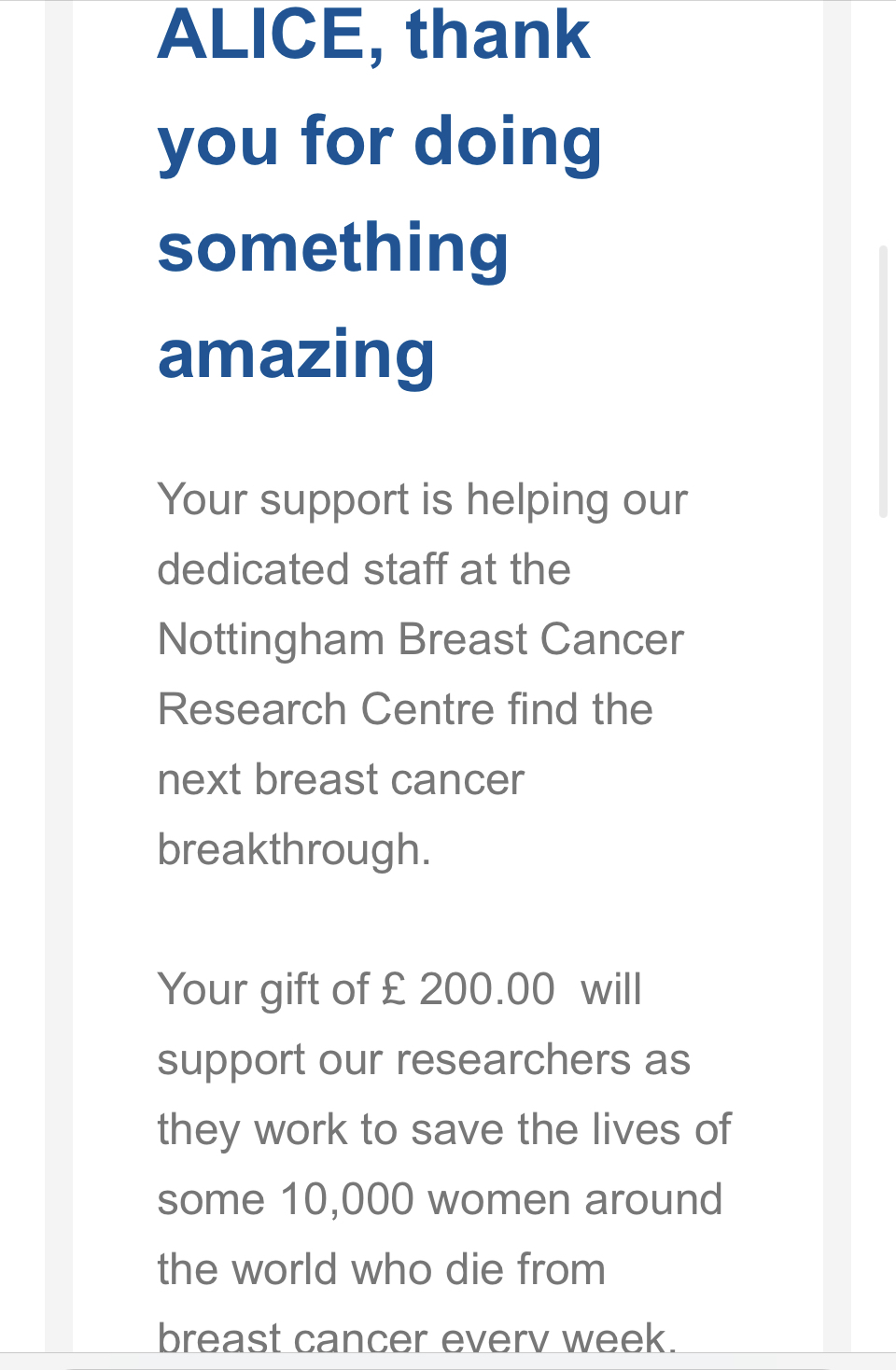 5 months ago
£100 DONATED TO NOTTINGHAM BREAST CANCER RESEARCH CENTER TO HELP THEM CONTINUE THEIR FANTASTIC RESEARCH AND DEVELOPMENT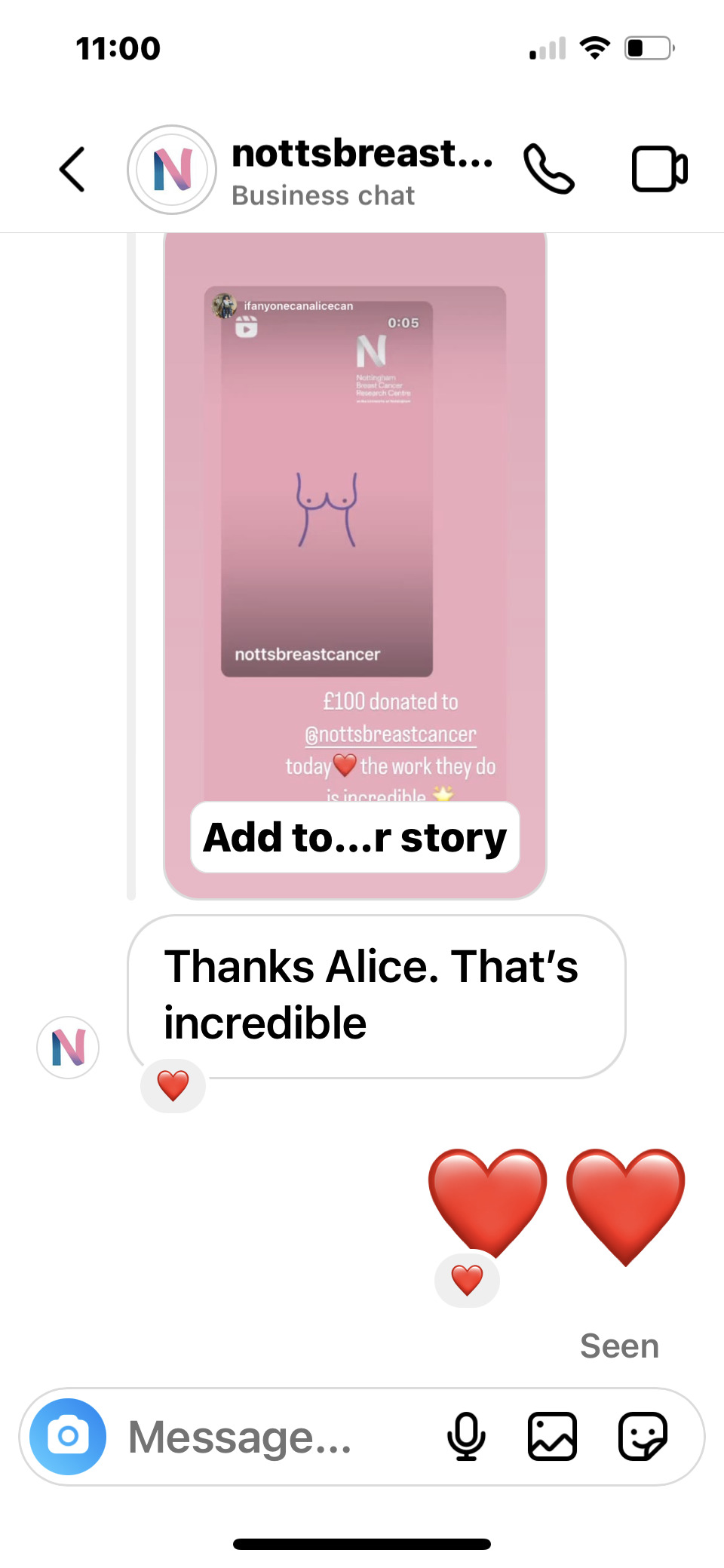 More great ways you can raise funds
Help me reach my £100,000 target
Your donations will help the great work Rainbows Children's Hospice and Hope Against Cancer do.
Donate now