£2,087,155.00 of £777,777 target +£398,970.91 Gift Aid See breakdown
Recent donations
8 minutes ago
Robert Dalton
10 minutes ago
Roberta Houghton
11 minutes ago
Chris Marshall
13 minutes ago
Roy Palmer
£10.00
An inspiration to all, wonderful player, wonderful man
another brilliant effort Kevin
16 minutes ago
James Carrannante
£100.00
+ £25.00 Gift Aid
Amazing cause. We Need a Cure

Kevin Sinfield is raising money for Motor Neurone Disease Association, Leeds Hospitals Charity, The Darby Rimmer MND Foundation, My Name'5 Doddie Foundation and MND Scotland
Kevin Sinfield - Ultra 7 in 7 Challenge
Event date: 13th November 2022
---
Share this page with your friends:
My story
The plan for my third challenge, the 'Ultra 7 in 7 Challenge' is to run 7 ultra marathons over 7 days raising £777,777 – inspired by Rob Burrow and his playing number 7.
I'll be running from Edinburgh to Manchester via Melrose, Newcastle, Middlesbrough, York, Leeds, and Bradford in 7 days – which works out to more than 60 km per day. I'll be setting off on the morning of Sunday 13 November from Murrayfield and aiming to finish at Old Trafford for the half time whistle at the Rugby League World Cup men's final on Saturday 19 November.
This is taking the word challenge to the next level – but it still doesn't even touch on the challenge which people with MND face every day.
And that's why I'm doing it. Inspired by Rob Burrow, Doddie Weir, Stephen Darby and other people living with MND, the money raised will support the fight against MND.
I'm proud to be supporting five charities with this challenge, charities which support people affected by MND and invest in research taking us closer to effective treatments and a cure for the disease.
The MND Association will receive 41% of the money raised to be spent on research projects to take us closer to a world free from MND.
Leeds Hospitals Charity will get 41% of the money raised to build a flagship centre for care, through their Rob Burrow Centre for MND Appeal.
Three other MND Charities will receive 6% of the money each, recognising the incredible support Doddie and Stephen have given to Rob Burrow, and ensuring the money is shared across the UK. They are:
My Name'5 Doddie Foundation funds research into the causes of MND and potential treatments while also supporting families affected by MND.
MND Scotland provides care and support to people affected by MND in Scotland, and funds vital research into finding a cure.
The Darby Rimmer MND Foundation funds and assists research into the disease as well as creating a network to help provide support for people diagnosed with MND.
---
Thank you for checking out my page. Making a donation is fast, easy and secure thanks to Give as you Live Donate. They'll take your donation and pass it onto Motor Neurone Disease Association, Leeds Hospitals Charity, The Darby Rimmer MND Foundation, My Name'5 Doddie Foundation and MND Scotland.
My updates
1 week ago
We've made it. 7 ultra marathons in 7 days. To be honest before setting out on this challenge I wasn't 100% sure we would complete it but your unwavering support has got us through. It has been so tough and so brutal, but people with MND don't get to choose do they? We wanted it to be tough in their honour. Your support, your fundraising, the awareness we are all creating – we will find a cure for this disease. I don't know when, but we will all keep fighting together until that day comes. Your donations will help us get there, so please donate if you can. I can't thank you all enough.
1 week ago
On behalf of all our team, THANK YOU for helping us reach our target of £777,777 to support the fight against MND. Your continued kindness and generosity to us since we started in Edinburgh last Sunday means so much and these funds are going to make a huge difference to the MND community. But we're not done. We've got one more tough day ahead of us and we can't wait to cross the finish line at Old Trafford this afternoon during the men's Rugby League World Cup Final.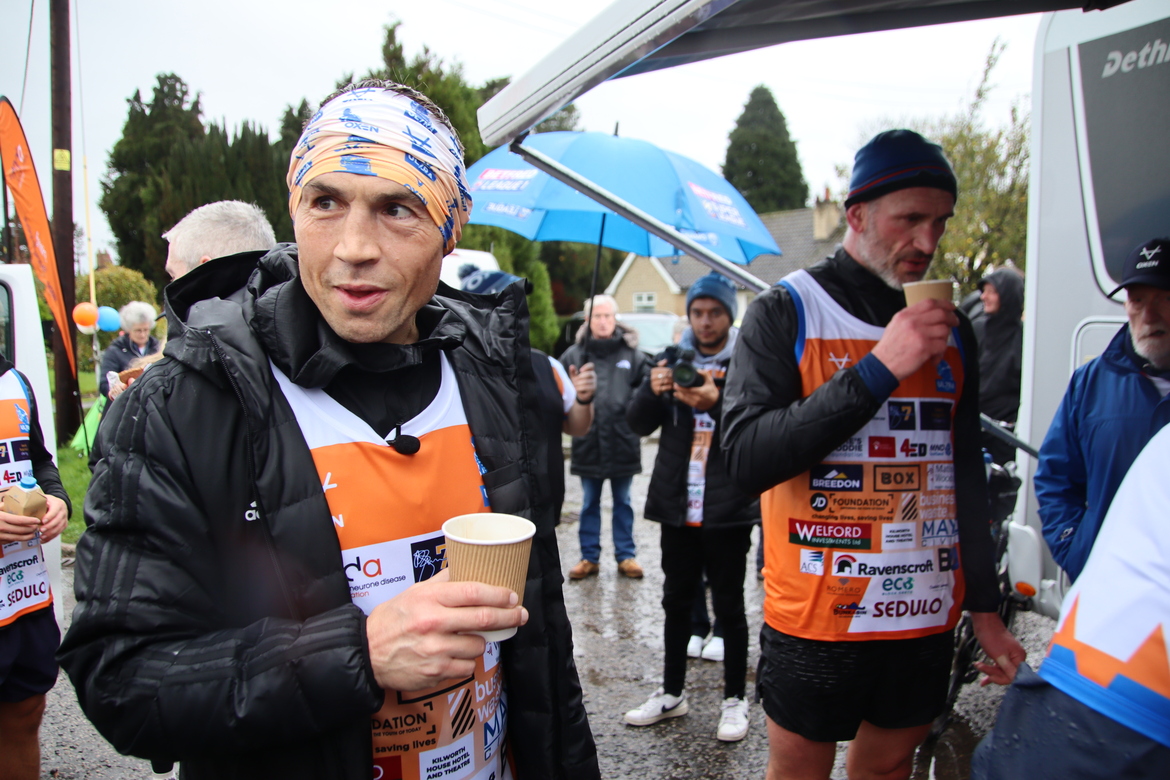 1 week ago
The memory of turning up to York to finish Day 5 will stay with me for a very long time. We didn't get atmospheres like that even when playing in some of the biggest games of my career. Thank you to everyone who helped make it so special. I want to give a big shoutout to the team I have around me, they're running with me, cycling with me and working behind the scenes to make sure I can get up the next day and go again. Without them I wouldn't have made it this far. One more day to go.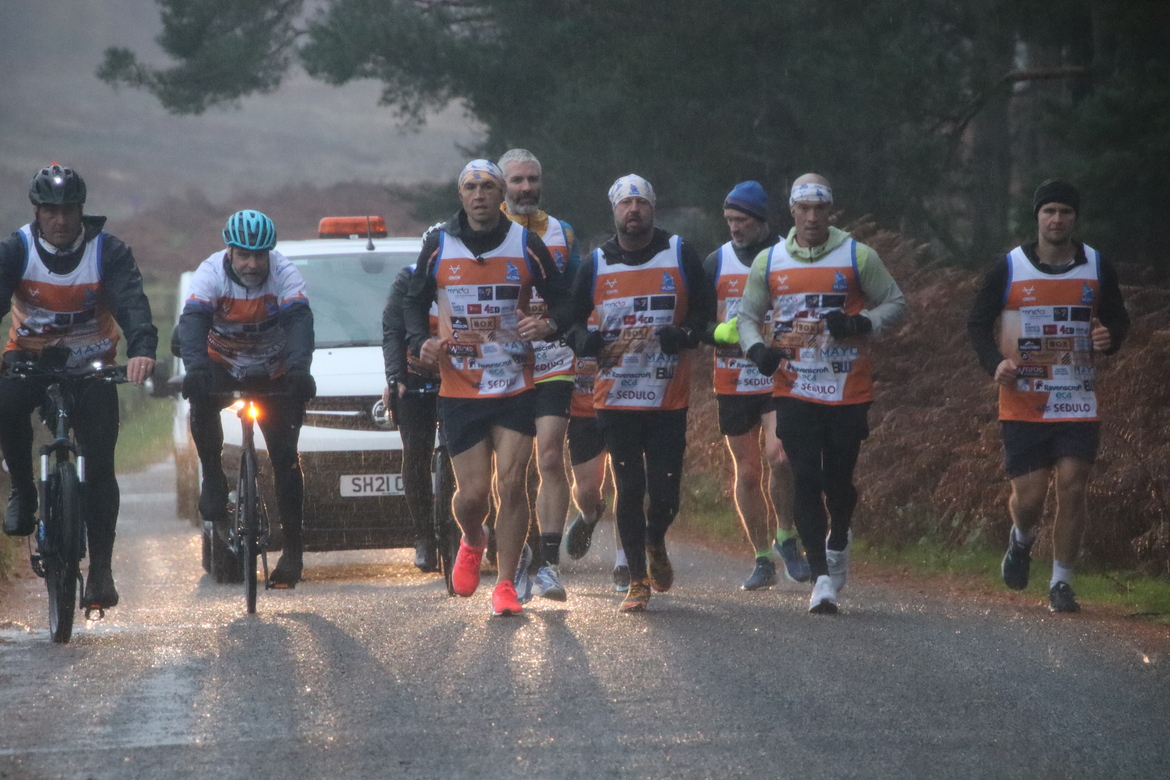 1 week ago
We've made it to North Yorkshire which means we're over halfway. We know times are really, really tough for people at the moment with cost-of-living so seeing people putting donations in the collection buckets is unbelievable. We've loved it so far but it's tough, and we're all a bit battered, bruised and sore. The reason why we're doing this is because we want to raise awareness about what this disease is doing to families across the UK and the rest of the world. We have got to try and change it. We have got to carry on trying to do our little bit.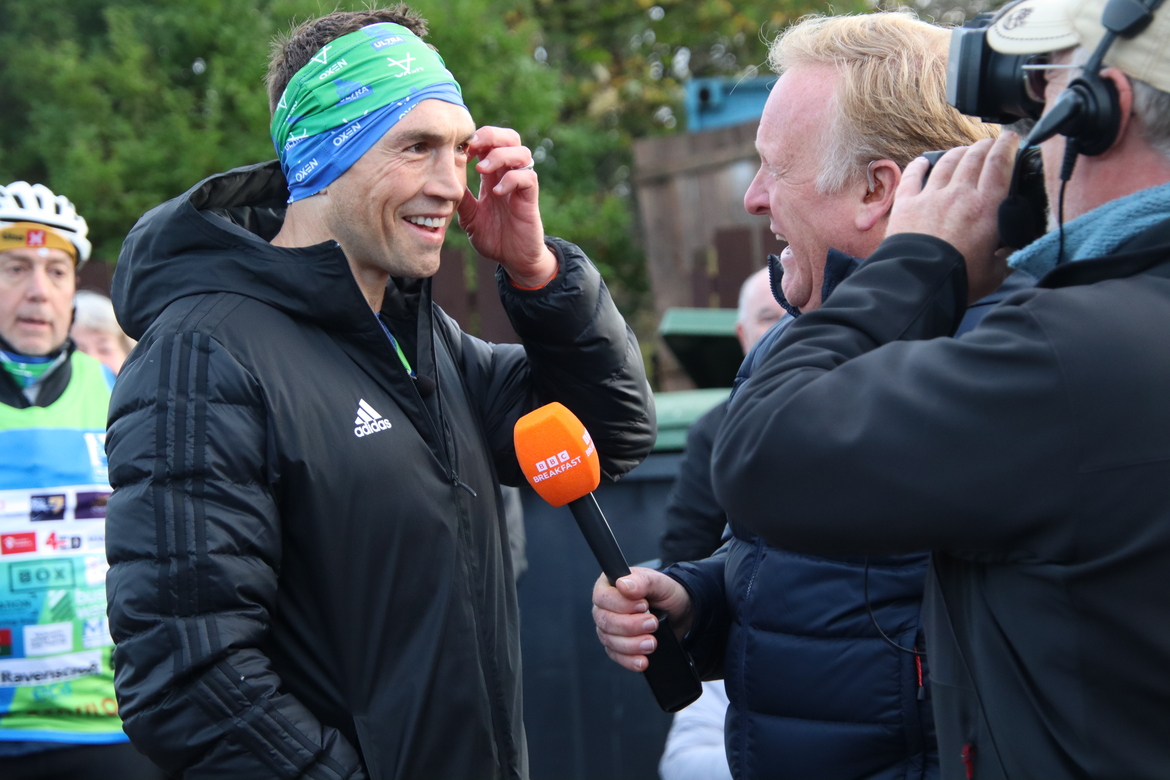 1 week ago
The wind and rain of Day 3 meant it was the longest and toughest day of the challenge yet. World champions Jonathan Edwards and Steve Cram came out to see us which was brilliant, and I couldn't believe how many people from the MND community came out to support on route despite the weather. It really keeps us going and it is great to be able to head into Day 4 knowing we've hit 50% of our target – thank you so much.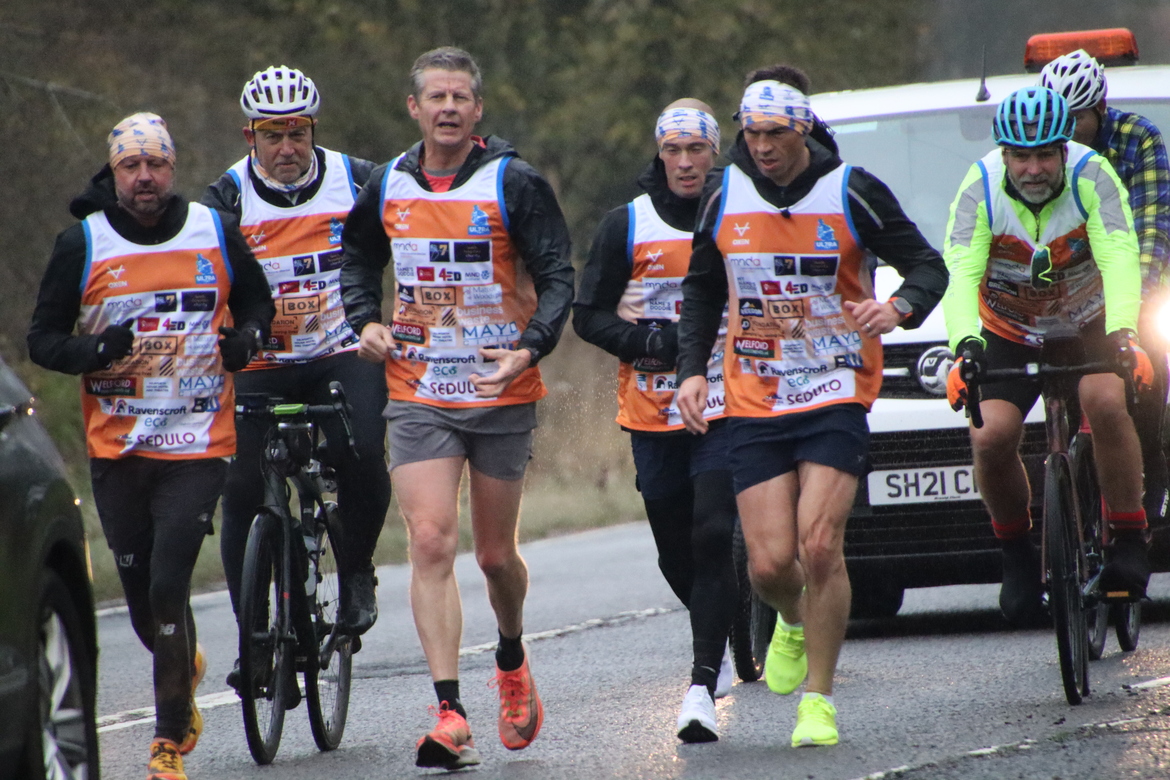 More great ways you can raise funds
I've smashed my £777,777 target - help me raise more
Your donations will help the great work Motor Neurone Disease Association, Leeds Hospitals Charity, The Darby Rimmer MND Foundation, My Name'5 Doddie Foundation and MND Scotland do.
Donate now