Recent donations
Go Lisa! You're amazing - enjoy the run!
Good luck Lisa! I know you can do it, Germans can efficiently complete anything we put our minds to ;) I'll be there on the day supporting you, Rosie and HCT!
2 weeks ago
Samantha Fountain
£10.00
3 weeks ago
Bethany Ditzel
£5.00

Lisa Pfannenmuller is raising money for Heathrow Community Trust and Marine Conservation Society
Lisa goes the extra mile!
Event date: 2nd October 2022
---
Share this page with your friends:
My story
In October, I would like to make the iconic London Marathon my first ever 26 mile race!
To give this event even more meaning I'm fundraising for two brilliant charities: The Heathrow Community Trust and the Marine Conservation Society!
The Heathrow Community Trust funds a variety of projects to improve the quality of life of residents in the local communities around Heathrow. As an employee of Heathrow it's very important to me not only to see Heathrow succeed, but also all it's neighbours with it.
The Marine Conservation Society helps to tackle climate change, ocean pollution and endangered marine wildlife around the UK. This topic is close to my heart. I've always been a beach girl and always will be one! The protection of our oceans & wildlife is essential to fight climate change, pollution and to keep our beaches as stunning and clean as we can for generations to come!
I greatly appreciate every donation to motivate me even more to put on my running shoes day after day until the great finale in October! :-)
---
Thank you for checking out my page. Making a donation is fast, easy and secure thanks to Give as you Live Donate. They'll take your donation and pass it onto Heathrow Community Trust and Marine Conservation Society.
Lisa Pfannenmuller is fundraising as part of
London Marathon 2022
View campaign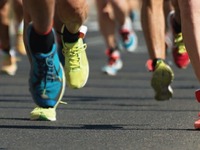 More great ways you can raise funds
I've smashed my £500 target - help me raise more
Your donations will help the great work Heathrow Community Trust and Marine Conservation Society do.
Donate now