This page is closed and is not accepting further donations
Recent donations
Very proud of you both - very well done !xxx
1 month ago
Susanne M Stevens
£50.00
Congratulations on an epic achievement, well worth all your determination to complete the walk, best wishes to yo both, Richard and Susie Stevens
1 month ago
Sally and Nick Keegan
Congratulations to both of you - an amazing achievement for two amazing causes. Well done!
1 month ago
Sean and Hannah
Congratulations! Great achievement
2 months ago
Rob, Jess, Josephine and Henry
Huge Congratulations! What a fantastic achievement and fabulous cause. Very well done to you both! Lots of love xxx
2 months ago
Tony, John and Di
£40.00
Well done both of you - a great achievement
2 months ago
James, Mel and Milo
£200.00
+ £50.00 Gift Aid
Well done Mum/Janey/Grand and Pippa. Brilliant effort x
Amazing, well done to you all !
2 months ago
Chris and Anita
£200.00
+ £50.00 Gift Aid
Well done and for an excellent cause!

Pippa and Jane are raising money for Motor Neurone Disease Association and Where Next Association
Walking in the footsteps of a King
Our story
Jane, Pippa and friends will once again putting on their walking boots and taking to a long-distance trail! Previously walking The Shakespeare Way, The Cotswold Way, Pedder's Way they will be attempting the longest one so far.
They will be following in the footsteps of royalty this time, treading the escape route of Charles II after his defeat at the Battle of Worcester in 1651. This walk will take them from Worcester through the Cotswolds, the Mendips over the Downs, finally finishing in Brighton; the complete route is 615 miles! They are not intending to do it one go but will begin the Midlands section in July.
You can support this mammoth undertaking by sponsoring them, their walk will be for 2 charities close to their hearts. Previous walks have been accompanied by their dear friend Margaret who lost her battle to Motor Neurone Disease 2 years ago, 50% of the sponsorship will go to MNDA, they are beginning to make very small steps into creating medication to prolong the lives of those devastated by this disease, so money at the moment is particularly important.
Where Next, a charity based in Redditch provides vocational activities for people with a learning disability, Margaret was a very active Trustee of this charity. All charities have been devastated by the Covid 19 crisis and Where Next, a small but particularly important charity desperately need funds to allow them to continue during this challenging time.
Please look at their websites for further information about them.
---
Thank you for checking out our page. Making a donation is fast, easy and secure thanks to Give as you Live Donate. They'll take your donation and pass it onto Motor Neurone Disease Association and Where Next Association.
Our updates
2 months ago
Thank you so much for all your amazing support and donations. Yesterday was the final day of our two year journey to honour the memory of our dearest friend Margaret. I know she was with us in spirit yesterday and on most of our journey. I know she would have been proud of the achievement.
Let's hope that the amazing amount of money will go some way to finding a cure for this horrendous disease. Thank you❤️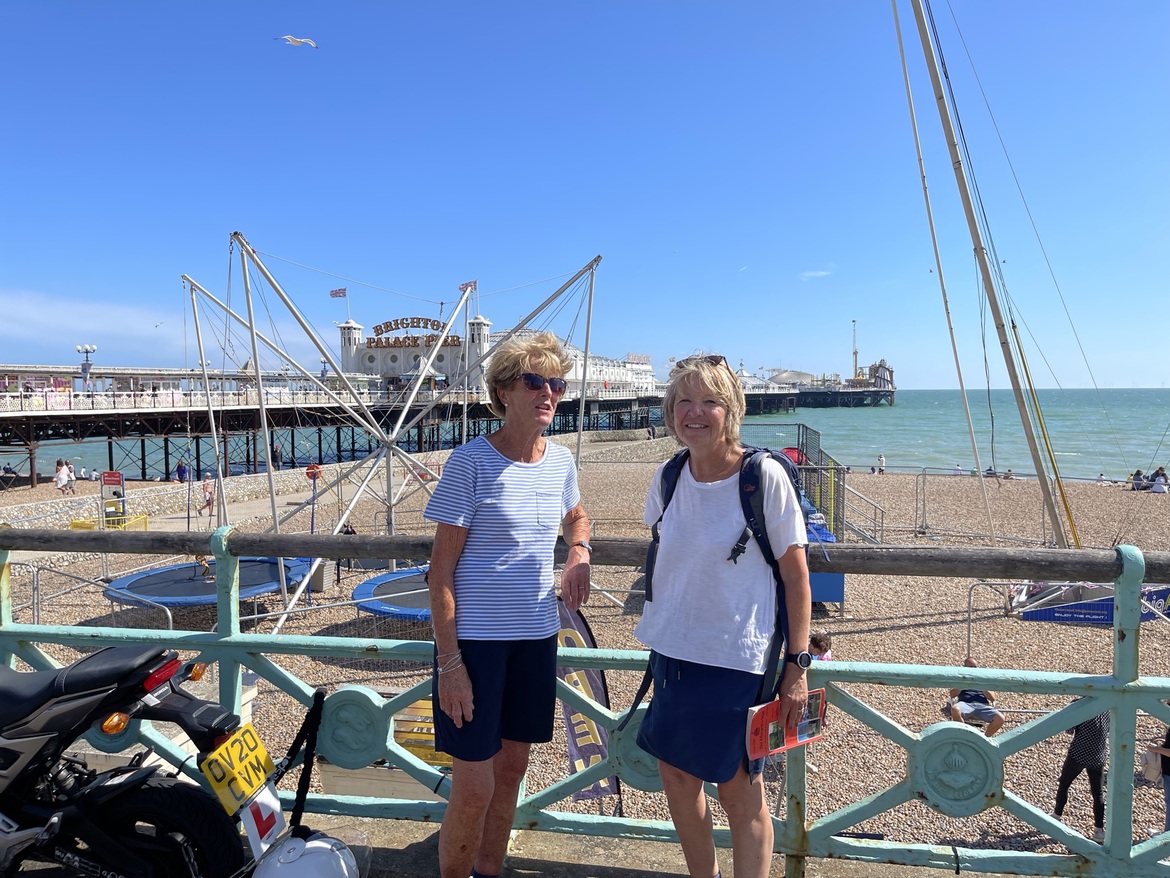 8 months ago
It has been a while since we updated our progress but to let you know we are still walking! Weather and lockdowns have restricted our progress but we are now walking weekly, have reached 407 miles of the 615 mile journey and determined to finish before the end of June.
Thank you for supporting us ☺️
2 years ago
This was never going to be a sprint, it's a marathon but we are making progress! We have walked weekly from the 9th July, once or twice a week and have now covered 130 miles! We have walked in temperatures of 35 degrees and have been so wet that it was really unpleasant but it has been fun. We have discovered villages we never knew existed and walked through the most beautiful countryside.
Covid will not put a stop to this thankfully, we hope to have covered half of the 300 miles by Christmas.
Do keep sharing our story in the memory of Margaret who we miss every step of the way.
2 years ago
We were so relieved last week when the temperature dropped, but of course that signalled the rain!
Have loved having visitors join us along the way, thank you to Ann, Carole, Scott, Julie and Lorraine for keeping us company and giving us a boost. If anyone else would like a days walk let us know.
We are also boosted by your generous donations, thank you so much. We are covering more miles by day which is heartening!
We are now in the depth of the Cotswolds and heading for the Mendips.
2 years ago
We are now heading south into more familiar territory, last week we walked through Cutlers Farm, Pippa's family home. She remembers being told that Charles II rested beneath the hollow oak tree that she used to hide in herself! This week we come to the end of the first section in Stratford and then head into the Cotswolds.
Thank you for all of your wonderful donations, this is a long walk which will take us into some hopefully better times of 2021
More great ways you can raise funds