This page is closed and is not accepting further donations
Recent donations
£20.00
Sorry I'm not there Kevin x
9 months ago
Rebecca medhurst
£10.00
Rebecca medhurst Tn37 6jf 5 tickets 07977835391
9 months ago
Belinda Woodward
£10.00
9 months ago
Yvonne Halloran
£20.00
9 months ago
Sally Vennard
£10.00
£10.00
5 tickets for the raffle please. Please just keep the tickets there. If I am lucky enough to win then my email is clarnao@aol.com or mobile is 07525940452
9 months ago
Martin Finch
£10.00

Raising money for Pett Level Independent Rescue Boat
Open Day 2022 E-Bikes Grand Draw
My story
After fundraising for Pett Level Independent Rescue Boat was closed down for so long through the pandemic, we had a wonderful Open Day fundraiser in 2021, with a Grand Draw featuring the fabulous hot tub donated by Homewood Leisure..
And for 2022's Open Day Grand Draw, we're hoping to go even bigger and better because this year Rye Bay E-Bikes have made the marvellous donation of not just one but two compact e-bikes as star prizes..
RYE BAY E-BIKES
Rye Bay E-Bikes is a local company specialising in the sale and hire of e-bikes. Based at Rye Harbour, they are at the far end of the Rye Bay area that our rescue boat charity protects. Rye Bay E-Bikes have long been keen supporters of ours and were involved as sponsors when Sean O'Sullivan of SOS Entertainment got on his bike on his marathon 54-mile bike ride fundraiser for us!
The prize bikes donated for the Grand Draw are known as Compacts. These are the fabulous 'nippy' ones that have relatively small wheels. This makes them great for use about town and easy to store or transport on trips. In all, they're perfect for a pedal along Pett Level!
GREAT PRIZES, GRAND DRAW
Other prizes are also being donated by local businesses, so there will be several prizes in the draw on the day. We'll add updates to this page and on our social media as these prizes are confirmed.
Our 2022 Open Day is firmly in the diary for Sunday now being proposed for Sunday 28th August 2022 and this Grand Raffle draw will take place at 3pm.*
And as they say, you've got to be in it to win it ...
BUYING YOUR RAFFLE TICKETS ONLINE USING THIS GIVING PAGE
TICKETS Tickets cost just £2 each. They have been printed in books of 5, ready for plenty of sales in the run-up (or is that, pedal up) to the big day!
BUYING YOUR TICKETS
1) Please make a donation to the amount of the number of tickets you'd like to buy.
e.g = one ticket = £2; a book of 5 tickets = £10 and of course any of those numbers in between! There is no limit to the number of tickets an individual can buy!
When making the donation, please add a note which includes:
Your name
Your postcode
The number of tickets purchased
2) THEN: Email us at plirbrafflesonline@gmail.com with the subject line GGRAND DRAW 2022 and within the email please include:
Your name, postcode and number of tickets (the same as the note you added when making the donation). This is so we can match your donation and allocate your raffle tickets.
Remember to also give us the main details of your full name and contact details: address, phone number, email address. This is the information we need to add to your raffle ticket stubs. We can then send you a text or email photo showing that this has been done, to confirm your raffle ticket numbers and your place in the draw.
In your email, please also include how you'd like to receive your tickets. If you'd like us to post them, please let us know but bear in mind that postage is an extra cost we can't really afford at the moment. Ideally, for local players and friends of friends, we'll retain the tickets to be picked up from our boathouse so please let us know what you'd like.
If you know you'll want postage, perhaps you could consider an extra donation to help us cover the costs of postage? Raffle ticket fundraisers are not eligible for Gift Aid, so additional donations are very welcome if you require postage and they will also help towards the admin fee for this Giving Page.
So there we are ... a hugely exciting fundraising opportunity for us and two amazing main prizes opportunity for a lucky winner! Everyone involved with our charity is completely bowled over by the generosity of Rye Bay eBikes and all of the other local businesses who are contributing prizes to the Grand Draw. If you'd like to also help, please buy your tickets today and share this page!
Your support is appreciated by all of our charity volunteers, committee and trustees, thank you.
---
Thank you for checking out my page. Making a donation is fast, easy and secure thanks to Give as you Live Donate. They'll take your donation and pass it onto Pett Level Independent Rescue Boat.
My updates
10 months ago
Not long to go until our Open Day and Grand Draw for these fabulous E-Bikes!
Join in our FUNdraising and you could win yourself a fabulous bike, thanks to Rye Bay E-Bikes.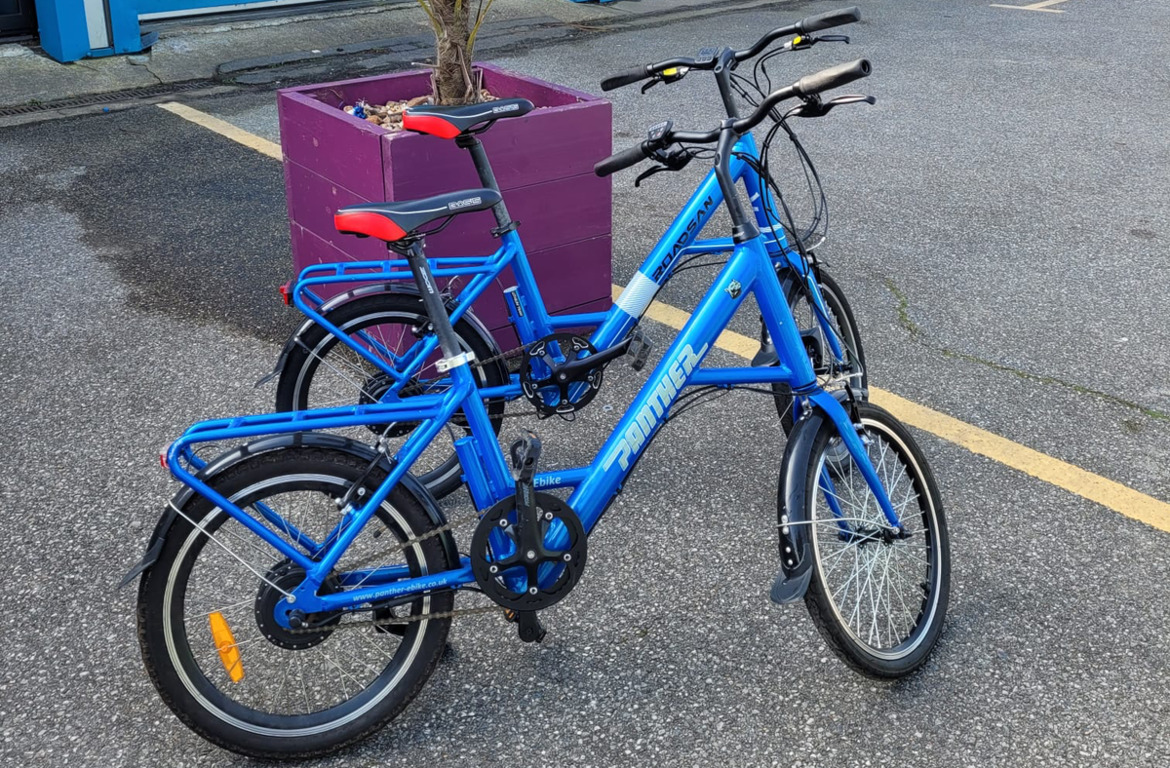 More great ways you can raise funds