Recent donations
1 month ago
Alison , grace mae and Lola
Great effort for a great cause - well done Will
£20.00
Well done guys. Not enough swimming for my liking!
2 months ago
Andy, max and Marnie
A great day with amazing people doing special things for others.
Go for it guys. Well done
2 months ago
Muriel McIntosh
2 months ago
Geoff and Lynn
Andy make sure you're not doing all the work!! Only joking Will - sit at the back and see how to do it seems a good plan! Good luck to you both
2 months ago
Bill and Brenda
2 months ago
Neil and Wendy

Will and Andy is raising money for The Change Foundation
The Thames Kayak Challenge
Event date: 28th May 2021
---
Share this page with your friends:
My story
This is our first foray into fundraising here and we're doing so because 1. we want to give a little back 2. support a local charity doing great work 3. Been conned into doing this.
On 28th May 2021 Will and Andy and other intrepid individuals will be kayaking around 25 miles of the Thames. We are doing this on behalf of The Change Foundation (TCF). An award-winning UK charity that over the last 40 years has changed the lives of vulnerable young people with learning difficulties and other conditions. They deliver targeted long-term interventions through the power of regular sport, and dance.
We've both seen what they do directly for children who need this and do not know where to turn - it is truly touching.
However, the charity sector and smaller ones like TCF have been hit hard and the community are feeling it.
We know times are hard at the moment for a lot of people, and so reluctantly ask if you could spare any change at all, please.
It would be greatly appreciated and will ease our aching muscles after a day on the water.....
Will will be mostly upside down (hence the image of swimming and not a kayak)
Andy will breeze through it given his pedigree and past acheivements in a boat but his shoulders will be aching after carrying Will all day.
Thanks for reading and in advance for your kindness, Will and Andy.
---
Thank you for checking out my page. Making a donation is fast, easy and secure thanks to Give as you Live Donate. They'll take your donation and pass it onto The Change Foundation.
Will and Andy is fundraising as part of
Thames River Kayak Challenge
28th May 2021
View campaign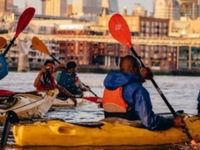 More great ways you can raise funds
I've smashed my £300 target - help me raise more
Your donations will help the great work The Change Foundation do.
Donate now