Recent donations
2 weeks ago
Paul Brannigan
1 month ago
GRAHAM CHARLES STEEDEN
£100.00
+ £25.00 Gift Aid
I feel so proud of you both xx
£15.00
From The Pet Shop customers - thank you x
£186.00
From Todmorden Harriers running gear sale - thank you x
2 months ago
Helen Wilson
£20.00
2 months ago
Bridge End WMC
£30.00
Well done! You're amazing 🤩 x
3 months ago
Colin Porter
Very well done. I am sorry I was not able to be with you on the day to share in the sweat and toil of such a tremendous effort.

David and Helen Wilson are raising money for Motor Neurone Disease Association and Empowered People
The "There is Good In Today" Challenge
Event date: 14th August 2022
---
Share this page with your friends:
Our story
When my husband, David was diagnosed with a form of blood cancer in October 2019 it was a traumatic time for the whole family. But, as scary as it was, there was at least hope in the form of treatment. Indeed, after a punishing regime of chemotherapy and radiotherapy, he moved into remission in the summer of 2020. Thank goodness for all those decades of research and investment into developing better and better treatments.
Unfortunately, David was then diagnosed with Motor Neurone Disease. This time, however, we are also faced with the harsh reality that there is no cure for MND. The type he has is called ALS (there are several different types of MND) which comes with an average life expectancy of 2-5years from the onset of symptoms. We now know the early symptoms were there at the same time as the cancer, nearly 3 years ago.
David is currently benefiting from the positive impact that over 30 years of long distance fell running has had on his strength and general health, and so whilst the decline of his whole body is rapid, he is still able to use his legs a little. So, whilst he still can, he is joining me in a major physical challenge this summer to help raise awareness of MND and to raise money for two of the local charities that are supporting us as we come to terms with our harsh and utterly devastating new reality.
Based on the model of a half-ironman challenge, I will be swimming a mile, then cycling 56miles, and finally running 14miles. All one after the other. Both the cycle and running routes will be around the local area (and will include hills!). For the bike ride part of the challenge, David will be in a recumbent which will be fastened to the back of my bike so I am towing it. David tells me he will help by pedalling a little!
We have set ourselves the challenging target of trying to raise £3000 to split between the MND Association West Yorkshire Branch, and Empowered People- which is the small local charity that has provided us with the bike train.
Whilst a cure for Motor Neurone Disease is not yet a reality, we can still make a positive difference to those living with MND by raising money for these charities. Please will you help us to help them improve the quality of life for those living with the devastating effects of this most awful disease?
Every donation, no matter how small will help to make a difference.
Please Note: All funds raised will be split 60:40 between the West Yorkshire Branch of the MND Association, and Empowered People.
http://www.mndassociation.org/what-is-mnd/
http://www.mndassociation.org/about-us/
---
Thank you for checking out our page. Making a donation is fast, easy and secure thanks to Give as you Live Donate. They'll take your donation and pass it onto Motor Neurone Disease Association and Empowered People.
Our updates
3 months ago
The finish - and just some of the amazing people that turned out to support us on the day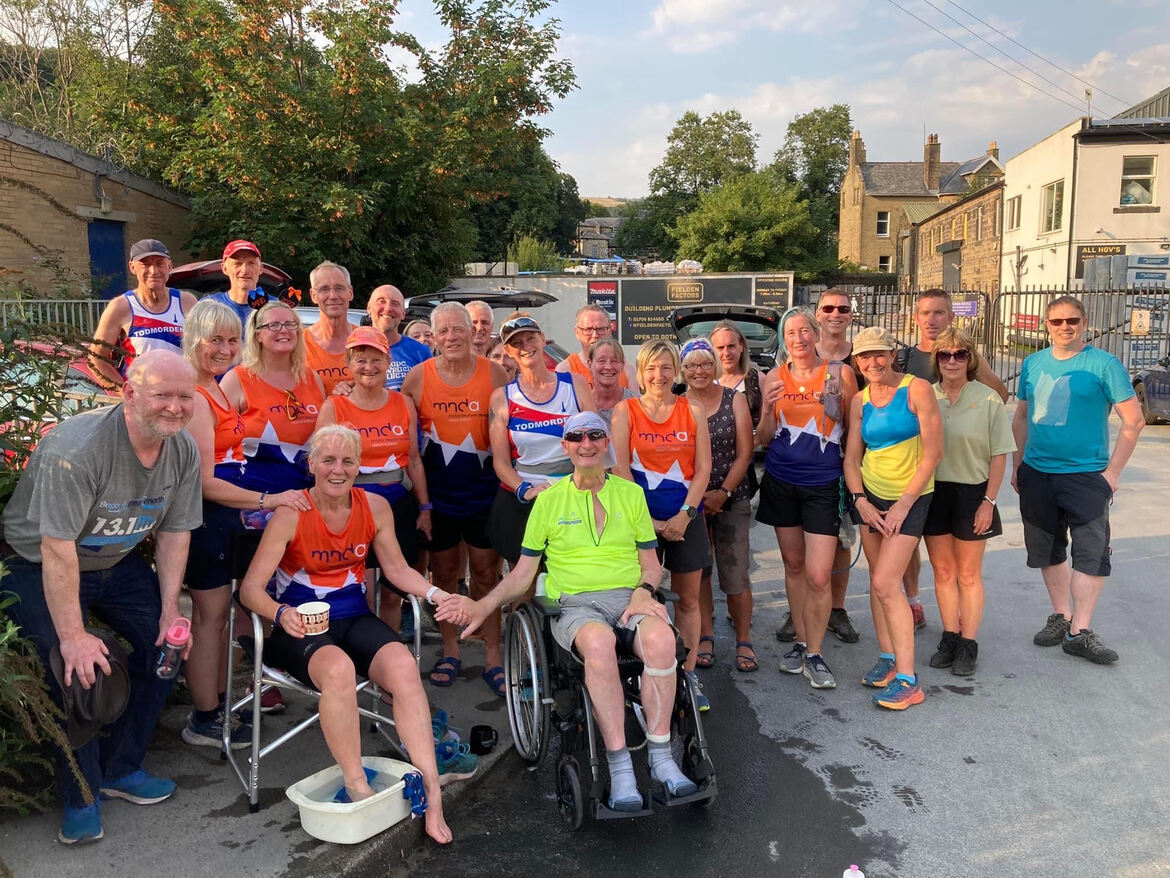 3 months ago
The run (the really hard bit in that heat!)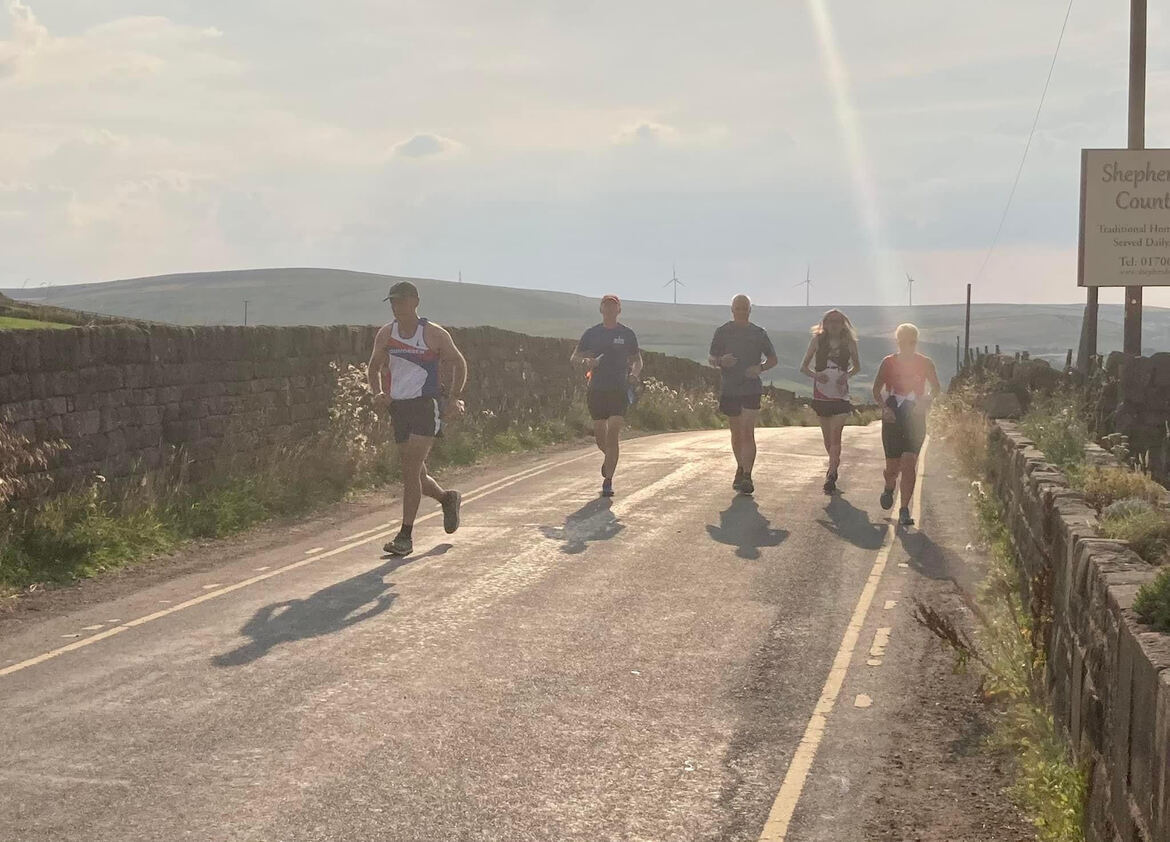 3 months ago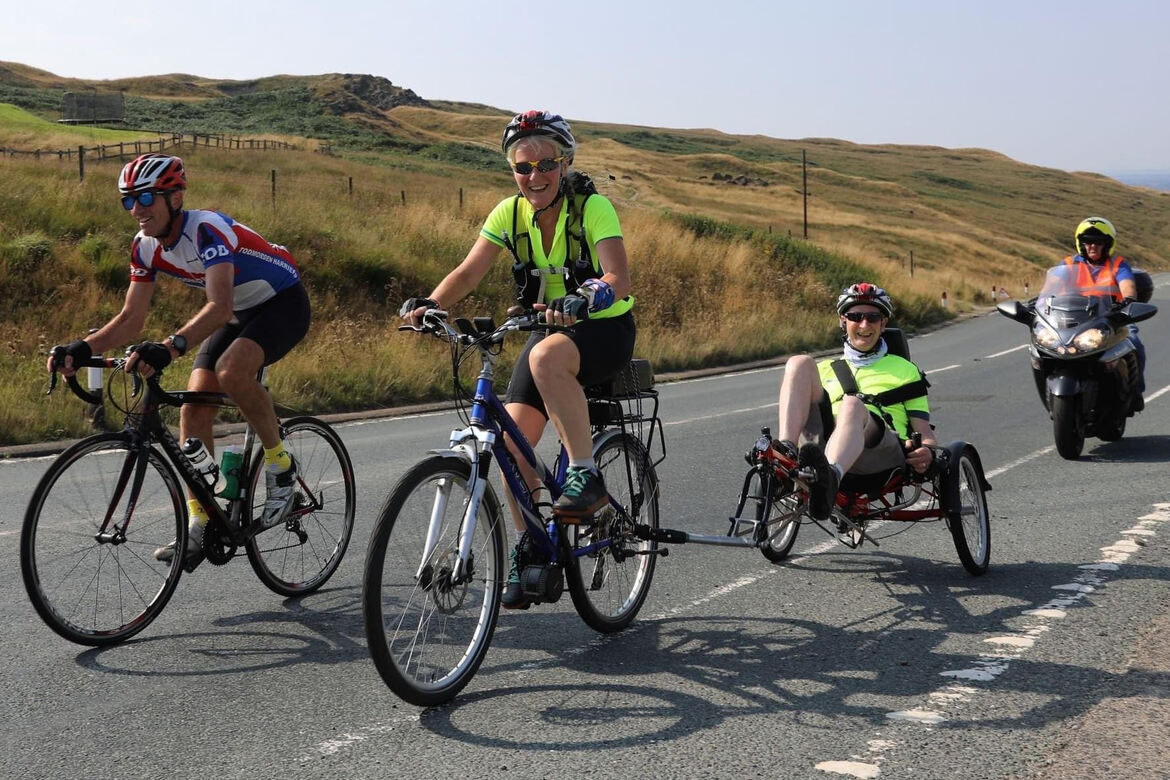 3 months ago
Oh my goodness...we did it!
And your generosity is blowing up away - thank you soo much
More details in an update later this week - but here are a few photos of the day to give a quick taster.
ps. It was a bit on the warm side!!!!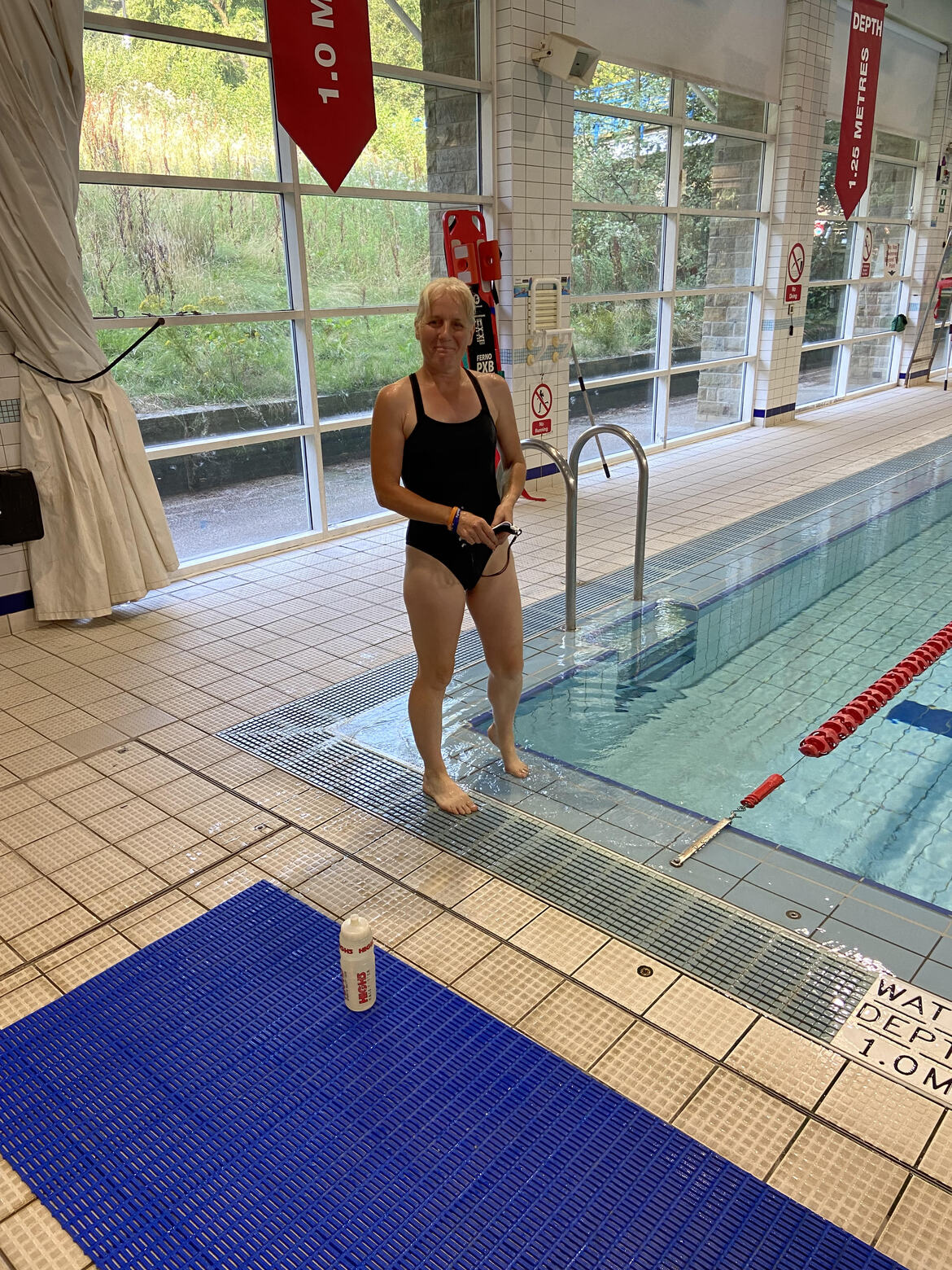 3 months ago
Oh my goodness. People are so kind! The challenge is happening this Sunday and we have already passed the £3000 target. That is absolutely amazing. Thank you SO much to everyone that has donated.
I have finished all my major training sessions now, and am in the 'tapering' phase of preparation. I cycled 22miles on Sunday, swam a mile yesterday, and am now just doing some very gentle running over the next few days.
Of course, as my fellow Harriers know all too well, in the days before a major race you will always find that parts of your body are 'niggling' and you are convinced that you are 'coming down with something'. This is also the phase I am in (l.o.l.)
If anyone is interested on how the challenge progresses on Sunday, you will be able to track me (and David) by visiting the EMpowered People website, and following the link. You will also be able to see the routes we are taking (and approximate times.) If you are in the area, it would be lovely to see you. It will be easy to spot us .... we'll be the daft folk cycling and running in the middle of the day in a heatwave!!!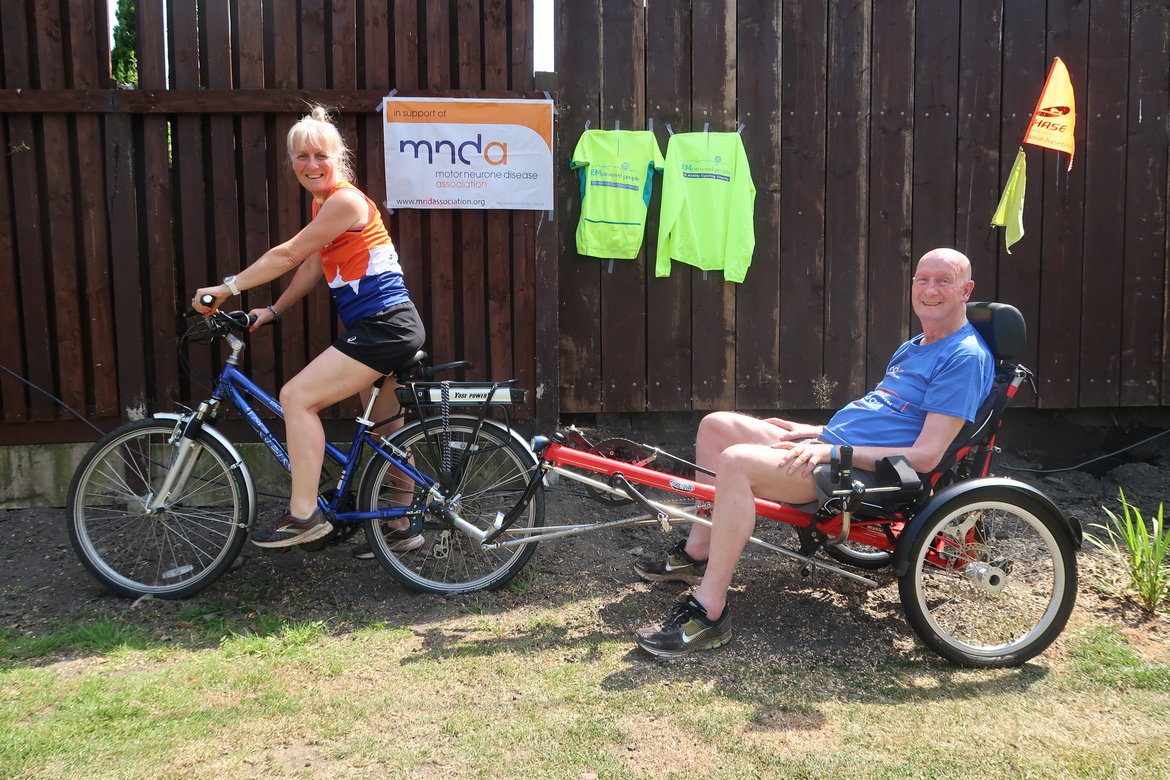 More great ways you can raise funds
We've smashed our £3,000 target - help us raise more
Your donations will help the great work Motor Neurone Disease Association and Empowered People do.
Donate now