Recent donations
5 months ago
Rosie Sprackling
£30.00
An amazing achievement, Julia. Hoping all goes well. x
£30.00
Wonderful achievement Julia xxx
6 months ago
Howlett Family
£100.00
+ £25.00 Gift Aid
6 months ago
Diana and Brian
Thank you for raising awareness and money for this vital cause. Amazing friend, enjoy the walking.xx

100 Miles in May Challenge
JULIA MELLOR is raising money for Skcin and Melanoma Focus
---
Share this page with your friends:
My story
Hi everyone - thank you for visiting my fundraising page. I hope that you will be able to support me in my '100 miles in May 2023 Challenge' supporting two UK charities - Melanoma Focus and SKCIN.
For those of you that don't know - in January this year I was diagnosed with Stage 3B Melanoma. This is my second melanoma diagnosis following a primary (Stage 1 melanoma ) mole removal in 2019. After 3 clear years this second reoccurrence was not another rogue mole, but a metastasised tumour adjacent to the original surgery. The cancer is more aggressive this time.
I had successful surgery in February to remove the new tumour and my continued treatment will be with Targeted Therapy drugs for 12 months. This new treatment will hopefully eradicate any remaining cancer cells and help reduce the risk of a further recurrence. I will be monitored by CT scans for the next 5 years. In some ways I think I was fortunate that the new tumour was a visible lump under the skin, rather than the cancer cells travelling and metastasising in an organ where I might have been unaware of it until a much later stage.
The staff at Addenbrooke's and the oncology team at Genesis Cancer Care are all brilliant. As are my equally amazing family and friends who are supporting me. I've recovered well from surgery but am finding adjusting to the targeted therapy drugs quite challenging.
According to Cancer Research UK, melanoma is the UK's most rapidly increasing type of cancer, with around 16,700 new cases diagnosed every year. Skin cancer is one of the top 5 commonly diagnosed cancers. Rates of malignant melanoma are rising rapidly – 1 in 36 males and 1 in 47 females will be diagnosed with melanoma in their lifetime. It is also affecting young people and is the second (in males) and third (in females) most common cancer in people between the ages of 15-44.
Significant exposure when you are young is the single most important lifestyle risk factor – experiencing blistering sunburn during childhood/early adulthood doubles the chance of developing melanoma in later life. Those with fair skin, freckling and lots of moles are more susceptible. The use of sunbeds also greatly increases the risk of skin cancer.
We ALL need to be checking our skin regularly - 86% of melanomas are preventable.
May is Melanoma Awareness Month. So I wanted to do something positive and constructive to help raise awareness of this scary disease - I will be walking 100 miles throughout May in aid of Melanoma Focus and SKCIN. All funds raised will be split equally between the two charities whose aim is to raise awareness and fund vital research into this horrid disease.
Undertaking this challenge whilst receiving my treatment is my way of 'paying forward' some of the incredible professional support I am receiving - the funds raised will benefit more people diagnosed with melanoma in the future. If there are days when I'm unable to get out due to hospital appointments or if I'm feeling a bit under the weather then Grace, Daisy and some of my wonderful friends will be helping me to complete the distance.
Thank you for your support :)
---
Thank you for checking out my page. Making a donation is fast, easy and secure thanks to Give as you Live Donate. They'll take your donation and pass it onto Skcin and Melanoma Focus.
My updates
6 months ago
Mission accomplished!!
I've had a really enjoyable month getting outside in the fresh air with friends for this Melanoma Focus and SKCIN 'Walk 100 miles in May' challenge, completing the distance on time & raising over £1,500 along the way!
It's really helped me to get back on track and refocus on the positive again and is something I plan to continue doing.
Melanoma, like all cancers, is a horrid disease - it is life changing and can be life limiting. With one in two people being diagnosed with cancer at some point in their lives, little acts like this, and your very kind donations, really do make a difference - so thank you all for your support across the month xx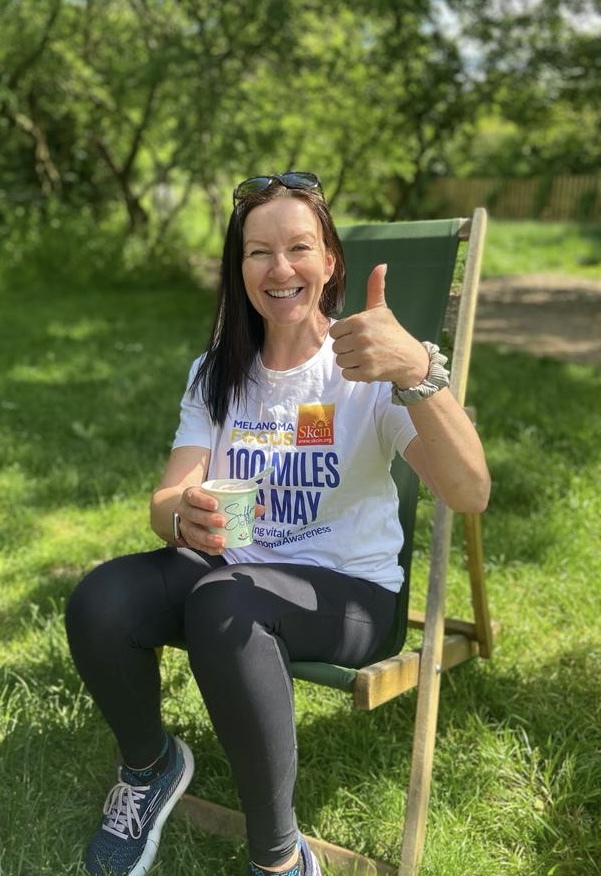 7 months ago
Woohoo 1st May is here and I'm off the starting blocks. I want to take this opportunity over the next month to walk with as many people as possible, visiting lots of different places too. This challenge is about so much more than the walking!! I've never done a fundraiser before and I'm blown away by everyone's support - it really does mean so much and will help to carry me through xx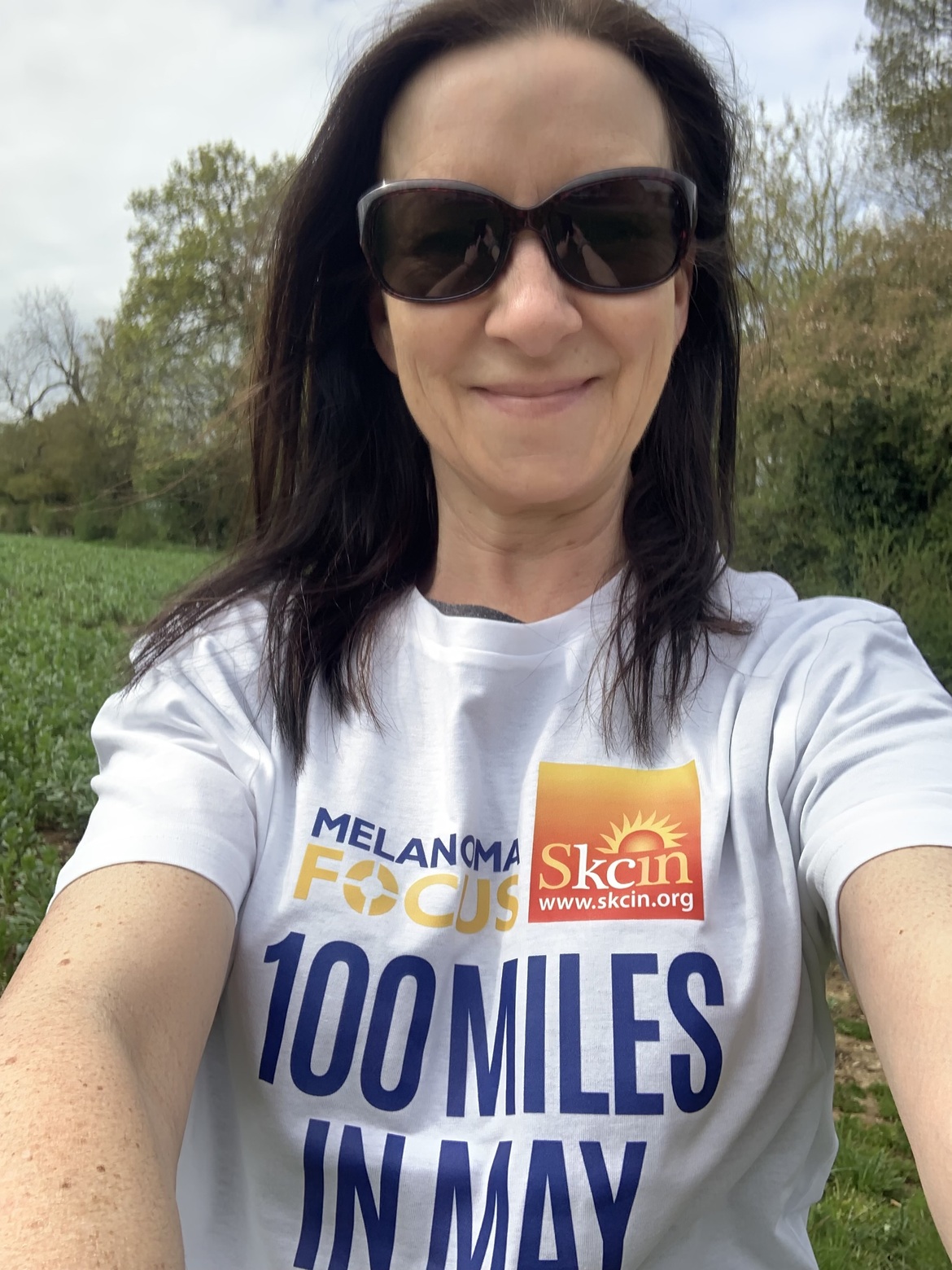 More great ways you can raise funds
Help me raise more
Your donations will help the great work Skcin and Melanoma Focus do.
Donate now