This page is closed and is not accepting further donations
Recent donations
A massive well done to you Emma
4 months ago
Mike Cotterell
4 months ago
David Culshaw
4 months ago
Sheila Whitehouse
£20.00
We'll done Emma x very brave x
4 months ago
Helen, Andy and Leah
Amazing achievement Emma and for having the strength to speak out. This organisation sounds amazing and needs to be recognised!

Emma's Abseiling Challenge
Emma Jenks is raising money for Rape And Sexual Abuse Support Centre (Cheshire And Merseyside)
My story
I am challenging myself to do an abseil from Liverpool Cathedral from 150ft, Liverpool Cathedral is a place where I have recently found peace in a very challenging time of my life.
I am raising awareness & money to support RASASC, the Rape and Sexual Abuse Support Centre in Cheshire and Merseyside. Despite fighting with myself for over 22 years with the fact that I was sexually abused as a child, I came face to face with the abuser in 2022. I found myself unable to carry this burden with me anymore, in fear of losing my family because of what happened, I feared that no one would believe me, I feared that no one would hear my story.
I summoned the courage to report what happened to me from the age of 9 to the police, and I then had to do the hardest thing I've ever done, tell my family about what happened to me. Despite my fears, they believe me, they support me, the listened to me. During the time of reporting this to the police, they advised me to reach out to RASASC.
The team at RASASC were so supportive from the moment I reached out to them, I was offered the support of an ISVA, an Independent Sexual Violence Advisor, she was amazing in so many ways. She was a beacon to my in a time of shear darkness, she guided me through the justice process, she was there to reach out to the police when I felt I couldn't do anything at all. She was there for me, throughout the whole process, she understood my difficulties and the weight of the burden I carried for all those years. She was able to offer me rapid access to counselling when no one else could.
Despite the police being unable to take my case any further due to 'lack of evidence' (sadly like most cases) due to it being a historical case, the perpetrator is able to carry living their life freely. As angry as I am, there is nothing more that I can do, what I can do instead, it to shout about RASASC and tell everyone about the amazing work that they do for those who have experienced sexual abuse/ child sexual abuse.
I am still taking counselling sessions, and my therapist at RASASC is just as amazing as the ISVA I was allocated. He has brought about a whole new level of awareness, processing and meaning when dealing with my traumas. RASASC have helped me to turn the leaf of a page that was stuck for what felt like endless years, they have allowed me to start living, and begin a new chapter in my life, and for that, I will always be eternally grateful.
And for that, I want to offer them thanks in the of raising awareness about the amazing work they do, and the support that they offer, and to raise funds, to help support others who have had to experience similar stories such as myself. I'm stepping out of my comfort zone, and I will abseil down Liverpool Cathedral from 150ft!
Thank you for taking the time to read my story and I hope you can appreciate the mental well-being lifeline that RASASC offer to victims of sexual abuse like me.
---
Thank you for checking out my page. Making a donation is fast, easy and secure thanks to Give as you Live Donate. They'll take your donation and pass it onto Rape And Sexual Abuse Support Centre (Cheshire And Merseyside).
My updates
4 months ago
I'd like to say a massive thank you to everyone who has kindly spent their time to donate for this amazing charity.
Their service was second to none to me, and I'll always be eternally grateful for their support at such a dark time of my life.
I can say, that some how, despite my overwhelming fear at the top, that I successfully completed the 150ft abseil from Liverpool Cathedral. I have included some photos (I'll figure out how to upload a video at some point lol).
Huge thank you again for you support for this event! You made this a success!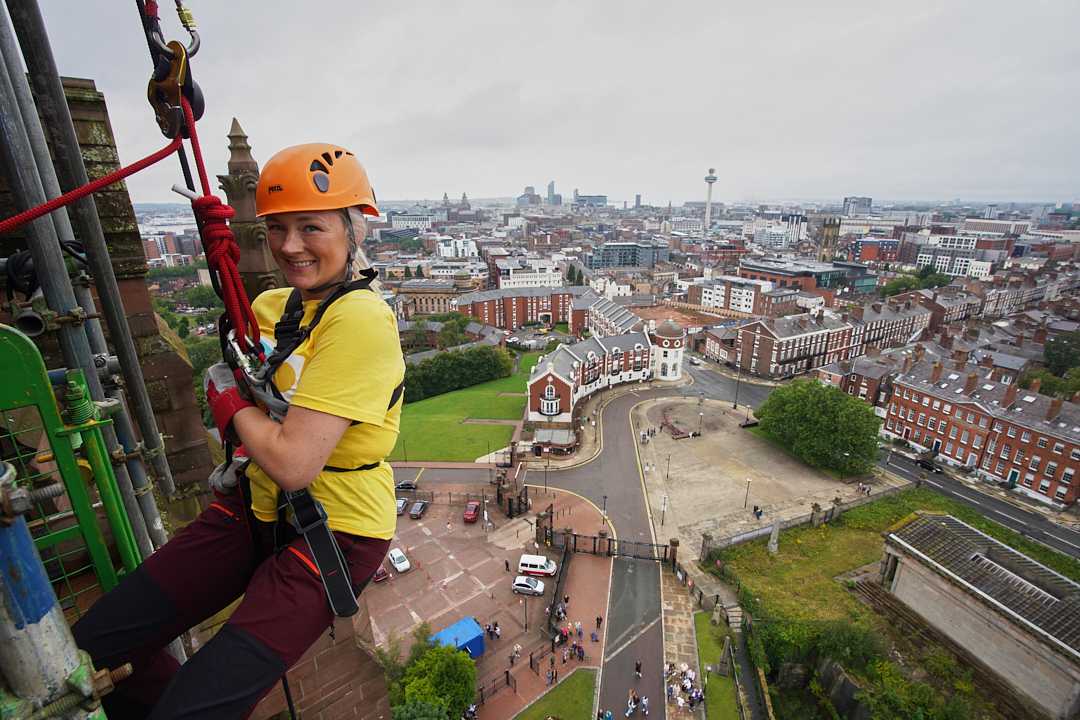 More great ways you can raise funds