This page is closed and is not accepting further donations
Recent donations
1 year ago
Gallant Lanctot
£20.00
1 year ago
Katherine Harrison
Good luck! Extremely commendable effort.

Adrienne Gallant Lanctot is raising money for Skcin and Melanoma Focus
Adrienne's 100 miles for Melanoma Awareness Month!
Event dates: 1st May 2022 – 31st May 2022
My story
Help me in fundraising for Melanoma Focus and SKCIN so that they can continue their important work for Skin Cancer prevention and in support of patients with melanoma!
As we welcome the summer, enjoy the sunshine! But remember to be sun safe! (And remind your love ones to do the same!)
Here is some helpful info! :)
https://www.skcin.org/sunSafetyAndPrevention/theFiveSsOfSunSafety.htm
---
Thank you for checking out my page. Making a donation is fast, easy and secure thanks to Give as you Live Donate. They'll take your donation and pass it onto Skcin and Melanoma Focus.
My updates
11 months ago
Evening Run
6734m distance
0:40:59 time
5:31min/km speed
2126m distance
0:22:35 time
10:13min/km speed
1948m distance
0:25:05 time
12:55min/km speed
1956m distance
0:25:49 time
12:20min/km speed
1 year ago
Afternoon Walk
3125m distance
0:43:02 time
11:20min/km speed
Adrienne Gallant Lanctot is fundraising for 2 charities
Adrienne Gallant Lanctot is fundraising as part of
100 Miles in May 2022
1st May 2022 - 31st May 2022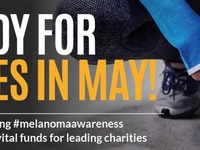 Powered by

1 6 8 . 3 km Total distance
More great ways you can raise funds