Recent donations
yesterday
Ken and Maureen
£5.00
This is doing my OCD I know your doing it on purpose
4 days ago
Natalia Jakobczak
£5.00
All the very best to you both x

steve wade is raising money for Skcin and Melanoma Focus
Claire and Steve
---
Share this page with your friends:
My story
I will be taking part in this fundraiser 100 miles in May to hopefully raise lots of money towards the continued research into the treatment of Melanoma which with advances in surgery and more importantly in immunotherapy over the last fifteen years have given my wife Claire and I hope after she was diagnosed with stage 4 Melanoma cancer in May 2022.
Claire had a Mole removed in July 2021 after we noticed it had changed in shape and colour and within the next seven months had to endure another two operations to remove more tissue and 21 Lymph nodes that could potentially be cancerous.
Unfortunately although at the time it seemed the surgery was enough a few months later cancer cells had moved from the original site and were showing up in the base of Claires head, spine, shoulder and her leg.
Claire had already had one infusion of immunotherapy treatment before this news and it only took one more infusion for a new Pet Ct scan to show that no cancer cells were present.
Claire has just finished one year of treatment but has to undertake another year due to the initial aggressive spread of the disease.
Immunotherapy is at the moment the best treatment for Melanoma but like all forms of treatment for cancer it does come with potential serious side effects some of which Claire has had and some of those have to be managed by different specialists, scans and medications on top of what Claire already has to undertake.
This is why it is so important to continue the research into immunotherapy and at the same time raising awareness of how serious skin cancer is.
Without the advances in immunotherapy in the last fifteen years the treatment of this aggressive form of Melanoma would not be possible.
---
Thank you for checking out my page. Making a donation is fast, easy and secure thanks to Give as you Live Donate. They'll take your donation and pass it onto Skcin and Melanoma Focus.
My updates
4 days ago
100 miles completed!! 🧡💛🙏
After 27 days and 25 hours of walking and running and so far £1030.00 raised the 100 miles in May fundraiser 2023 is complete 🏃‍♂️💪🙏
Just cannot believe how much support I have received since taking part in this fundraiser and how incredibly generous people have been some of whom Claire and I do not even know but they have still given money to this fundraiser 🙏
I plan to do more miles up until the end of the month so I will update on the 31st how many I get to.
All that's left to say is again a massive thank you to everyone again and hope that this has demonstrated how important research into all types of Cancer is, this is our nightmare and without immunotherapy advances it would be more then that.
Claire continues to be amazing and somehow takes all the knock backs, new side effects, blood tests, scans and constant hospital visits all without complaining.
Claire being diagnosed with stage 4 cancer means that before July 2021 we had a pretty ordinary and normal life.
After July 2021 that all started to change 😢
We both hold full time jobs 🙏
Cancer is a full time job 🧡💛
Life will never be the same but we make the most of it and look to the future 🧡💛
The Cancer is still at bay so the main focus is managing the side effects the treatment has given Claire to date especially as she has just started her second year of treatment.
This is why your support and donations are so dear to us.
Thank you 🙏 🧡💛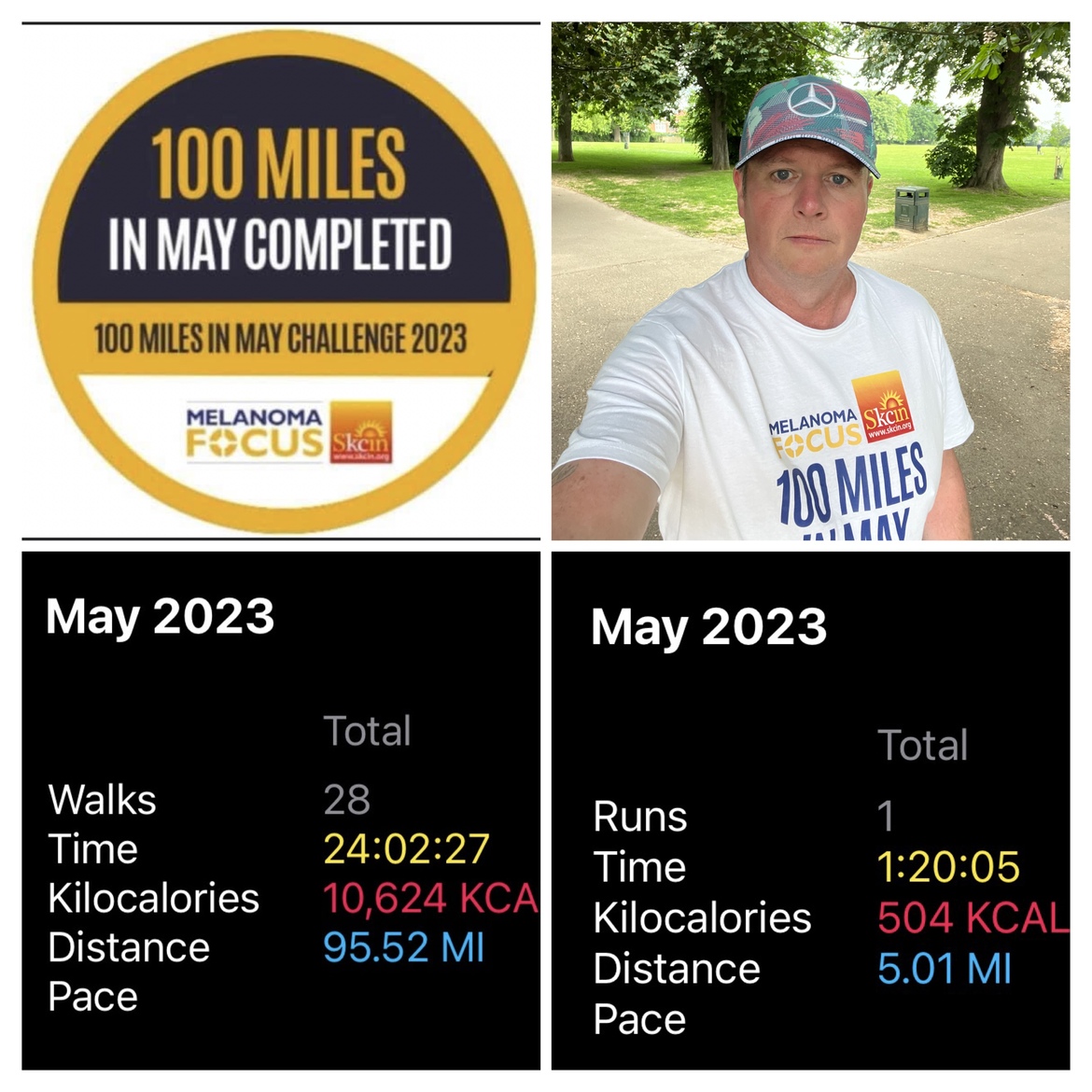 1 week ago
Thank you all so much for your generosity,
91 miles now done so only 9 left 🧡💛🙏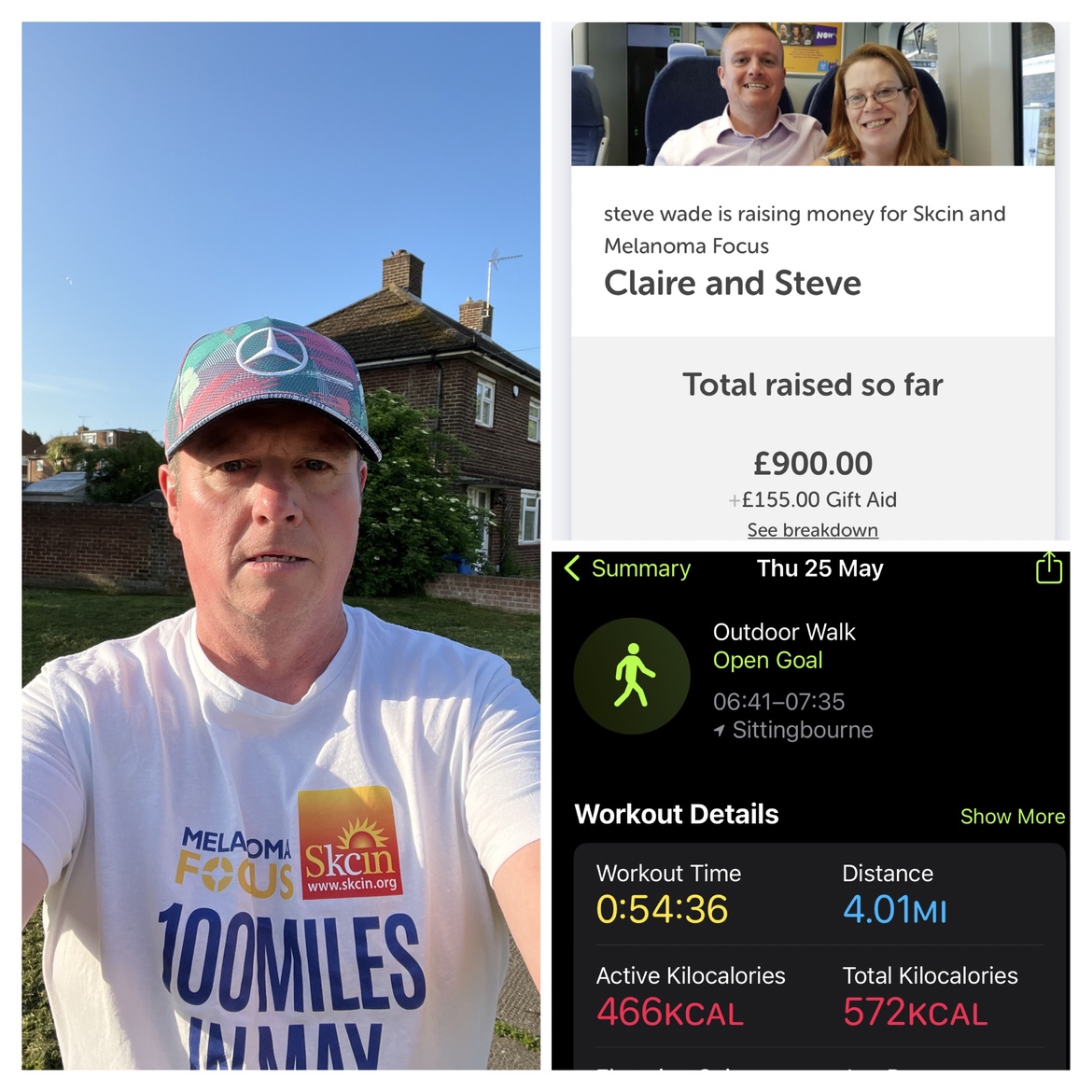 1 week ago
I would just like to thank everyone for the wonderful support and kind donations and to let you all know I am currently on 87 miles so well on target for the 100+ miles 🙏🧡💛
steve wade is fundraising for 2 charities
More great ways you can raise funds
Help me raise more
Your donations will help the great work Skcin and Melanoma Focus do.
Donate now