This page is closed and is not accepting further donations
Recent donations
6 months ago
Sabeeta Shanley
£10.00
Good luck for the big night. Sabeeta xx
6 months ago
Phil Andrews
£50.00
Great effort Darren, hope to join you next year.
10 months ago
Sebastian C. Beltran-Cavanzo
£20.00
10 months ago
Dhananjay Papde
£10.00
All The Best Darren. See you there :-)
£10.00
Go for it Darren, best of luck!
£20.00
Thanks Darren for bringing awareness and wishing your wife a great recovery
10 months ago
Donna Arnold
£10.00
10 months ago
Rodney Jack
£10.00

Darren Hunt is raising money for Heathrow Community Trust
Darren's run for the National Brain Appeal awareness
Event date: 1st October 2022
My story
IMPORTANT NOTE:
Heathrow Airport has just advised that the date has been changed:
"Due to our growing peak in passenger numbers, we have made the tough decision to move Heathrow's biggest engagement event to Saturday 1st October 2022. It will be the same format, where you can enter as a team or individually and you can walk or run the 2.2 miles of the Northern Runway at midnight. "
I'll be taking part to raise awareness for the National Brain Appeal, which has done soon much for my wife over the past years.
I'll be contributing an amount separately to National Brain Appeal to help them to support others.
Please see her story below:
https://www.justgiving.com/fundraising/sharonhunt1968
I'm raising money for The National Brain Appeal who as their website quotes 'helps to provide much-needed funds to support The National Hospital for Neurology & Neurosurgery and the UCL Queen Square Institute of Neurology – together known as Queen Square. This is one of the world's leading centres for the diagnosis, treatment and care of patients with neurological and neuromuscular conditions'.
I am already a survivor of a cerebral AVM (a rare neurological condition called Arteriovenous Malformation) following a successful treatment using Gamma Knife Surgery in 2015, I am now onto the next chapter of my neurological journey and will have surgery to clip an aneurysm on the right side of my brain. All of my life saving/changing treatments have taken place at The National Neurology Hospital, Queen's Square. To acknowledge and thank, every member of staff, at this incredible hospital I am holding a charity 'Operation Ready Head Shave' on Monday 20th May 2019 to add my personal thank you to the team at Queens Square who have given me the hope, health and happiness to continue on my amazing life journey.
My Personal story: The 13th September 2015 was the start of the most challenging chapter of my life. My husband and I were on a weekend break in Brussels and had spent the Saturday doing all the sightseeing things with plans for a breakfast meet with friends on the Sunday morning, unfortunately in the early hours of the Sunday morning my incredible husband woke to discover me unresponsive. An ambulance was called and I was rushed to a local hospital, which by chance was a Neurology Hospital, and the Doctor on call instantly recognised that I had suffered some sort of brain trauma. Over the coming days I was intensive care, and following a series of tests including a CT scan, MRI scan and an Angiogram I was diagnosed with a cerebral AVM (a rare neurological condition called Arteriovenous Malformation). After discussions centred around treatment options, one of which was to have surgery in Brussels to remove the AVM, I decided that I wanted to come home and receive any treatments in the UK. I was then airlifted back to the UK and admitted under the care of The National Neurology Hospital, after a period, many tests and discussions it was decided that the best course of treatment was Gamma Knife, as surgical removal or embolisation were not safe options. The Gamma Knife procedure took place one the 23 November 2015 and after 3 1/2, sometimes challenging, years the AVM has gone!
Now starts chapter 2, it has now been confirmed that I have been left with 3 small aneurysms in the brain, 2 are on the left side of the brain and the team are confident that these are as a result of the AVM, the other is on the right side and this ones is a concern. As a result I will be undergoing surgery early in June to 'clip' the aneurysm, this is a procedure which will prevent it from bleeding, which would be seriously life threatening. Obviously any form of surgery is not without risks, but I am confident that after this surgery, the expertise and outstanding care from The National Neurology Hospital and my AMAZING family/close friends I will be back on the road to recovery again!
I am blessed to have the most supportive, loving, patient, amazing husband, daughter/son/son-in-law, mum/dad, bother/sister-in-law/niece, best friend who have helped get me through the journey so far. We are lucky to be further supported and encouraged by a close group of friends/extended family who have also been there every step of the way.
During this journey I have been further blessed with 2 granddaughters who give me further inspiration to continue fighting!
I love you all from the bottom of my heart and thank you for the unconditional support/love/patience/understanding to survive and beat these challenges.
---
Thank you for checking out my page. Making a donation is fast, easy and secure thanks to Give as you Live Donate. They'll take your donation and pass it onto Heathrow Community Trust.
My updates
5 months ago
Thanks so much for all the support, encouragement, and contributions as every small amount will help.
5 months ago
I finished in a time of 25 minutes and 35 seconds.
Slow and steady, I'd say plus more training needed.
Especially as the legs are still aching 3 days later!!!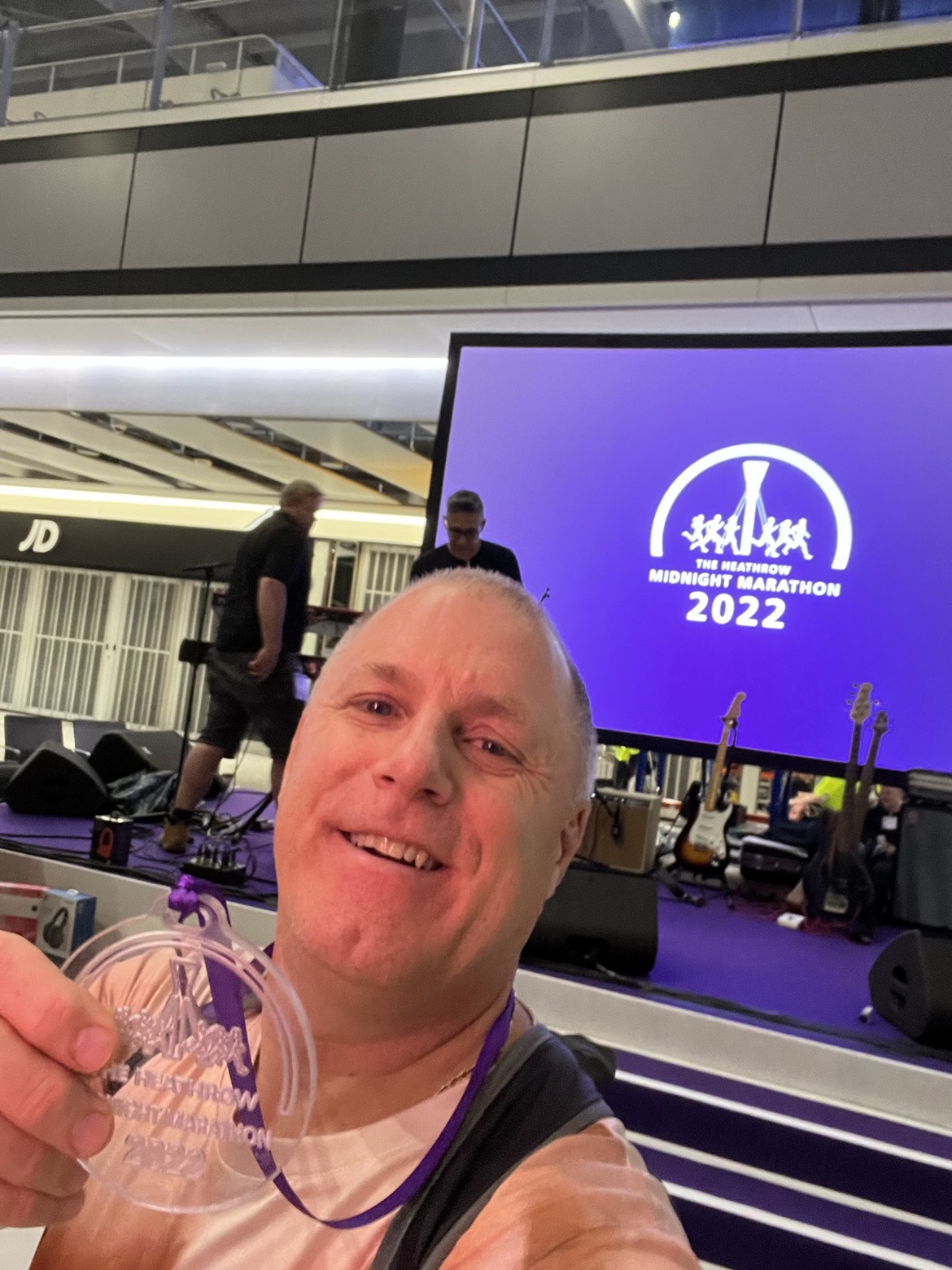 5 months ago
On the runway ready for the starting gun!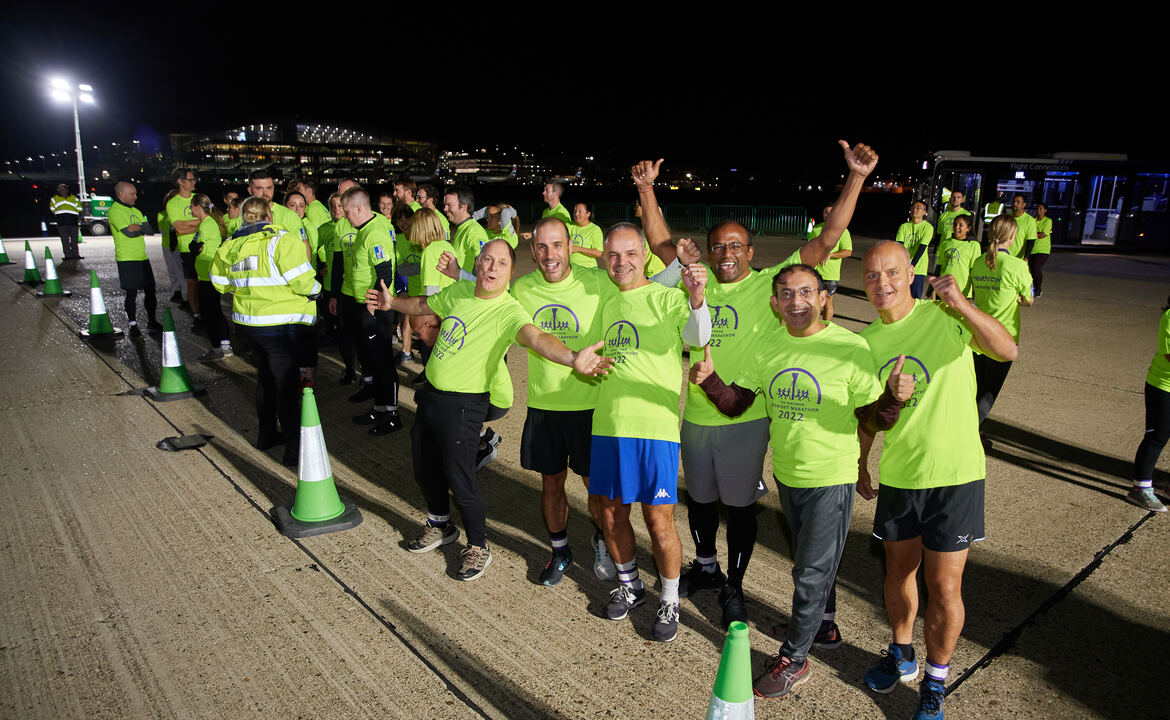 5 months ago
The team is ready for the run at 12:30am ........ 2nd October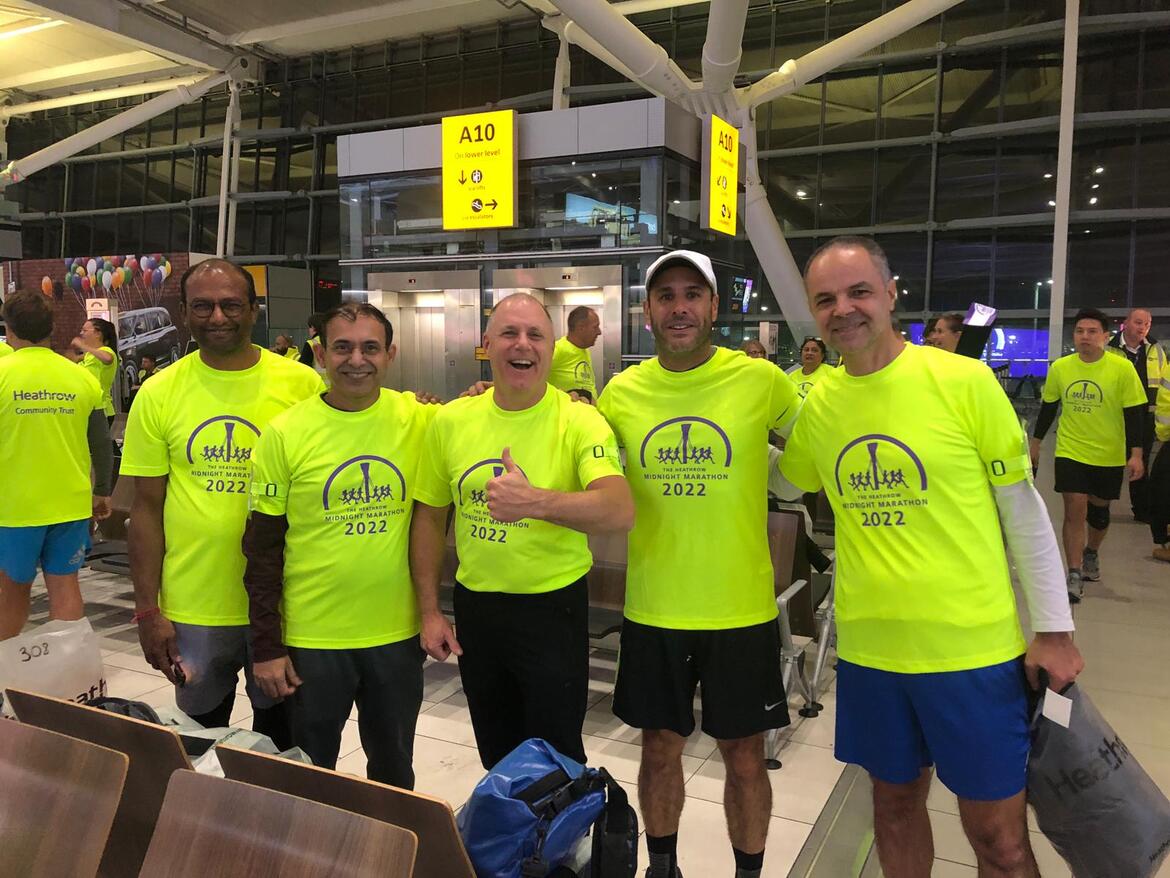 More great ways you can raise funds