This page is closed and is not accepting further donations
Recent donations
Amazing achievement Eram! ❤️
1 year ago
Uncle Reggie & Auntie Jess
£100.00
+ £25.00 Gift Aid
Congratulations Eram, a superb achievement; your strength, courage and determination has seen you through! I'm super happy for you 🤩🙌🏽🎉🎉
1 year ago
Madhuri Tailor
Dear Eram I was touched by your story. You're brave and amazing. Sending you sincere warm wishes:-))

Eram Osman
Eram Osman is raising money for PSPA
My story
On August 1st I started my 3rd challenge for PSPA - 70 mile bike ride to earn a Platinum Jubilee Medal. I set myself 31 days to complete this challenge, on Monday 29th August, I hit my target!
----------------------------------------------------------------------------------------------------
On Sunday 17th July, I completed my Virtual Challenge 476miles in 77 days 😊thank you all for your kind support throughout my journey.
On May 2nd my mum would have celebrated her 80th birthday. I wanted to do something in her memory and at the same time raise funds for the PSP Association (https://www.pspassociation.org.uk/research/) so I have set myself a challenge.
It was important for me to have some relevance to '80' and to India where my mum was born and spent most of her childhood and teenage years. So, I have decided to take on the Golden Triangle virtual challenge, which is 476 miles, it starts from the Indian capital of Delhi to Agra and Jaipur. I'll be looking to complete this in 80 days! That's 6 miles per day starting from 2nd May.
I'll be using hashtag #India80Challenge on my social channels, so you can follow my journey. This page will be updated as I reach milestones and I will share postcards I receive on the way.
For people who know me, know that my mum suffered from Progressive Supranuclear Palsy, this is a relatively new condition and as yet there is no cure.
There are believed to be around 4,000 people living with PSP in the UK at any one time.
There are no simple tests or brain scans for PSP. In its early stages, symptoms can resemble those of other neurological conditions such as Parkinson's, Alzheimer's, Stroke or Multiple System Atrophy and misdiagnosis is common.
The condition gets its name because:
1️⃣ Progressive – it steadily worsens over time
2️⃣ Supranuclear – it damages the nuclei that control eye movements.
3️⃣ Palsy – it causes weakness.
I want to raise £1000 to help fund research. I know I can count on your support, as so many of you have supported me in the past and I cannot ask for anything more. I want to hit my target; I know it's big but together we WILL make a difference.
Thanking you all in advance 💜
Eram
-*-*-*-
------------------------------------------------------------------------------------------------------
9th February 2022 - My first challenge: 10K completed in 59:42, so pleased I made it (just!) under the hour. I won't lie it was tough, but its great to be back!
---
Thank you for checking out my page. Making a donation is fast, easy and secure thanks to Give as you Live Donate. They'll take your donation and pass it onto PSPA.
My updates
1 year ago
On 1st August, I took on my 3rd challenge for PSPA in memory of my beautiful mum💜 The Platinum Jubilee challenge which was 70 miles of activity, I set myself a goal of cycling 70 miles within 31 days.
I'm feeling fantastic today, not to mention a bit sore! It's been a full on Bank Holiday cycling weekend, over 33 miles covered, that's a lot for me! The challenge is now over, it's been tough at times, but my confidence has grown over the past few weeks on the bike and it has been enjoyable most of the time 😊
Can't wait to get this medal, its my favourite colour- Purple.
Thanks again to you all for your kind support 💜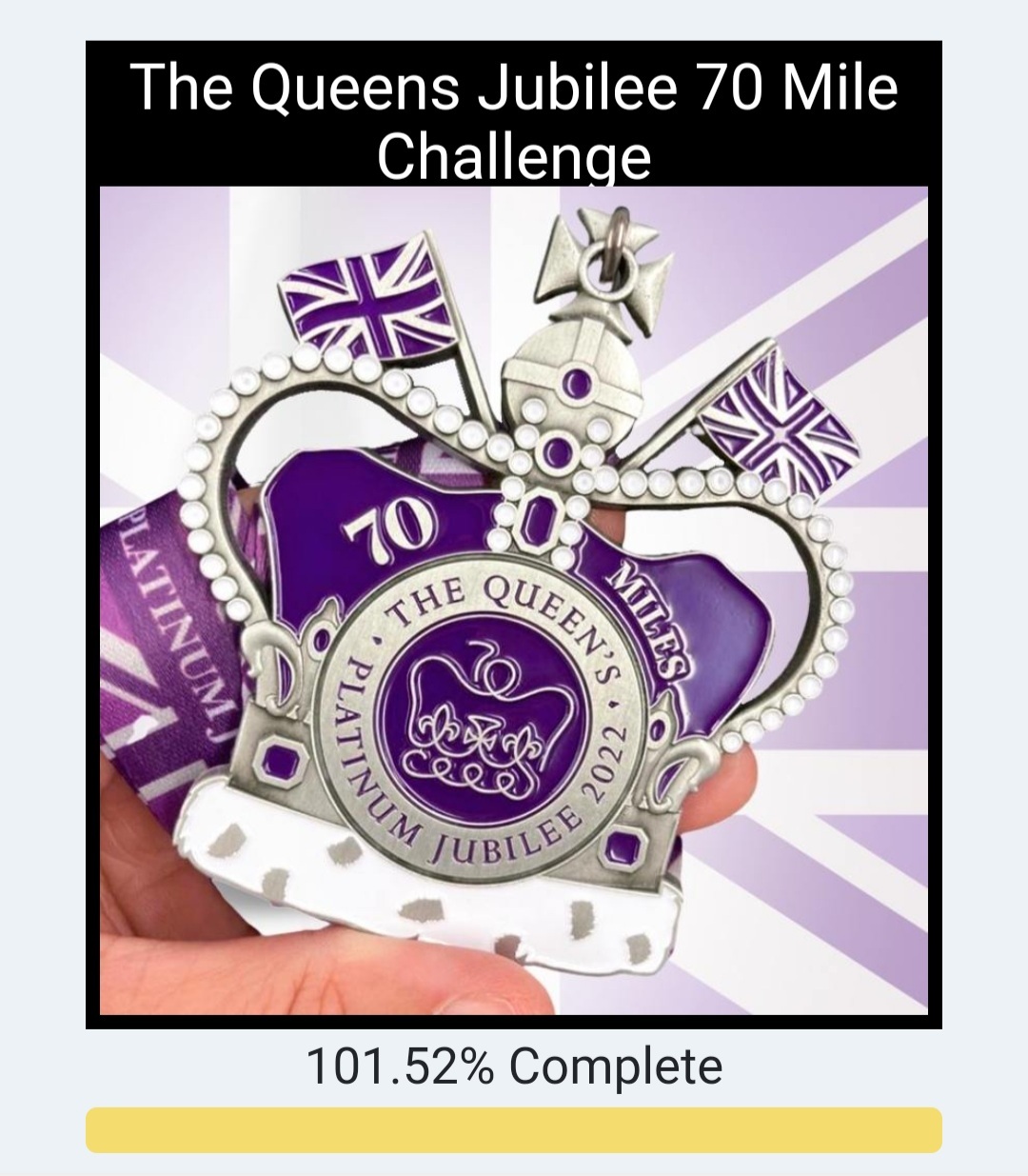 1 year ago
Feeling Amazing, my Virtual Challenge was completed this morning, 476miles in 77 days 😁
Thank you all so much for your support, I couldn't have done this without you 💜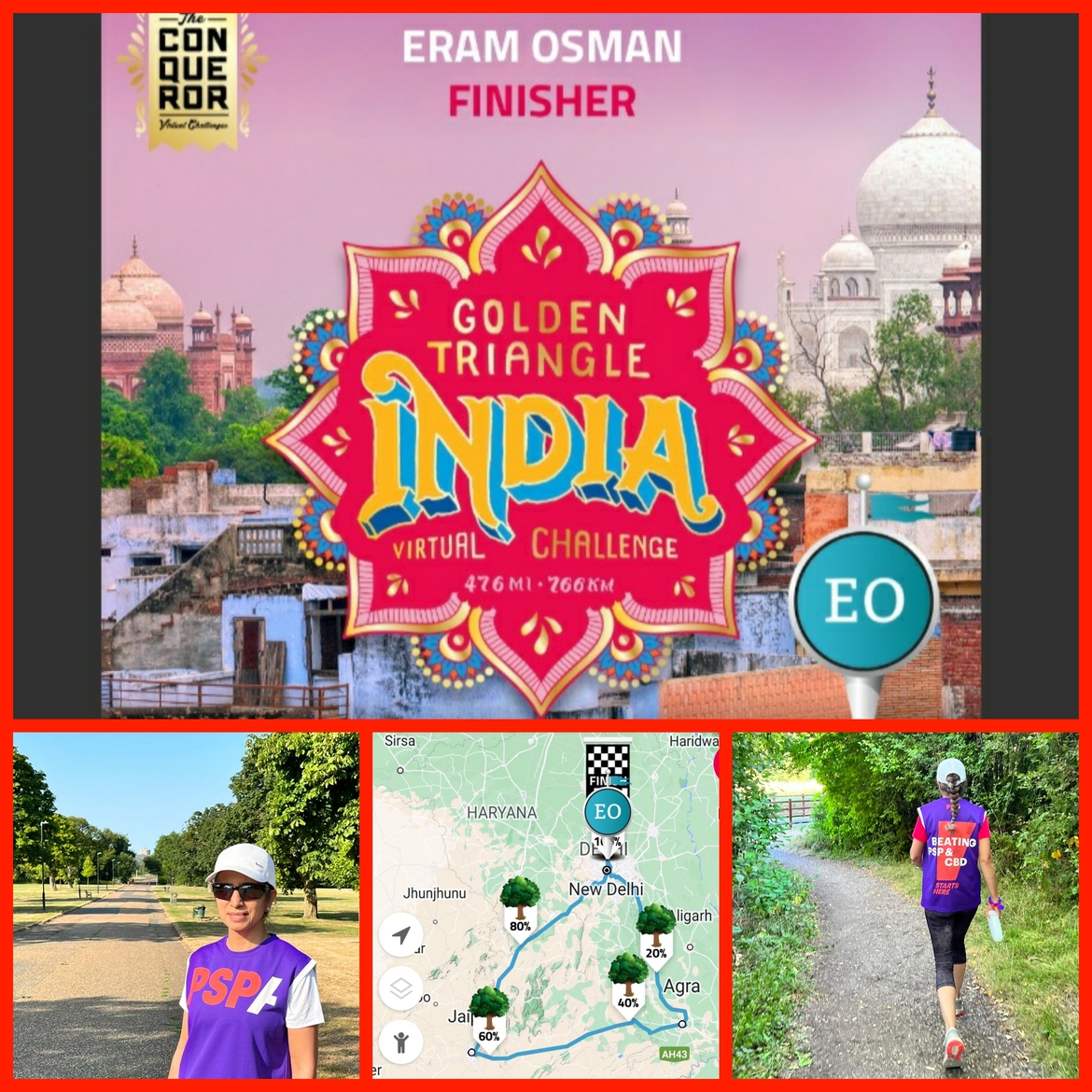 1 year ago
Well it seems like I missed an update when hitting the 80% milestone!
So, today is a great day, I've hit 90% of my total distance😁
I really can't believe I only have 2 weeks to go and the finishing line is now in sight. I'm feeling strong and positive, despite still not being able to run. I've now resorted to power walking, which gets the heart rate up and the time down, and does not put pressure on my shin. Its a win, win situation!
Here's the score as it stands today.....
✨ 90% distance covered (that's 429 miles done)
✨ 47 miles to go in 14 days
✨ 87% of my sponsorship target has been achieved (thank you🙏🏼)
Thank you all so much for your continued support, it's still keeping me going 💜 #India80Challenge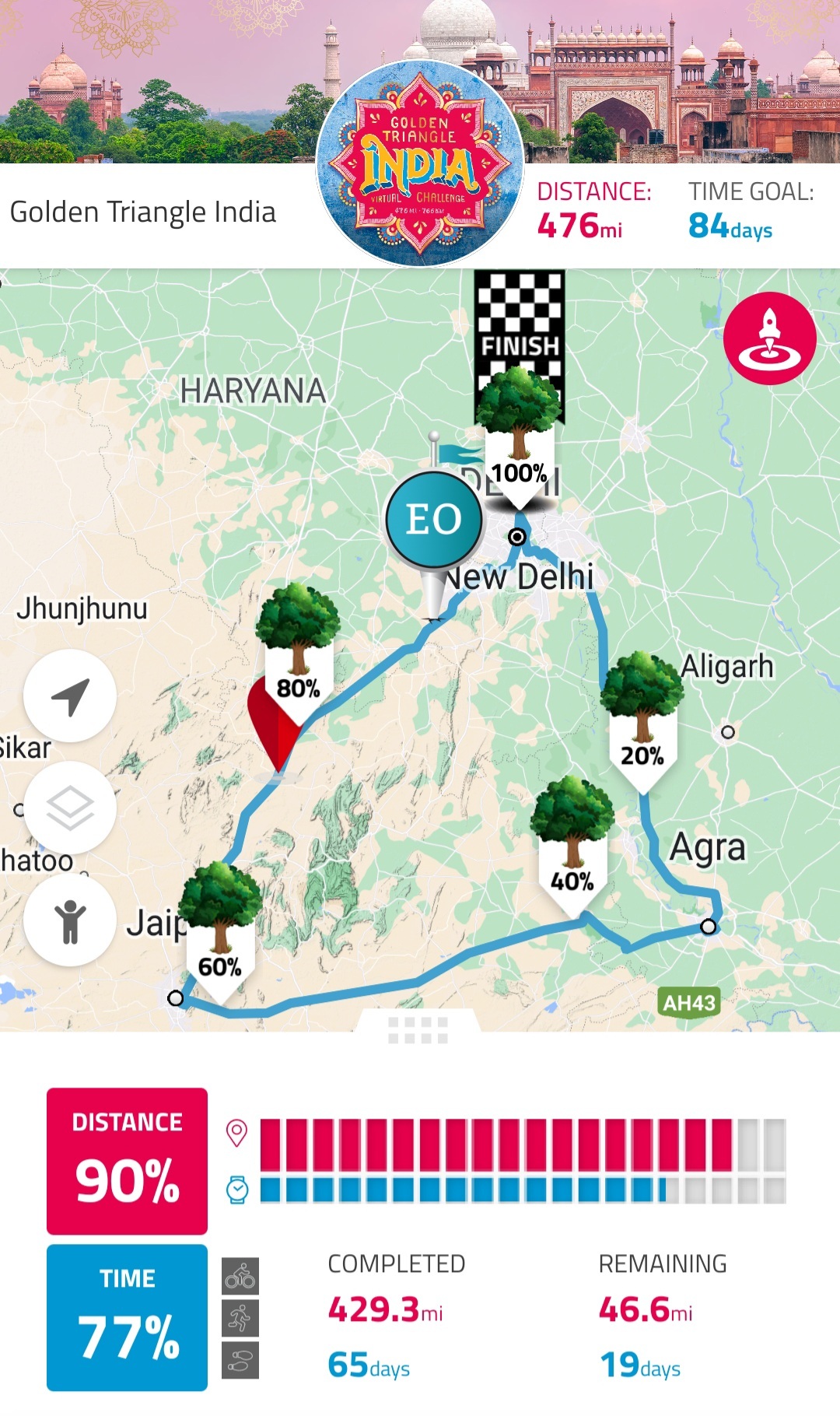 1 year ago
So, today is day 53 of my India Virtual Challenge 😁
I really can't believe that I only have 27 days to go! The days seem to be flying past, which I'm very grateful for 🙏🏼
Its been over 2 weeks since the Shin Splint episode, I've not been able to run, instead I have been walking a few miles each day, very slowly. The good news is that my leg has been feeling much stronger over the past few days and today I managed a 6 mile brisk-ish walk. Fingers crossed, I'll be able to start running again in the next few days. I just want to be strong, agile and majestic at the finishing line as this beautiful Bengal tiger that appeared in my inbox this morning.
None of this would be possible without you all 💗
I have a lot to be grateful for today....
✨ 71% distance covered (that's 340 miles done)
✨ 136 miles to go in 27 days
✨ 84% of my sponsorship target has been achieved - a big thank you🙏🏼to you all for your generous and amazing support. #India80Challenge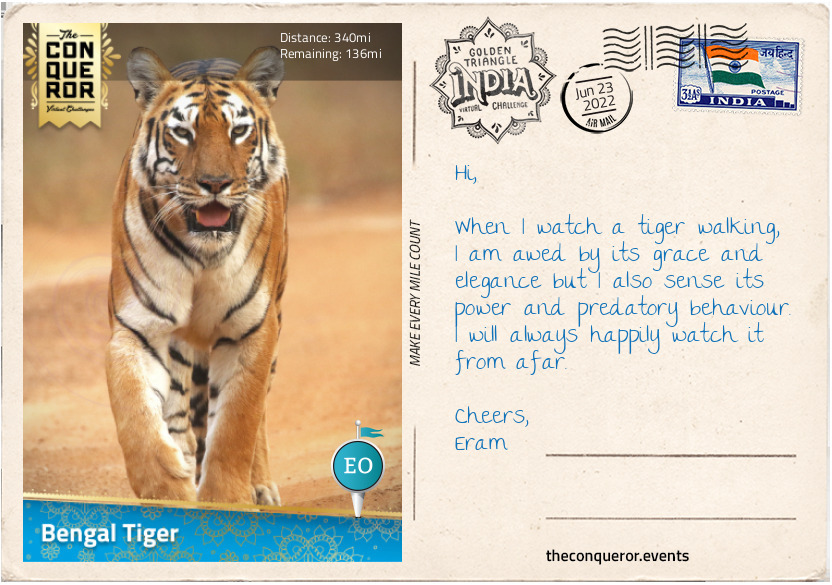 1 year ago
It's day 44 of my Virtual Golden Triangle Challenge and despite my shin injury it's a great day because...
🎉 I have less than 187 miles to go - hooray
🎉 I've covered 60% of the total distance and a 3rd tree has been planted somewhere in the world on my behalf
🎉 I've reached 77% of my fundraising target
None of this would be possible without your support so thank you so much 💜 #India80Challenge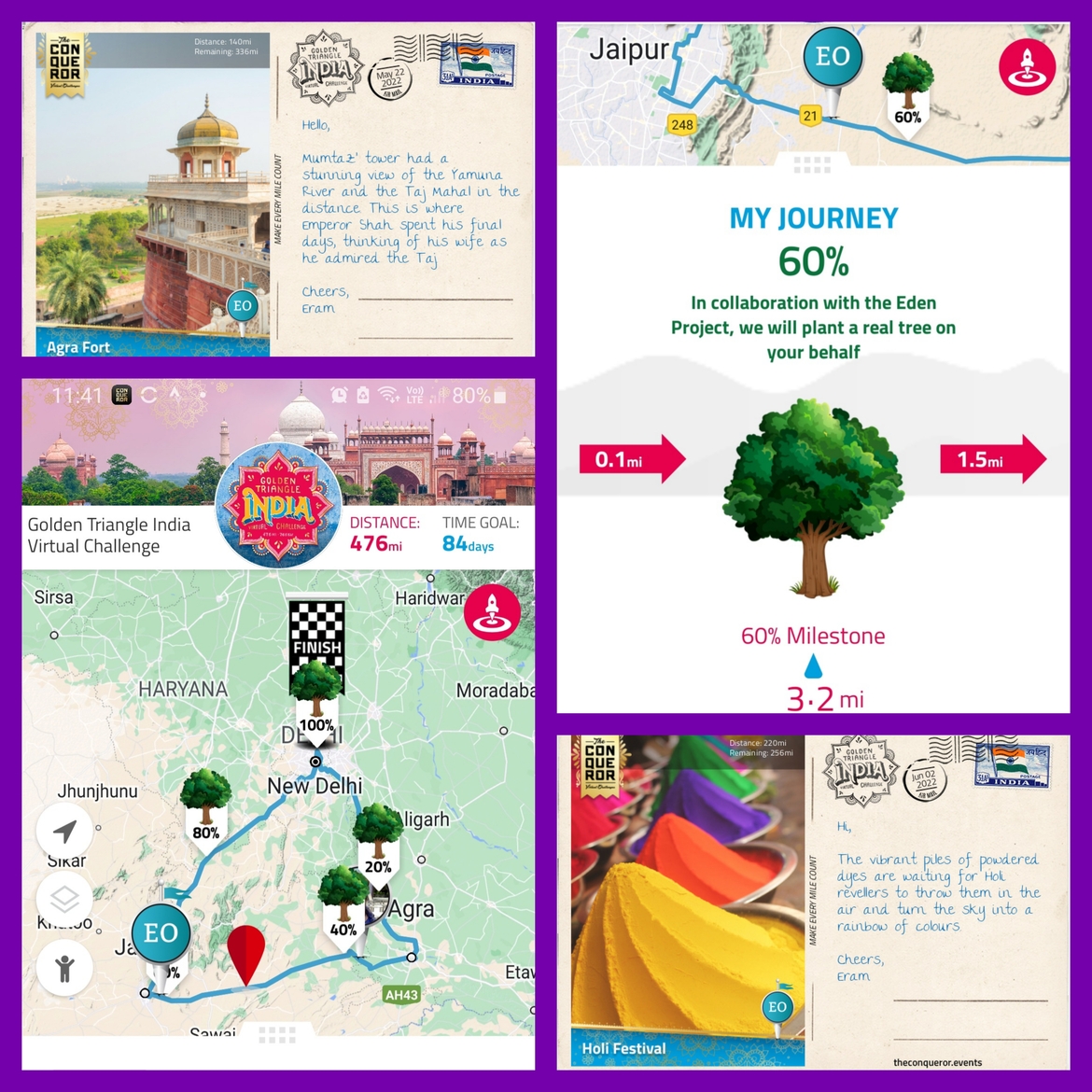 This page is in memory of
Aisha Osman
More great ways you can raise funds