Recent donations
1 month ago
Gerard McKinney
1 month ago
Jamie Pothier Taylor
As Holly's Granny would say: 'You are amazing'
£20.00
Well bloody done!! Hope your recovering now xx
1 month ago
Meehan Michelle
1 month ago
Jerry Gould Gould
A top up as you have been sooooo amazing
1 month ago
Alison, Steve and Clare
Wow congratulations ladies! That's amazing you must be so fit !! Much love x
Well done with your determination. Hopefully there's a nice hot bath/shower waiting on your return.

Jo and Hannah's Irish Cycling Challenge
Event dates: 21st July 2023 – 28th July 2023
Jo and Hannah O'Sullivan are raising money for Birmingham Irish Cycle Appeal
---
Share this page with your friends:
Our story
Whilst most Mum and daughters opt for a relaxing spa day together, we've somehow found ourselves attempting to cycle 909 kilometres across the whole of Ireland...in 6 and a half days. We'll be cycling on Ireland's notorious roads all the way from Mizen Head, West Cork up to Malin Head, Donegal, starting on the 21st July 2023. The Birmingham Irish Cycle Appeal supports multiple charities and we'll be fundraising for UHCW Charity, specifically to help build a new Bereavement Suite for the Maternity Wards at UHCW hospital.
In England, 1 in every 200 births after 24 weeks of pregnancy, is stillborn. Currently, the Maternity Department at UHCW has nowhere that mothers can deliver their stillborn babies in a private, quiet space. Instead, they have to give birth on the labour ward, alongside those whose babies are born alive and well. This is clearly distressing for grieving parents and their families, so we're raising funds to help create a sound-proofed, peaceful bereavement suite, with specific compassionate aftercare.
We'll be packing our waterproofs ready for any weather that the Wild Atlantic Way throws at us, hoping to raise enough funds to make cycling every hill, mountain and tedious incline worthwhile for the Maternity Wards.
Any donations will be gratefully received and Hannah has vowed to put the bike straight back in the shed where it belongs once this challenge is over.
Thank you for reading and any donations you're able to give,
Hannah and Jo x
---
Thank you for checking out our page. Making a donation is fast, easy and secure thanks to Give as you Live Donate. They'll take your donation and pass it onto Birmingham Irish Cycle Appeal.
Our updates
66.2km distance
8:08:11 time
3:47min/km speed
1 month ago
Day 6 Mizen to malin
136.1km distance
10:50:39 time
3:21min/km speed
63.1km distance
4:58:19 time
3:14min/km speed
2 months ago
Mizen to malin day 5
Good lord the rain
165.2km distance
11:54:50 time
3:07min/km speed
2 months ago
Day 4 Mizen to malin
Longest ride I've ever done
Absolutely red raw
163.3km distance
12:04:13 time
3:10min/km speed
Jo and Hannah O'Sullivan are fundraising as part of
BICA 2023 - Mizen Head to Malin Head
21st July 2023 - 28th July 2023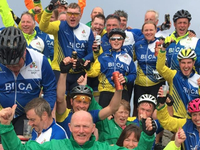 Powered by

1 7 2 6 . 8 km Total distance
More great ways you can raise funds
We've smashed our £2,000 target - help us raise more
Your donations will help the great work Birmingham Irish Cycle Appeal do.
Donate now