Recent donations
£100.00
+ £25.00 Gift Aid
£100.00
+ £25.00 Gift Aid
1 month ago
Niall Kinsella
Well done lads fair play!
£100.00
+ £25.00 Gift Aid
£100.00
+ £25.00 Gift Aid
Happy riding Joe & Tom. Best of luck. Enjoy. Lots of love, Tracey, Tom & James Coye.
2 months ago
Tom O'Keeffe

Joe & Tom Shalvey Mizen Head to Malin Head - BICA 2023
Joe & Tom Shalvey is raising money for Birmingham Irish Cycle Appeal
---
Share this page with your friends:
My story
In just a few weeks, we will be embarking on a 600 mile cycling challenge along with the rest of the fantastic BICA 2023 team. Starting from the southernmost point in Ireland at Mizen Head, over the course of 6 days we will pedal our way along the windy, rugged west coast, all the way up to Malin Head at the very top.
With both of us having began with virtually no cycling experience, after months of determined training we have managed to transform ourselves from wobbly, out-of-breath cyclists trying to stay upright on two wheels, to slightly less out-of-breath cyclists just with more lycra. We are incredibly excited to take on the Mizen Head to Malin Head challenge, but more importantly we are thrilled to be raising money for an amazing bunch of organisations who do some truly vital work and are making tangible differences to people's lives every day.
Anything you can contribute will be massively appreciated, and is added motivation to keep the pedals turning over.
Thankyou for your support, and remember to click the "gift aid" option if you can!
This year BICA will be raising money for:
Midwifery Bereavement Facilities (Birmingham Women's & UHCW Hospitals):
Each year the Birmingham Women's Hospital care for over 2,000 grieving parents who have lost a baby throughmiscarriage, stillbirth or neonatal death. News is delivered in cramped 'quiet' rooms, often on the maternity ward or in busy outpatient areas. The purpose-built Woodlands House, due to open in 2024, will provide a safe, secure, and serene environment where affected families can spend time together, and receive support from specially trained staff. The Maternity Department at University Hospital Coventry and Warwickshire currently deliver over 5,000 babies each month, but have no separate facilities for families who suffer a stillbirth. The UHCW team have designed a Maternity Bereavement Suite, where families who suffer a stillbirth would have privacy and comfort in soundproofed rooms, away from other new families. These facilities will include provisions for partners and siblings to grieve together, and will provide bespoke facilities for specialist staff to support families at this saddest of times.
Birmingham Hospice:
Birmingham Hospice is the new name for St Marys Hospice in Selly Park, and the John Taylor Hospice in Erdington. The two hospices merged in 2021, and they are now the primary provider of hospice care in Birmingham. Birmingham Hospice cares for almost 1,000 patients on average every day, at their hospice sites, in the community or in their own homes.
Soft UK:
Soft UK supports the families of children affected by Edward's and Patau's Syndrome (also known as Tristomy 18 and Trisomy 13). Both conditions are considered to be life limiting, and children affected will encounter a variety of developmental and heath difficulties. Soft UK provides support and assistance to the families of children affected by these conditions.
Kingsbury SEN Academy:
Kingsbury Academy is a special needs school in Coventry, which provides support for pupils aged 11-14 with significant learning disabilities. The school is fundraising to provide a new onsite playground, following their old playground being condemned as unsafe in 2021.
Orlatih Quinn:
Orlaith Quinn is a 7 year old from Birmingham who has Cerebral Palsy. Through the help of her family and the charity NICE, she has made huge progress with her development and mobility. She is now aiming to make further progress with the use of a specialist Knee Brace Rehabilitation device, which her parents hope will help her to be able to stand and walk.
Laura Lynn Hospice:
Laura Lynn Hospice is a hospice and care facility based in Dublin. They provide palliative care for children with life limiting conditions, and residential care for children and young adults with complexed care needs and disabilities. They also provide a support services for the children and their families, to ensure they can achieve the best possible quality of life.
BUMBLEance:
BUMBLEance is the children's ambulance service of Ireland. They provide safe and comfortable transportation for Ireland' youngest patients as they travel between their homes and hospitals, hospices, treatment centres and respite centres. These can extend to hundreds of miles, and BUMBLEance aims to distract, comfort and entertain children during these journeys.
Buncrana Childrens Charity:
The Buncrana Childrens Charity provides services to sick and disadvantaged children in the Inishowen peninsular in Donegal. They focus on three services; Financial support to sick children and their families, a 'goodie bag service' that can be sent to sick children in hospital, and the 'Smile of a Child Wish, where they try to fulfil the wish of a sick child.
---
Thank you for checking out my page. Making a donation is fast, easy and secure thanks to Give as you Live Donate. They'll take your donation and pass it onto Birmingham Irish Cycle Appeal.
My updates
102.8km distance
6:50:12 time
3:14min/km speed
5269m distance
0:30:58 time
5:49min/km speed
5156m distance
0:29:48 time
5:36min/km speed
3755m distance
0:21:43 time
5:47min/km speed
5649m distance
0:34:04 time
5:52min/km speed
Joe & Tom Shalvey is fundraising as part of
BICA 2023 - Mizen Head to Malin Head
21st July 2023 - 28th July 2023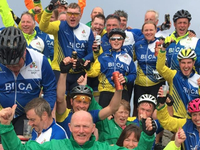 Powered by

1 4 1 9 . 1 km Total distance
More great ways you can raise funds
I've smashed my £2,000 target - help me raise more
Your donations will help the great work Birmingham Irish Cycle Appeal do.
Donate now