This page is closed and is not accepting further donations
Recent donations
11 months ago
Andrew Ludwig
£10.00
Well done on this fantastic achievement!!

John O Groats to Lands End in a ninety-one year-old Ford
Event dates: 20th May 2022 – 25th May 2022
David Graaff is raising money for Friends Of Matthew Rusike Childrens Home
My story
Wayne Cooper and I are raising money for orphaned and abandoned children in Zimbabwe. We are driving a 91 year old Ford across the UK from London to John O'Groats, then to Lands End in Cornwall and back to London. It is about 2,000 miles and will take us two weeks.
The Charity
Matthew Rusike Children's Home provides a protective and loving home for 145 children and for many years has worked closely with NCH (now Action for Children). Three quarters of these children are under 15 years. All the children live in small family groups of 10 – 12 under the care of house mothers and a small number of young babies are cared for in a family group by one 'mother'. Many have been abandoned, abused or have lost parents due to AIDS. The Friends of Matthew Rusike is a UK based charity raising funds to support the home and the children, and provides about 30% of the homes income. We are also raising funds to buy solar panels for the home.
The Car:
We are driving a 1931 Ford Model A Cabriolet. It is an English car, built in Dagenham, but it has spent most of its life in Guernsey. It has been well maintained and partly restored by previous owners, so we have high hopes it will survive the trip. It is showing 12,000 miles on the clock, but we don't know how many times the clock has gone round! According to DVLA, I am the second owner, which I also know is not correct.
Ford customers made it clear in the mid-1920s that the venerable Tin Lizzie – the Ford Model T - had run its course and that it was time for Ford to develop the "next big thing" for the automobile market. While competitors were building cars that were better suited to the quickly modernizing roads and consumer tastes, Henry Ford believed that the Model T was still the best option for those living in rural areas, as well as those who desired accessible prices. It became clear to everyone that updates and lower prices for the T would no longer suffice, so in late 1926 Henry Ford directed his engineers to start work on a new Ford – the Model A.
The new Ford was a completely different car that did not carry over any parts from the Model T. It was lower and sleeker than the Model T and had beautiful bodylines that were the direct influence of Edsel Ford's styling ideas. While it still used a four cylinder 3.3 litre engine, similar to the Model T, the Model A was more powerful and smooth and was capable of 55 to 65 mph. It came with Triplex shatterproof safety windshield and hydraulic shocks, both a first for Ford and unheard of in the low-priced field. It was also the first Ford to carry the famous blue oval logo and the first car assembled at the new Rouge manufacturing complex. As for the name, Henry Ford said that the car was so new and different that they would "wipe the slate clean and start all over again with Model A."
Introduced to the public in December 1927, the 1928 Model A was an immediate sensation. Some 10 million people viewed the new vehicle in the first week. The crowds gathered in such numbers that many cities needed to send police to help direct traffic around those who lined up to see the new Ford. While enthusiasm and demand were high, production lagged. The newly installed assembly line for the Model A at the Rouge was not up to full capacity until the middle of 1929, when they were able to produce 9,000 units a day.
The Model A showed that customers' tastes were developing as fast as the newly installed paved roads and manufacturers needed to change as quickly. It also showed that Henry was indeed "able to make a lady out of the Lizzie!" Eventually Ford sold over five million Model A's and there are believed to be over 500,000 still on roads around the world today.
The route:
Leaving London we head up the A10 for Peterborough and then over the Humber Bridge to Beverley. Then to Barnard Castle, Perth, and Wick. From John O'Groats we travel with other members of the Model A Ford Club (www.mafcgb.org.uk) to Fort William, Peebles, York, Warwick, Wells, Plymouth, Penzance and Lands End. From there it is back to London via overnight stops in St Austell and Winchester.
---
Thank you for checking out my page. Making a donation is fast, easy and secure thanks to Give as you Live Donate. They'll take your donation and pass it onto Friends Of Matthew Rusike Childrens Home.
My updates
1 year ago
Day 14 St Austell to London
Today the plan is to break the 255 mile journey home with a stop in Andover. But we set off very early and the traffic is light, the roads are good, and we make excellent progress most of the roads are dual carriageways that some long inclines and the engine gets very, very hott on these. I watched the temperature gauge rising through the green area pass the word "steam" and into the red my heart is in my mouth the whole way but nothing bad happens and we make it up the hills. It's only lunchtime when we pass Stonehenge, and then Andover and we make the decision to press on for home. The roads are still lightly trafficked as we head past Guildford and into the South London sprawl. We wiggle our way across back home to Crystal Palace and arrive safely home at about 4:30. The car has performed brilliantly. We cheque in with the remaining participants heading home. Bob and Jill have had a disaster with their 1931 4 door: water pump has disintegrated an hour outside of Plymouth and they're waiting for their nephew to come from Birmingham with the trailer to take them home. This is a bitterly disappointing end to their journey. David and Hal or back up near Leicester heading for their homes in Richmond North Yorkshire. They have had a good days travel having stopped to see the wondrous SS Great Britain in Bristol.
So that's it, home after 1800 miles from London to [almost] the tip of Scotland, right across the country to the furthest end of Cornwall, and back to the start point in London. I have a long list of jobs to do on the car. Not least changing the oil which is now well overdue, and sorting out the brakes which are also well past their best. But for now a good sleep and some taking stock before we start thinking about the next adventure.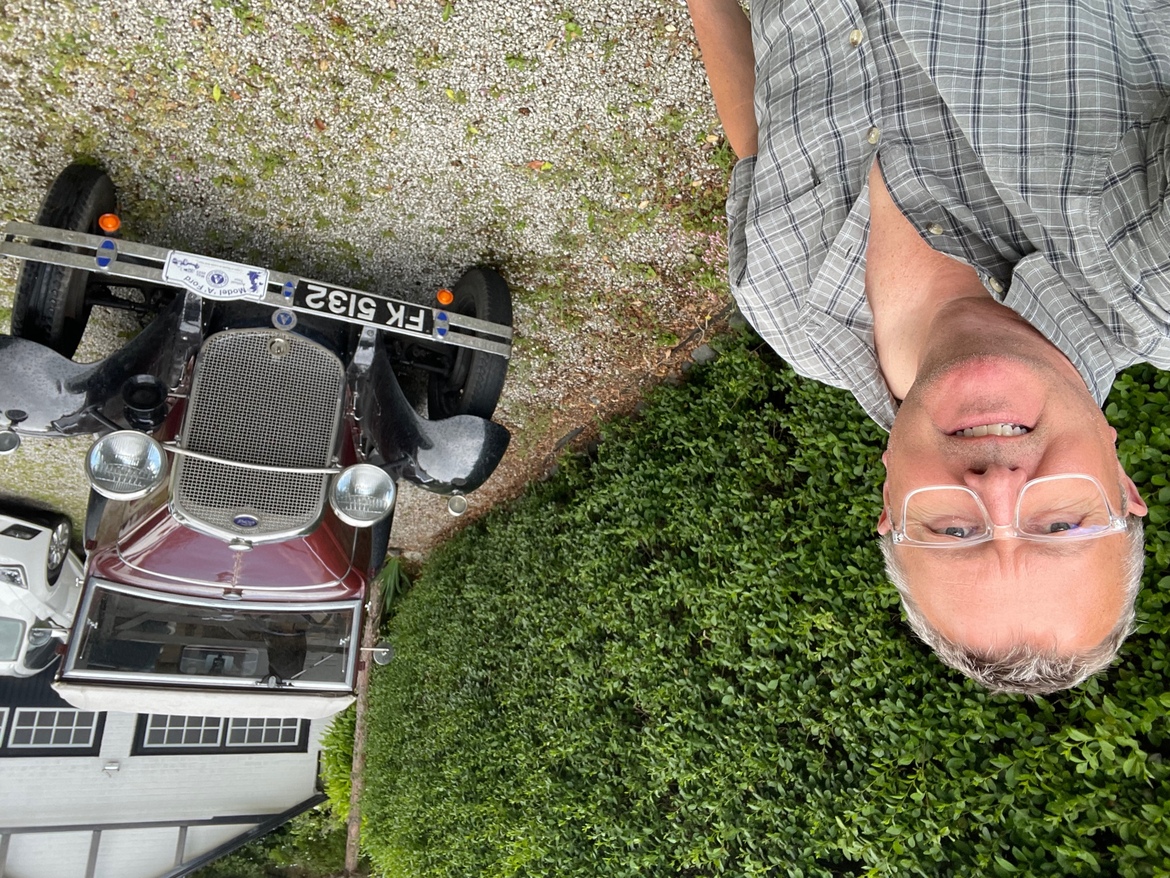 1 year ago
Day 13 Penzance to St Austell
Yesterday was a real milestone but we still have to get back to London. Today we have a short drive to visit Helen and Peter and Freya in St Austell. We set off after a late breakfast and return to the heliport to collect the cars. We form a small parade as the people waiting for their flight to the cities watch through the terminal lounge window as we drive by. St Austell is only 40 miles up the road so we arrive within a couple of hours and spend the afternoon sightseeing with Helen who shows us the delights of the coast including Charlestown, where they film Poldark, and the delightful little port of Mevagissy.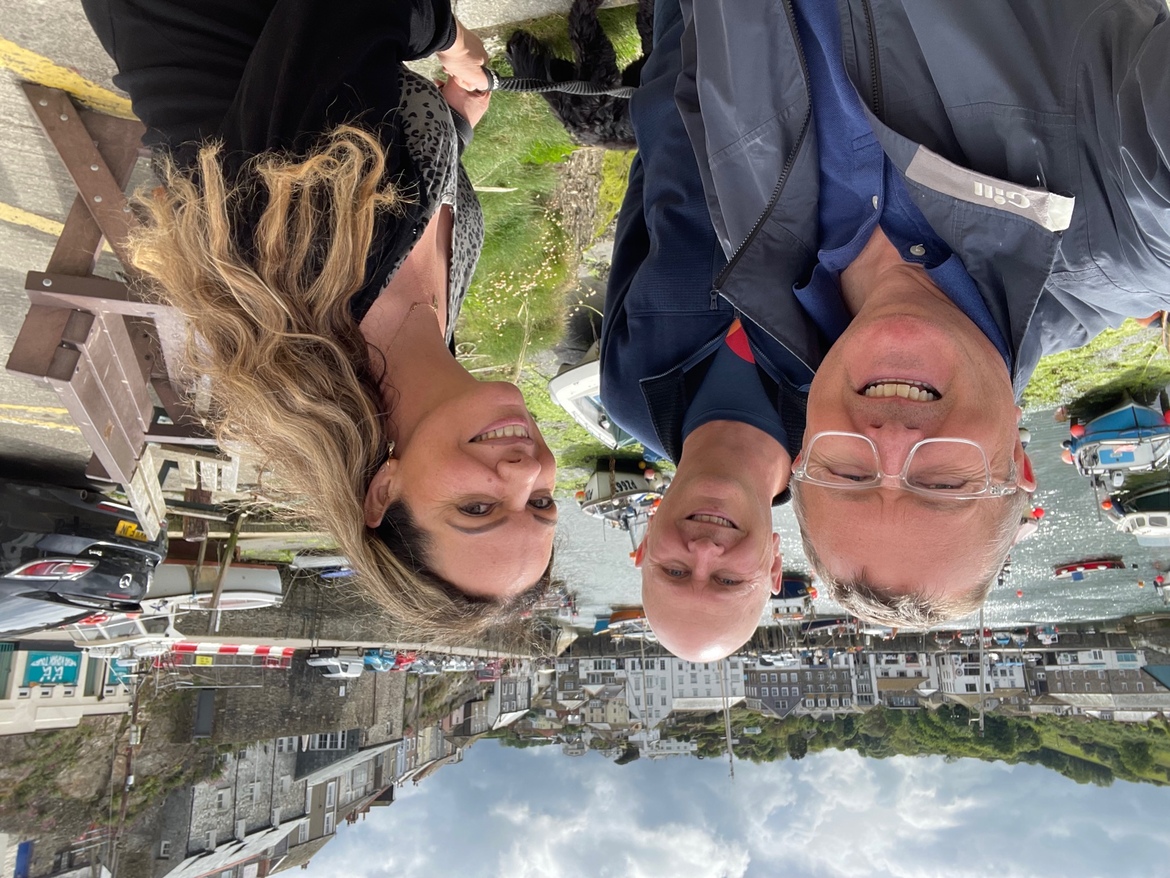 1 year ago
Penzance Heliport
From Land's End we head back to Penzance, where Bob has arranged secure parking for the cars in the Penzance heliport. It is a fascinating place, like a mini airport and we nestle our elderly machines next to over £20 million worth of pristine helicopters. These helicopters provide a community commuter service to Saint Marys in the Scilly Isles as well as further afield. As we are parking the cars a helicopter arrives in from Biggin hill in London. It's a 90-minute flight, considerably less than it will take us to drive back. The cars will be very safely and securely parked here overnight.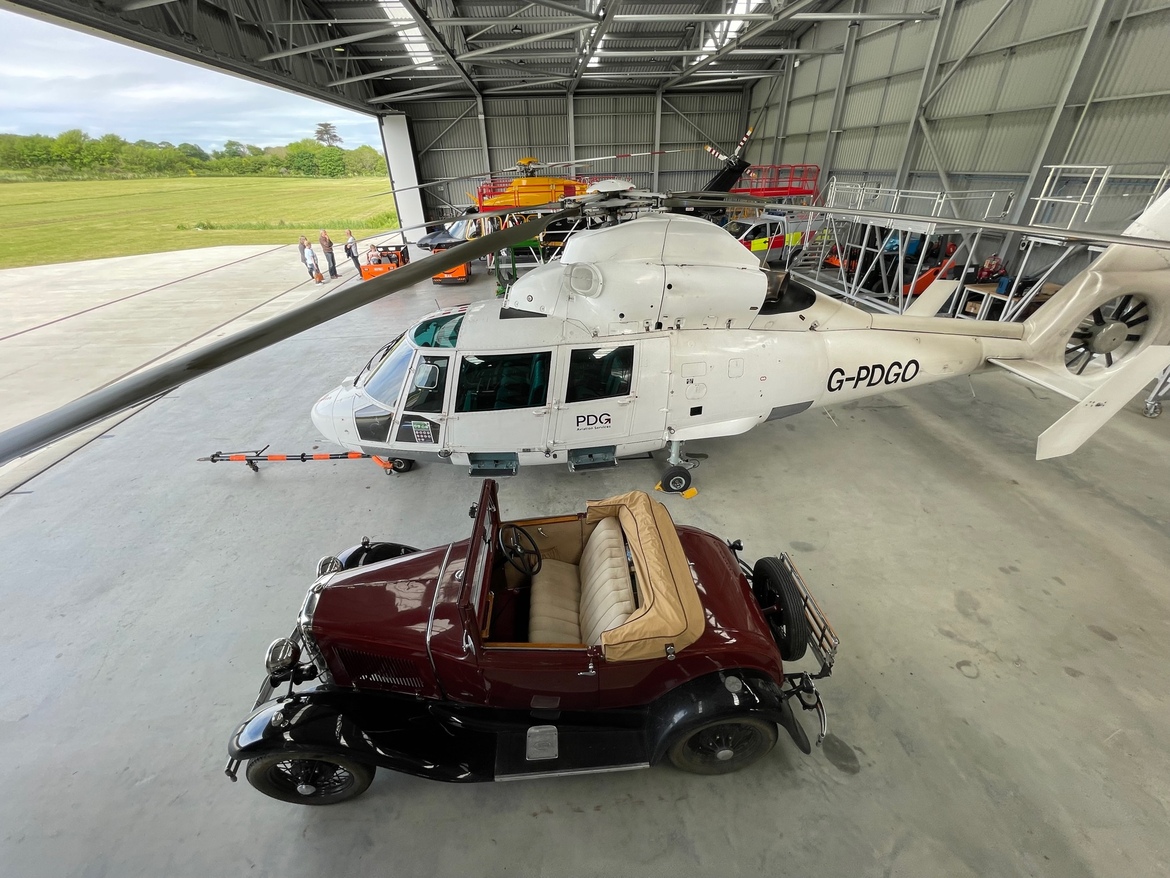 1 year ago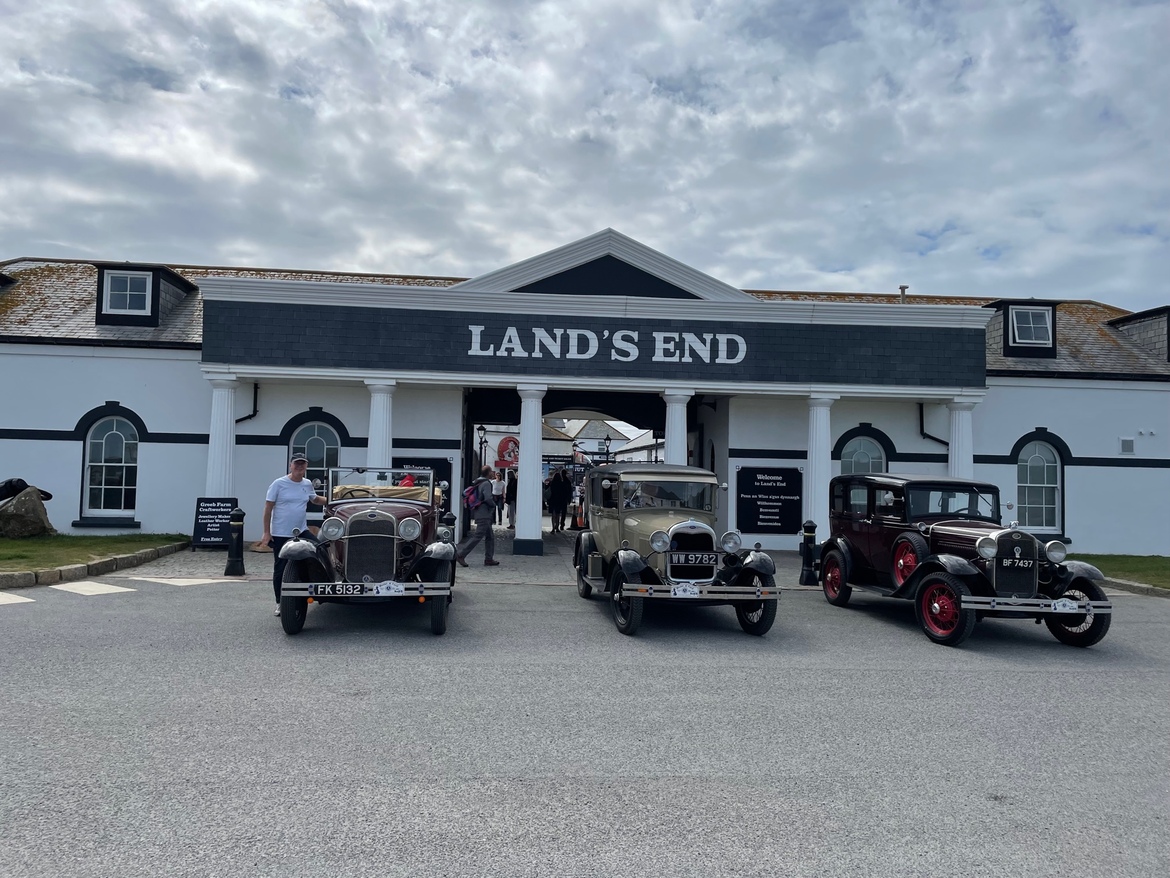 1 year ago
Day 12 Plymouth to Lands End
It's the big day and the big finish today, but we hear that the 8:30 is closed for five crucial miles. We spend quite a bit of time on Google Maps working out a route that will avoid the closed area and the Six Mile tailbacks that Cornwall had seen the previous day. We leave Lockyer's Quay and head for the Torpoint ferry some reason we were given a free crossing which was great there was some drama. There was a minor problem when Andrew and Lynn greens 1931 two door would not drive off the ferry but David Simpson quickly towed them out of the way despite the protestation of the ferry people that you should not use a tow rope. We all got going again and headed up to Bodmin Moor where we met up with a couple of other members, and then proceeded on our new route around the diversion on the 8:30. This took us down some very narrow lanes and we had a good taste of Cornish hedge is filled with beautiful wild flowers. Sun was shining, we didn't hit any traffic tool, and there were no further chemical troubles as we all cruise down to Land's End and gathered in front of the famous landmark. The staff there were really kind and waived the £7 fee for each of the cars. We had a good cream tea: much discussion about the Devon versus Cornish cream or jam first. After glass of bubbly, we headed back to Penzance for the night where we had a fantastic meal in the Turks Head pub. There was a real sense of achievement it feels a long time since we left John O'Groats and it really has been a fantastic trip.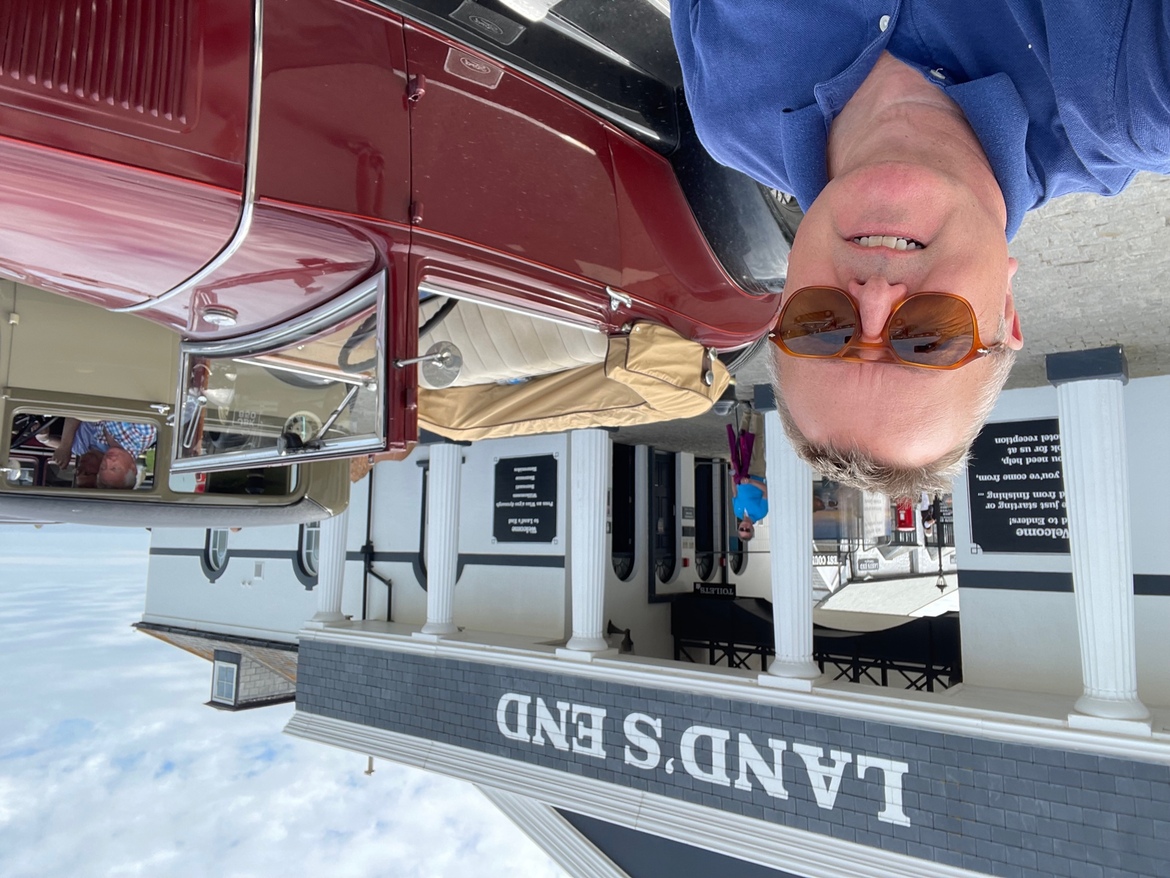 David Graaff is fundraising for
Friends Of Matthew Rusike Childrens Home
Charity number: 1120944
More great ways you can raise funds