Recent donations
2 weeks ago
Fenella Tarbox
£200.00
+ £50.00 Gift Aid
Well done my hero... Great job. Jillyx
A fantastic achievement John - congratulations!
3 weeks ago
Chloe Granger
£30.00
Well done John, excellent work and an excellent cause!
1 month ago
Will & Family
Great work for a great cause!
1 month ago
Samantha Ives
Amazing achievement for a well deserved cause
1 month ago
Lesley and Anthony
Fantastic effort John (and your support team ie Jill!). Thank you for doing it.
1 month ago
Fruit cake maker
£20.00
1 month ago
Graham & Sarah

Jill Tiernan is raising money for Dementia Forward
John's Pennine Way Adventure
---
Share this page with your friends:
My story
On Monday 24th April, John Tiernan will commence walking part of the Pennine Way- approximately 177 miles. Over 11 days he will walk from Kirk Yetholm in the Scottish Borders to Horton-in -Ribblesdale in North Yorkshire. It has been a long ambition of John's to walk the Pennine Way which is 265 miles in total. His wife Jill has arranged all accommodation and will provide the necessary encouragement on route from the comfort of her Mazda MX5 sports car.!! Please encourage John on his journey by making a donation to Dementia Forward- North Yorkshire Dementia Charity- supporting their work in Settle. Jill will ensure that he does not short change you on the miles. Please gift aid if you can - as they say every little helps ..
---
Thank you for checking out my page. Making a donation is fast, easy and secure thanks to Give as you Live Donate. They'll take your donation and pass it onto Dementia Forward.
My updates
1 month ago
John finished his Pennine Way Adventure clocking up 202 miles . He was was congratulated by Geoff Wigfield, Duke of Edinburgh assessor.
Well done John you have earned a pint or two !!!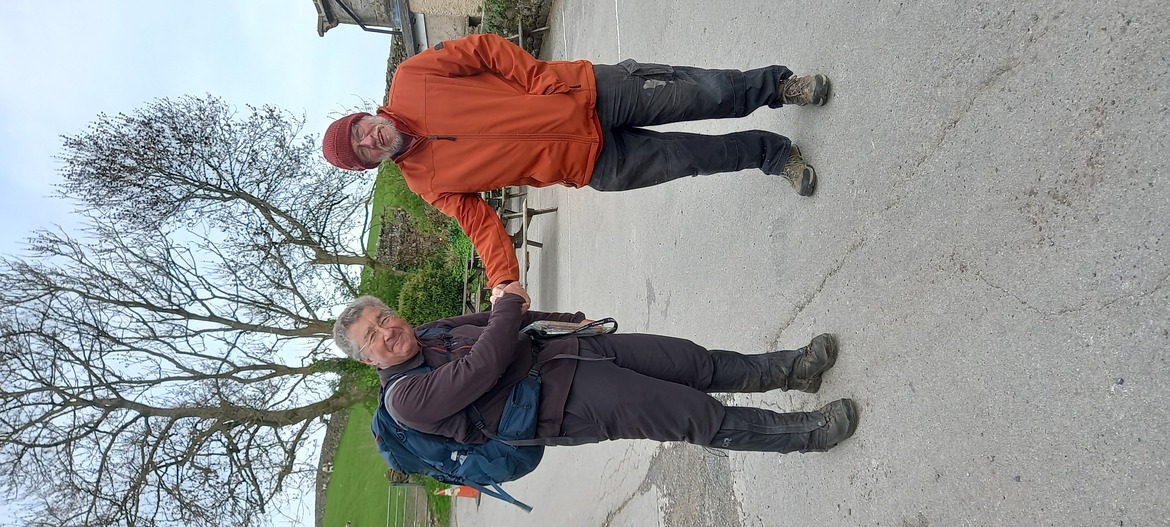 1 month ago
So far 161 miles..... 
Day 10 : Bowes to Thwaite:
What a difference  a day makes. We  have a bright sunny day.. sun cream came out.. . waived bye  to John from Bowes Castle and he walked 10 miles underc4 hours arriving at Tan Hill Inn for a pint of lemonade and orange juice.
Then walk  moves into Swaledale ending in Thwaite which is our overnight stay 
End of day 178 miles
Thursday Day 11 : Thwaite  to Horton-in Ribblesdale... the last leg ...  John has just left Thwaite and heading to the home of Pen-y-gent where I will pick him up this evening.
Thank you to all our supporters for messages and donations. You have helped to raise to date £1447 for Dementia  Forward 
John standing by his support vehicle Mazy the mazda.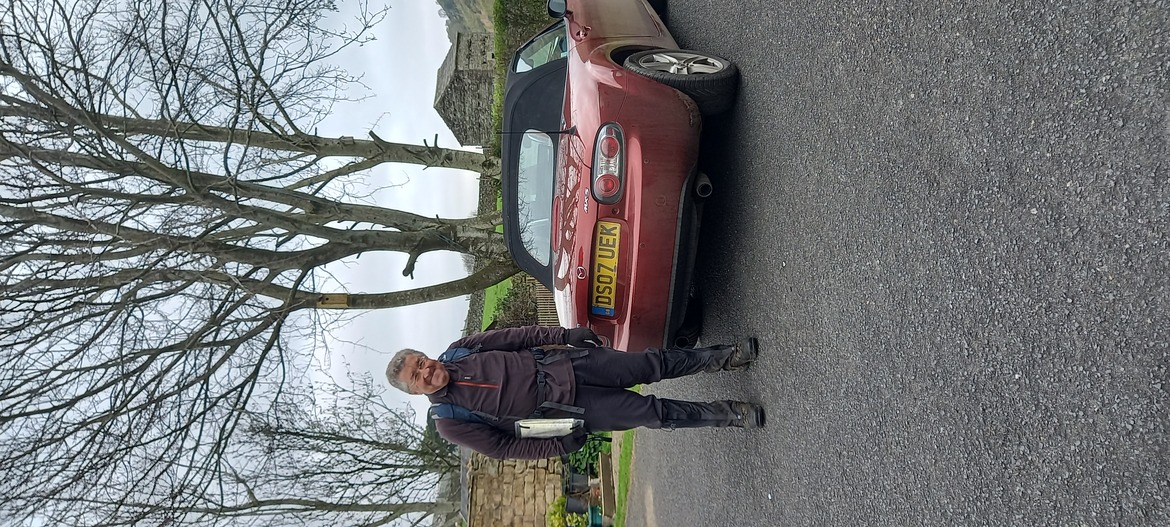 1 month ago
Day 7 Sunday Alston to Dufton weather wise was bad on higher ground so between wind, mist and rain it was the worst  day so far. 
John left a Alston at 9.00am with  intermittent rain arriving in Dufton at 6.30pm.. 23 miles walked . In the meantime I take the 
narrow gauge train from Alston to Slaggyford and walked back the  five miles to Alston,  along a railway path which followed  the line. On way to Dufton I  have a quick peak at Acorn Bank NT . Its been a long day for John definitely  the brick wall day... 
 Day 8 Monday  Dufton to Forest in Teesdale  15 miles... a better day weather wise and the drive over to Teesdale is stunning and remote. I return to Acorn Bank for a long exploration of the woodlands.... and a mill which grinds its own flour.....  lots of moorland terrain with poor visibility.
Day 9 Tuesday  Forest in Teesdale to  Bowes. The day started off very very misty... poor visibility but it cleared to be a better day.  Bowes is near Barnard Castle.... the home to great opticians and the magnificent  Bowes Museum. The museum is housed in a French  style chateau... and  is home to the  250 year old Silver Swan which is an automaton.
To date John has walked  161 miles.
That's it for now.. Two more days and John will have reached Horton-in Ribblesdale ... end of the journey.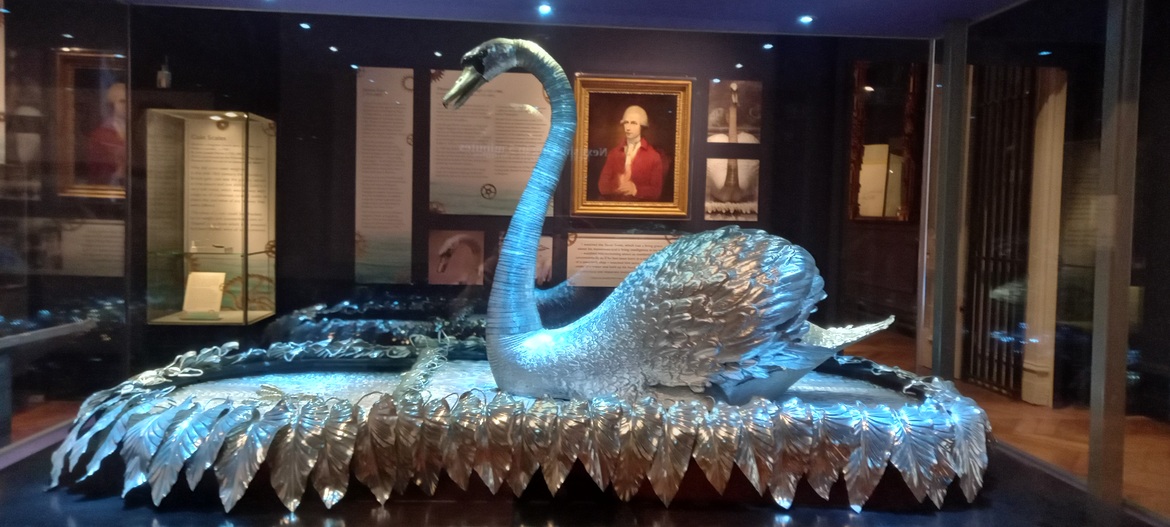 1 month ago
South Tynedale Railway..... diesel electric train. They also have a narrow gauge steam engine called Green Dragon.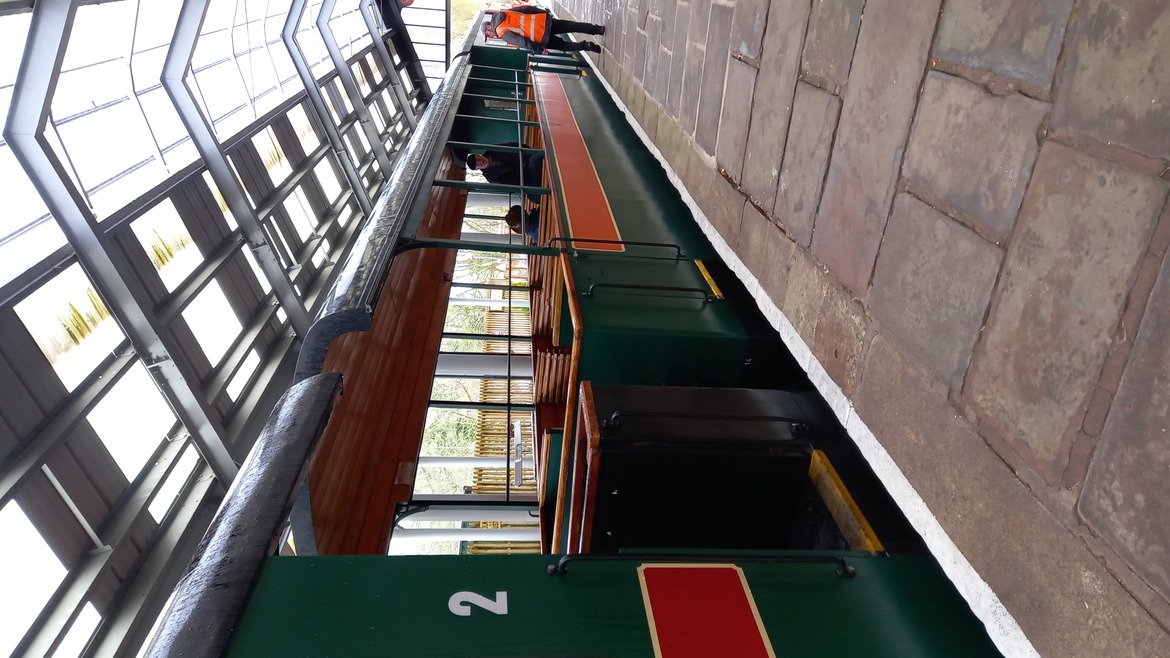 1 month ago
Day 5 Friday 
After breakfast drop John off at Steel Rigg on Hadrians Wall to walk to  Lambely estimated  14 miles infact it was 18 miles. Day started off miserable,  sunny afternoon. Picked him up on at a car park Coanwood on the South Tyne  Railway path. Return to Barden Mill 
Day 6 Saturday 
We head to  Coanwood... I walk with him to  Lambely  Viaduct which towers over the SouthTyne River...I then  head over to Alston where we meet up again. Alston is the highest town in England.... very steep roads and amazing views. It does not disappoint. We attend Mass at a Church  which doubles as a Methodist  Church on a Sunday.  How fabby is that eh! 
Day 7 Sunday
It's raining and John walks from Alston to Dufton the longest leg so far 20 miles. As John continues  to do his thing...  I will take a train  journey  from Alston to Slaggyford on the South Tynedale Railway which is narrow gauge . I will  make  the return five miles on foot  to Alston on a path which follows the line.  Met a couple of lovely volunteers at the railway ticket office
Joan and Dean... Thanks for the laughs.
Bye for now....
Powered by

More great ways you can raise funds
Help me raise more
Your donations will help the great work Dementia Forward do.
Donate now