Recent donations
40 minutes ago
Mino Kronwitter
£10.00
54 minutes ago
Charlotte Ginsing
1 week ago
Rhianna Parker-Yates
£20.00

Kay pays back!
Event dates: 16th May 2023 – 31st January 2024
Kay Knights is raising money for Shine Cancer Support, Refuge and Samaritans
---
Share this page with your friends:
My story
In January 2023, I was diagnosed with Acute Myeloid Leukaemia and admitted to the Churchill cancer hospital.
My treatment has been intense, I have had:
- 1 stem cell donation
- 54 bags of chemotherapy
- 92 overnight stays hospital
- 43 blood transfusions
- 11 platelets transfusions
- 4 bone marrow biopsies
- 1 operation
In August 2023, my diagnosis became terminal. Given I knew my life was going to be shorter than some, I wanted to focus not only on the disease that ended my life, but also other charities that have supported me at different stages of my life. These were Refuge, Samaritans and Shine Cancer.
Many of these charities rely on volunteers, on charitable donations or have to sign post on to the NHS. I hope that any funds we raise will help support so many other who face some of these challenges throughout their lifetime. I wanted to try and make a difference for those who will sadly tread a similar path to me.
---
Thank you for checking out my page. Making a donation is fast, easy and secure thanks to Give as you Live Donate. They'll take your donation and pass it onto Shine Cancer Support, Refuge and Samaritans.
My updates
3 months ago
A big thank you to the 29 people who have or are booked in to donate blood!
I'm really happy that so many people have helped to give back the transfusions I had throughout my treatment.
Thank you everyone, and keep it up! 🥰
4 months ago
It's been a wet and windy July but it didn't stop my sister, mum and stepdad from completing the Mighty Hike challenge in the Peak District. The weather thankfully stayed dry and they completed the challenge in a good time. Between them, they raised over £4k for MacMillan. A huge thank you to them and looking forward to doing another all together next year!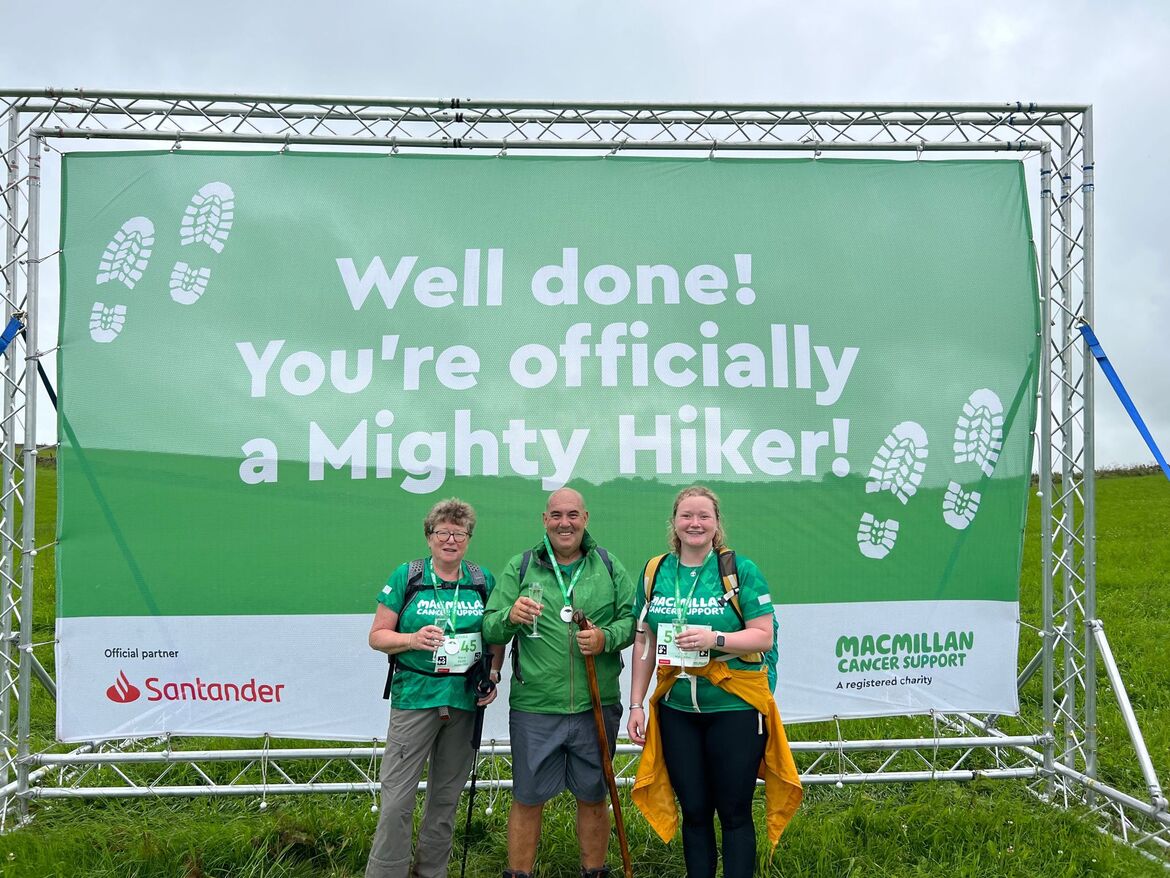 4 months ago
It's been really touching that people in my network have wanted to do their own events to help me raise money for the charities.
A big thank you to Kate who organised a pre-loved cycling gear shopping event and raised a whooping £415! Thank you to everyone that donated and bought some new gear 🚲
4 months ago
So many people have asked me since my diagnosis, "how has work treated you?"
It has been such a relief to respond "brilliantly" to everyone. I have heard so many stories from others about how badly their employers were treating them throughout their treatment.
It's been such a weight off my shoulders to know that my role was being covered, my job was secure but most importantly to receive messages from the whole team of love and support, not just once, but throughout the year.
Knowing I have a 100+ team wishing me well has been a huge driving force behind my recovery and I know will make returning to work so much simpler.
The team have also been supporting my fundraising campaign, raising over £3k for my page! Their generosity is unbelievable and I can't wait to thank everyone individually for their support.
There's a lot of talk about cancer in the workplace in HR communities at the moment and forpeople is leading the way already in this by treating their team members with empathy, humility and kindness, especially those who are facing extreme challenges such as ill health.
I always knew forpeople was an amazing "employer" but it feels more like a family. They have gone above and beyond for me this year and I'll never forget it. Thank you forpeople 💛
4 months ago
Today marks the 75th birthday of the NHS. A service I have relied on heavily this year and I'm sure every one of us will do for different reasons throughout our lifetimes.
This month, as part of my giving back mission, I'm asking for a different type of donation. After having 41 blood transfusions throughout my treatment, I am hoping to find 41 people this month willing donate blood. During my treatment alone there were often shortages, which is so scary when you know it's needed to keep you well and alive.
So, if you are able to (I know not everyone can!) please sign up to donate blood 🩸 and let me know so I can hopefully reach my goal of 41!
Thank you to the 4 people who have already donated (Mum, Huw, Lucy and Jeremy 🤩)
More great ways you can raise funds
Help me reach my £500,000 target
Your donations will help the great work Shine Cancer Support, Refuge and Samaritans do.
Donate now