This page is closed and is not accepting further donations
Recent donations
9 months ago
Rob & Nadine
10 months ago
Michael and Margaret
£20.00
10 months ago
To Williams
10 months ago
Adam Mundin
£10.00
Well done Sarah - what a huge thing to do to support your mum and the hospital that did so much for her
Well done Sarah - very brave
10 months ago
Kate Sanders
What a fantastic thing you have done here Sarah! Kate, from People Change

Sarah Taylor-Knight is raising money for University Hospitals Of North Midlands Charity and Look Good Feel Better
Lose the Locks
Event date: 22nd July 2022
My story
Once again, I'm cutting off my hair to raise money for charity, but this time the cause is a lot closer to home, so I've decided to take it a step further.
Around eight years ago, I decided I wanted to cut my hair (at the time past my waist) to a more manageable length. I cut off around 15 inches of hair, and donated it to the Little Princess Trust - an amazing charity that uses donated hair to create wigs for children who have lost their hair, either as a result of cancer treatment or other conditions. Four years ago, my mum's fantastic hairdresser and friend (the only person who has ever cut my hair!) was diagnosed with breast cancer. In honour of her and recognition of everything she was going through, and to do some good, I decided to cut my hair again, and raise money for Macmillan Cancer Support.
This time, it was my mum who was diagnosed with cancer.
After being diagnosed nearly 11 months ago, she has continuously shown herself to be one of the absolute strongest people I know. I'm not going to overwhelm you with platitudes, but I can honestly say that while I have looked up to her my whole life, I've never been so proud and so inspired to be her daughter. So this is my tiny way to give something back, and support a cause close to both of us.
This time around, I have decided that on top of donating my hair to the Little Princess Trust, I'm going to shave off (almost) all of my hair to raise as much money as possible for two charities close to my mum's heart, those being the Stafford Hospital Chemo Ward and Look Good Feel Better. "Having completed 10 months of treatment for breast cancer at the UHNM and County Hospital I would love to be able to thank them for the excellent care I've received by helping provide fans for patients to use in the Chemotherapy unit at the County Hospital Stafford. I'd also like to support the brilliant charity Look Good Feel Better - attending one of their first post covid in-person workshops made a massive difference to me, plus having the chance to spend time with others in my situation."
As I'm going to be cutting off almost all of my hair, I've decided I might as well do something else slightly insane, and I will be dyeing my newly short hair based on people's votes! If you are able to donate, please let me know what colour/pattern I should dye my hair, and any suggestions that raise over £50 will be attempted, within reason. Please feel free to propose your ideas, or support someone else's! I'll keep this page up to date with which colours have been selected, and when they happen!
Thank you so much for reading this, and for helping me support the work done by the Little Princess Trust, UHNM and Look Good Feel Better.
---
Thank you for checking out my page. Making a donation is fast, easy and secure thanks to Give as you Live Donate. They'll take your donation and pass it onto University Hospitals Of North Midlands Charity and Look Good Feel Better.
My updates
10 months ago
It's official, the hair has gone!
A few plans had to change (thanks COVID...) but the haircut has happened without a hitch! In the end, the dyeing will have to wait for another day, so after the majority of the hair was cut we tried out hair chalks, and you can see some of the result on the 'after' photo!
I'm absolutely in awe of how generous people have been, the amount we've raised is beyond my wildest dreams. It's going to such amazing causes, I couldn't be happier!
I can't close this post without a massive thank you to Louise for making sure that this happened, and of course thanking my mum, for everything you do xxx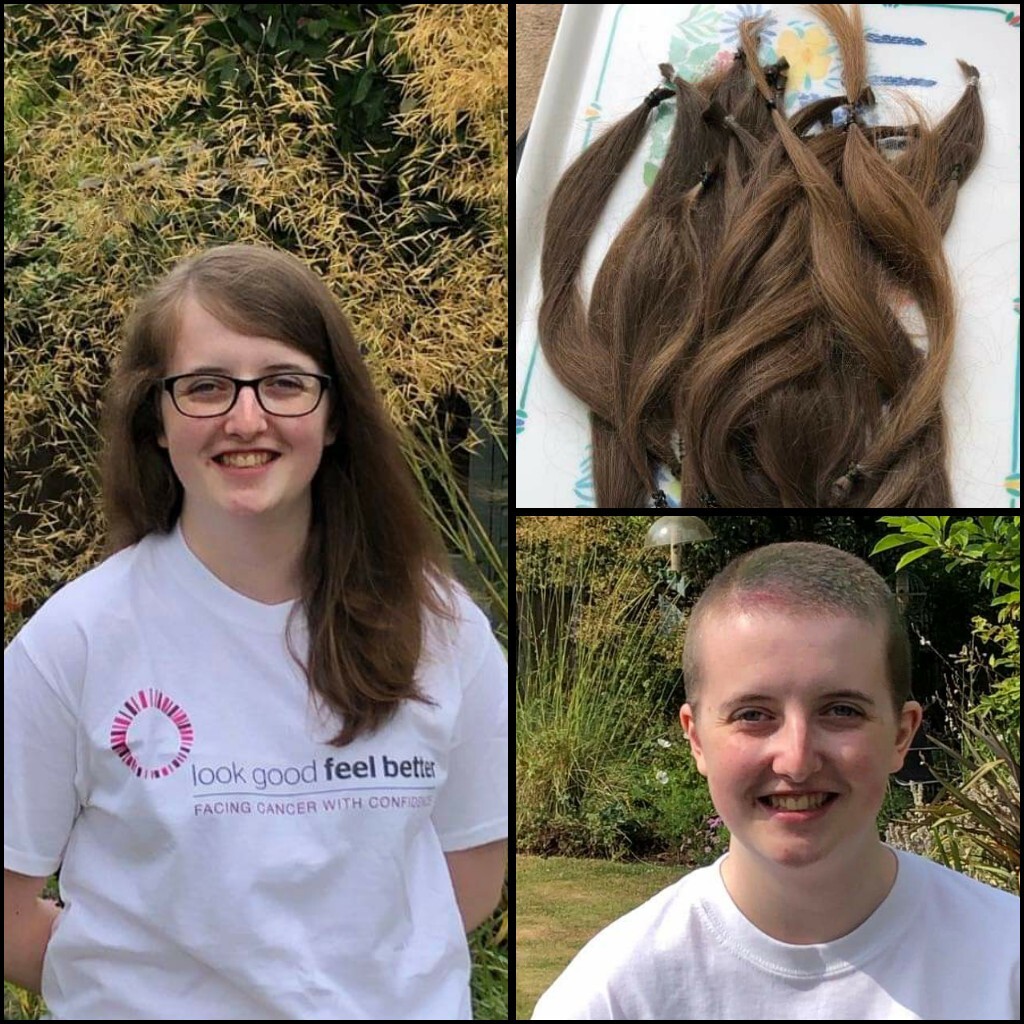 11 months ago
After smashing through my goal in an incredible couple of hours, I have decided to update it! If we can reach this new goal it will mean more support for the chemotherapy ward in Stafford, and allow Look Good Feel Better to continue its amazing work supporting people through cancer treatment.
If you donate, please remember to let me know how you think I should dye my hair!!
Sarah Taylor-Knight is fundraising for 2 charities
University Hospitals Of North Midlands Charity
Charity number: 1054889
More great ways you can raise funds