This page is closed and is not accepting further donations
Recent donations
You're going to absolutely smash it, Maddie! We're super proud of you xx
1 year ago
Emily and haroon
So proud of you Mads!! You will smash it 💪🏼💪🏼 X x x
1 year ago
Helen O' Reilly
£10.00
£50.00
So proud of you Maddie. I've seen how hard you've been working and I hope you enjoy every minute of race day. Lots of love xxx
Go go go Maddie!! With all your training, you'll smash it! Izzy will be so proud ❤️

Maddie runs Edinburgh Half Marathon!
Event date: 29th May 2022
Maddie Garcia is raising money for The Louise Tebboth Foundation
My story
On Sunday 29th May, I'll be running the Edinburgh Half Marathon in memory of my wonderful best friend Izzy - who tragically took her own life in September last year. She was a much loved sister, daughter, doctor, and friend, whose selflessness and kindness touched the lives of everyone around her. Poor mental health is still, very sadly, stigmatised - especially amongst healthcare professionals, who often feel the need to 'always be ok'. I'd like to fundraise for this extremely worthwhile cause to not only raise money for the Louise Tebboth Foundation to help those currently struggling, but also to raise awareness of the fact that it is always better to speak up if you are not alright. Contrary to what many people perceive - speaking up and asking for help is often a display of strength, rather than weakness. The Louise Tebboth Foundation is a grant-giving foundation dedicated to the prevention of suicide and the mental wellbeing of doctors in England and Wales. They provide financial assistance to projects and services which support those objectives, as well as initiatives that assist the bereaved families of doctors who have died by suicide.
Louise Marson, who practised under her maiden name of Tebboth, was an inspirational GP working in in a socially deprived area of Bermondsey.
She cared passionately about people and making their lives better, instinctively supporting the underdog and seeing beauty and goodness where others saw none. She was much loved by her colleagues for her intelligence, commitment, energy, enthusiasm, willingness to help others and sense of fun. She was also hugely popular with her patients, giving unreservedly to provide them with the best possible care, often at the expense of her own wellbeing. The phrases her patients used time and again were 'she always listens' and 'the best doctor I ever had'.
Louise was also a talented painter with a particular love of watercolours. She enjoyed cycling and running – she had completed the Coast to Coast cycle ride twice and the London Marathon – as well as birdwatching, gardening and choral singing. Louise was a much adored Aunt by her six nephews and nieces and almost equally loved by her numerous god children. She was increasingly politically active in an effort to maintain the values and services of the National Health Service to which she was so committed. Louise's energy, enthusiasm and zest for life left many people trailing in her wake.
Yet on Friday 23rd January 2015 Louise's husband Gary came home from work to discover that she had taken her own life at the tragically young age of just 40. Unseen other than by those closest to her, Louise had also fought a long battle with extraordinary strength, determination and tenacity against intermittent but insidious depression arising from what had been diagnosed as bi polar disorder (Louise sometimes characterised her condition differently but whatever the description the impact and outcome was the same).
The Louise Tebboth Foundation was established by Gary to honour the memory of his beautiful and much loved wife. Louise was a doctor to the core, utterly dedicated to her profession and patients, and through the LTF she will be able, indirectly, to continue to do what was most important to her – reaching out to help people.
Izzy, similarly to Louise, gave everything to help those around her - and was unwaveringly kind. This therefore seemed like the perfect charity to fundraise for in her memory. Any donation no matter how small, will make a difference to prevent and also to help those families and friends affected by suicide in healthcare professionals.
---
Thank you for checking out my page. Making a donation is fast, easy and secure thanks to Give as you Live Donate. They'll take your donation and pass it onto The Louise Tebboth Foundation.
My updates
1 year ago
Thank you so much to all who donated! Finished in 2h22mins.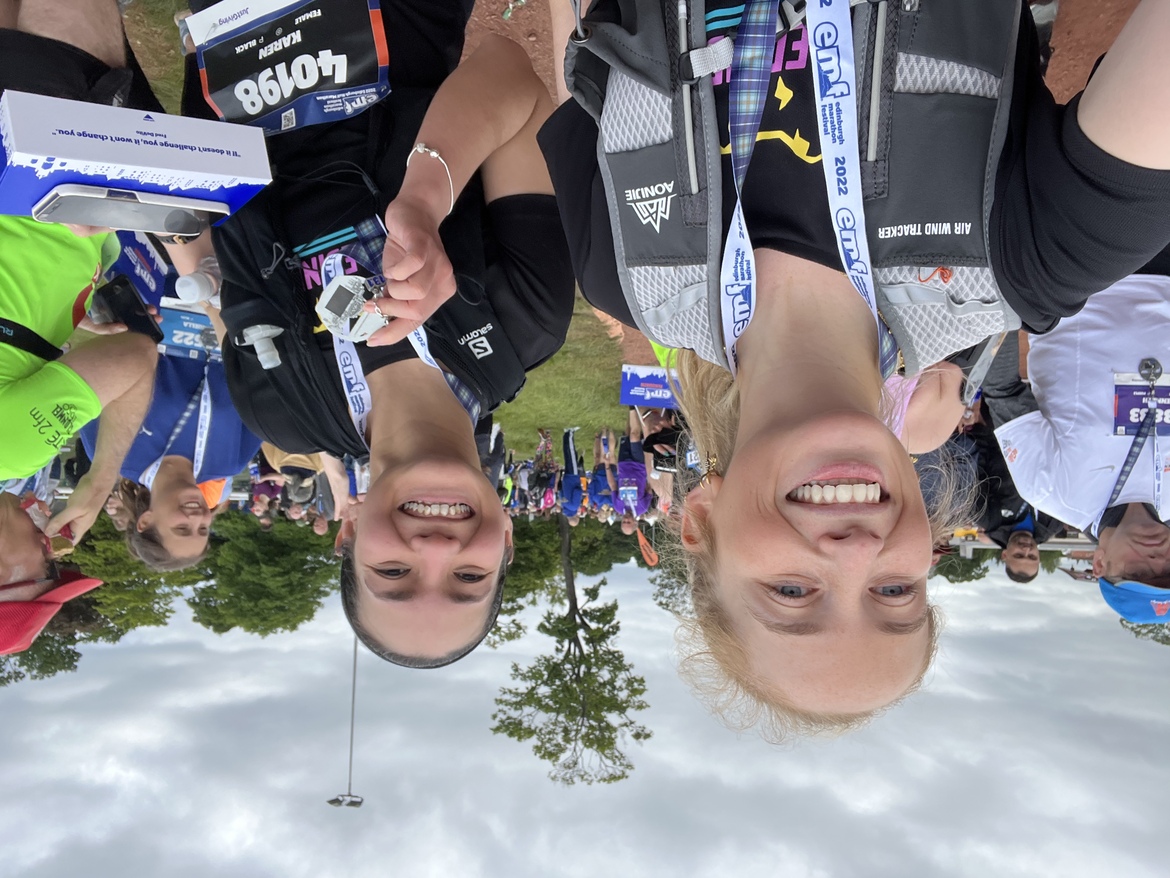 1 year ago
Did my penultimate long run today - a slightly drizzly but nice 18k!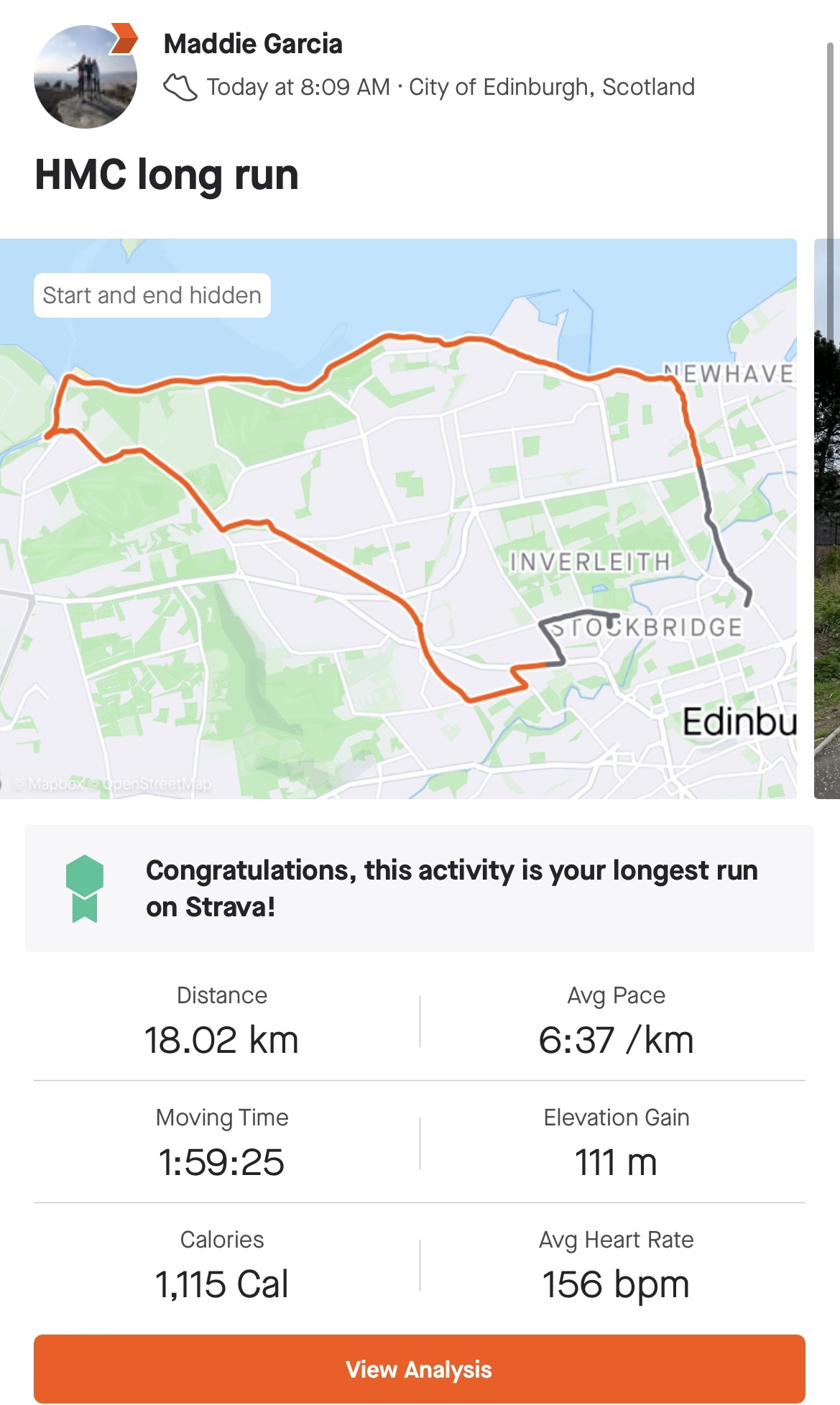 1 year ago
Thank you so much to everyone who has donated so far - incredibly generous and kind of you xx
This page is in memory of
Izzy Allen
Maddie Garcia is fundraising as part of
Edinburgh Half Marathon 2022
29th May 2022
More great ways you can raise funds