This page is closed and is not accepting further donations
Recent donations
2 months ago
Vic Southern
Well done Nomi - so proud of you & the rest of the gang for completing the challenge & persevering despite the set backs xx
2 months ago
AVITAL JANKELEWITZ
£100.00
+ £25.00 Gift Aid
Well done Miss Nom and the rest of the team!
2 months ago
Sharon & David
2 months ago
Gloria Morgan
£20.00
2 months ago
Vicky and Claudio x
Helen and gang what an incredible achievement!!! Wow😘 So sorry this is so late xxx
2 months ago
The Black Family
Unbelievable Effort! Lots of love xx
2 months ago
Louise, Lawrence, Zoë & Zack
Congrats to you all and thank you xx

4 countries 4 days
Event dates: 5th July 2023 – 8th July 2023
Helen Style, Lea Helman, Melissa Rockman, Vered Lobel, Naomi Chanim & Sharon Rubin are raising money for Mind (The National Association For Mental Health) and YoungMinds
Our story
In 2021, in the height of the pandemic, a group of friends from Muswell Hill took to their bikes to raise over £30k to save their local nursery. Spurred on by the dual highs of cycling and raising money for amazing causes, 4 of the group (plus one newbie who only just learnt to ride a bike) went one step further in 2022 and cycled over 500km from London to Paris to raise £15k for a cervical cancer charity.
We know that during tough financial times, we need to do more to raise more. And so this year, in aid of mental health charities, Mind and Young Minds, we are cycling across 4 countries in 4 days, starting in Muswell Hill, North London, travelling through France and Belgium and finishing, after 550km, in Amsterdam.
1 in 4 adults and 1 in 6 children will experience a mental health problem throughout their lives. This means that every family is likely to be impacted. Most people do not find the help they need to help battle these silent but often debilitating illnesses. This is why on 5th July this year, we have chosen Mind and Young Minds.
We are just a group of local mums trying to raise money for an amazing charities. Please help us make a small difference to an incredible cause. All donations go straight to the charity (the ride is fully self-funded).
---
Thank you for checking out our page. Making a donation is fast, easy and secure thanks to Give as you Live Donate. They'll take your donation and pass it onto Mind (The National Association For Mental Health) and YoungMinds.
Our updates
2 months ago
So…..WE DID IT!! Thank you all so much for your donations which have helped us raise a phenomenal amount of money for Mind and Young Minds. It was an amazing experience with a few mishaps on the way but this amazing group of women rallied together to support each other, push each other on when needed and laugh constantly. So very proud of us all!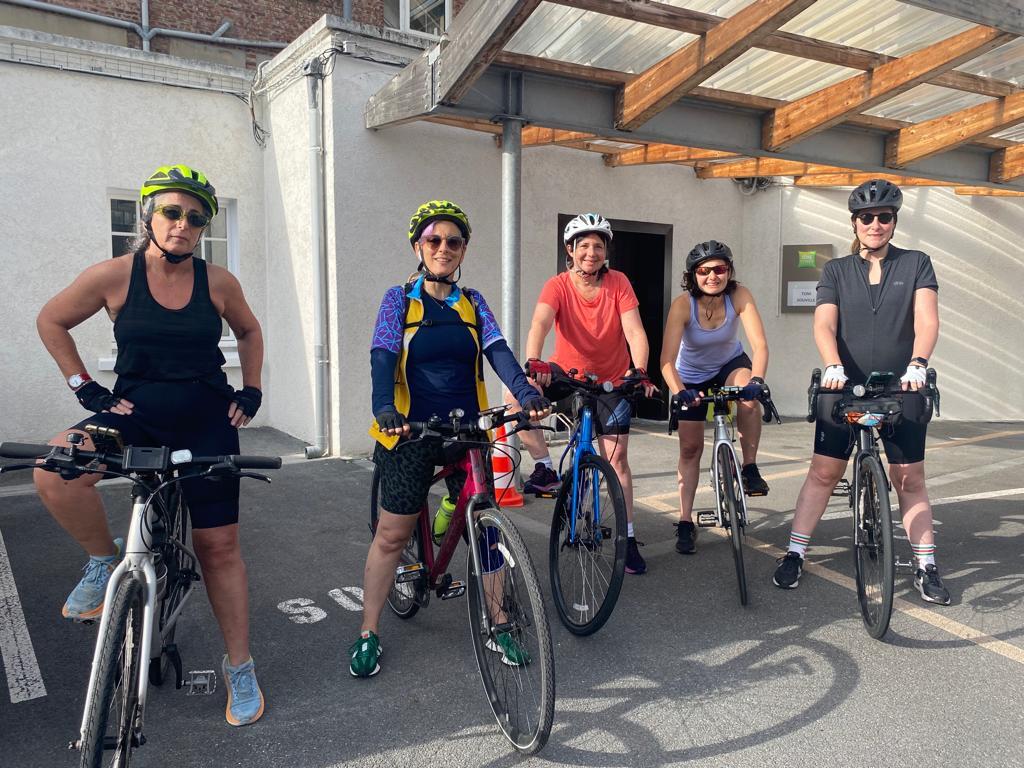 3 months ago
24/06
2 months later and we did our final training session. 91k which is nowhere near how much we'll be cycling each day! 🤦‍♀️but we are determined and strong (ish!). So nearly at our final target of £10k which is incredible. Thank you everyone!
5 months ago
26/04 first ride with all 6 of us. Started off so well but….Vered got a puncture at Croxleyheath and had to make her way home on the tube cos we haven't worked out yet how to change a tyre! 🤦‍♀️
60k done. Onwards and upwards
More great ways you can raise funds