Recent donations
3 months ago
Frank Fitzpatrick
Good luck with the rest of your running Lydia :)
8 months ago
Liz Collings
Good luck, an amazing personal challenge!
8 months ago
Jess Jackson
Run, run like the wind (a groovy wind)
8 months ago
Rebecca Viney-Wood
Well done. Enjoy the tunnel.
8 months ago
John Wilberforce
Amazing stuff - well done Missus x
Fab effort - thanks lydia

Run for Shared Lives
Lydia Ferguson is raising money for Shared Lives Plus
---
Share this page with your friends:
My story
Why do a single sponsored run when you can set yourself the challenge of doing lots and lots of sponsored runs instead?
In 2023 I am challenging myself to run at least 100km in proper, official, timed events. That could be 10 x 10k runs, 20 x 5k runs, or even a couple of ultra marathons (I mean, it's not going to be a couple of ultra marathons, obviously - that would be ridiculous).
In reality, it's probably going to be a combination of 10Ks, 5Ks and at least one half marathon. My longest race distance to date is 10k (I've done a grand total of two of them so far), but I've been training for a half marathon for a good chunk of the last three years. I'm confident that I can pull this off, but it's going to be a challenge.
Why do this?
I'm doing this to raise money for Shared Lives Plus, the UK membership charity for people who live or work in Shared Lives.
Shared Lives is a model of social care where someone who needs support visits or lives with a Shared Lives carer, sharing their home and family life. Shared Lives is an alternative to more traditional residential care options, providing a more person centred approach, and giving the supported person more opportunity to thrive and develop.
(Disclaimer: I am employed by Shared Lives Plus as their digital communications officer. It is a genuine honour to be able to support their work, and the work of Shared Lives schemes and carers across the country)
---
Thank you for checking out my page. Making a donation is fast, easy and secure thanks to Give as you Live Donate. They'll take your donation and pass it onto Shared Lives Plus.
My updates
8 months ago
I guess before tomorrow's half marathon (eek) I should give you an update on the first run of the year back in January.
Well, what can I say. The idea was to ease myself into the year with something nice and gentle. There was a 10k not far from my Mum's place in Cambridge when I was going to be visiting her for her birthday, so I figured it would be as good a choice as any.
The course was supposed to be twice round a loop in Hinchingbrooke Country Park, but it had rained so heavily for the few days before that some of the route was currently swimmable. So the organisers rejigged things, meaning we did 4 laps of a shorter circuit instead.
Of course, even the bits of the course that were passable were still a little on the muddy side, to put it mildly. I ended up calf deep in a puddle at least twice, and was exceedingly grateful that I'd put my waterproof socks on - what a marvellous invention those things are!
Also, the swap from doing the route twice to doing it 4 times meant that we were faced with an actual hill as soon as we set off.
A HILL!!
One of the reasons I chose Cambridge for the first run was because it's one of the flattest places on earth. And yet Hinchingbrooke Country Park appears to be in a deep hole that we had to climb out of and run back into 4 times.
And while the climb out was on well-maintained paths, the downhill section was essentially a mudslide. I saw more than one fellow runner who had clearly taken that section on their bum, whether intentionally or not.
And the last minute change in route ended up creating a course that was almost 12km long instead of 10km. Not quite the easy start I was planning on. But a heck of a lot of fun.
It took me just over 1 hour 40 to complete the route. My back of the envelope calculation says that would be about 1hr 24 for 10km. Which gives me a nice slow benchmark to beat when I do the tunnel run in a couple of weeks.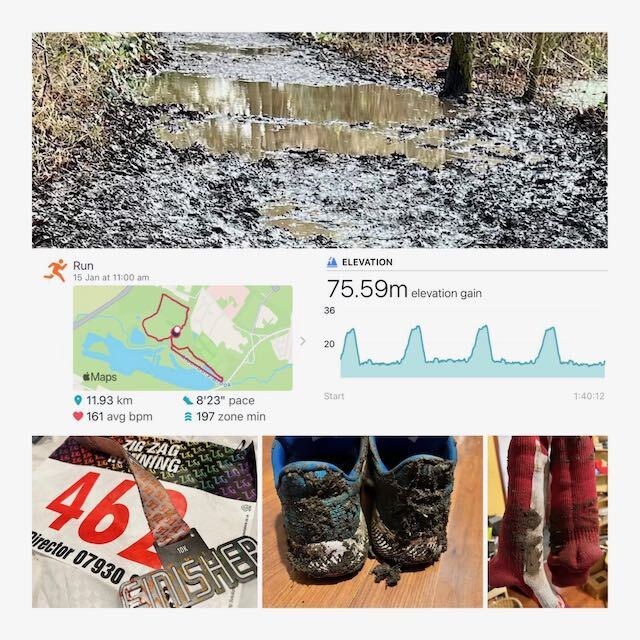 8 months ago
Here's a provisional list of some of the races I'm planning to run this year. As I started the challenge there were 7 races on the list with a total of 81km. I'll keep the list updated as I go.
January 15th - Mid Month Mayhem, Cambridge - 10km, DONE.
March 26th - Liverpool Half Marathon - 21km
April 16th - Mersey Tunnel Run - 10km
May 7th - Liverpool Spring 10K - 10km
June 4th - Jubilee Bridge Run, Runcorn/Widnes - 10km
June 11th - Port Sunlight 10K - 10km
October 15th - Wirral 10K - 10km
More great ways you can raise funds
Help me raise more
Your donations will help the great work Shared Lives Plus do.
Donate now