Recent donations
Great running and great charities to support
3 weeks ago
Oliver Ducker
What a great cause you're supporting!
1 month ago
Joanne Mcloughlin
Great charity to support John
2 months ago
Mum and Dad's Golden Wedding
£100.00
+ £25.00 Gift Aid
3 months ago
Adrian, Laura & Dan
Thank you John for a very enjoyable and safely designed meander through the neighbourhood of North Leeds. We thoroughly enjoyed the walk and are pleased to be donating to a good cause.
4 months ago
Morag Fowler
Well done John! Fantastic running, routes and enthusiasm!
4 months ago
Gillian Johnson
£10.00
Well done to all who ran, especially Harriet Rogers
Great cause - well done John!

#LeedsRhino
John McLoughlin is raising money for Motor Neurone Disease Association and Leeds Hospitals Charity
---
Share this page with your friends:
My story
Thanks for visiting the home of #LeedsRhino. #LeedsRhino is a fun 10km run/cycle/walk route inspired by Rob Burrow and Kevin Sinfield to raise awareness of Motor Neurone Disease (MND) with optional fundraising for MND Association and Leeds Hopsitals Charity, which has the full support of Leeds Rhinos Foundation.
Directions and Strava routes are available below for you to use in taking on the route.
Following the success of #RoundhayRudolph and with John signing up to run the inaugural Rob Burrow Leeds Marathon in May 2023, we wanted to create a route to support everyone and particulalry those in their training for the Rob Burrow Marathon and are delighted to launch #LeedsRhino.
Our aim is to raise awareness through as many people completing the route and sharing on social media, i.e. Strava, Twitter, Facebook,Instagram. Donations are optional, but if you enjoy the route, can and want to donate, then we are supporting Leeds Hospitals Charity appeal to build the Rob Burrow Centre for MND, supporting people living with MND and their families, and the MND Association which funds multi-disciplinary care delivered at the Centre and others across the country, as well as research into potential treatments for the disease. If you are fundraising yourself please feel free to run and promote the route as part of your fundraising efforts, we want the route to bring joy and support as many people as possible.
It would be fantastic to raise as much funding as possible for these causes, but fundraising is not the only reason we've set this route up. Exercise is a key way we as a family combat pressure, stress and aid our mental health. We're hoping providing this route enables those that run/cycle/walk it to gain the same benefits as we do through exercise and given the fun route potentially inspire people during the colder darker months. We'd really like to see everyone's efforts so please use the hashtag #LeedsRhino, can we get it trending ........
Directions can be found in the updates below, which is the only way to share on this site. We've set up Strava routes for those who use Strava as well, which can be found at:
Roundhay Start: https://www.strava.com/routes/2989677042536576432
Moortown Start: https://www.strava.com/routes/2989671895076344240
LeedsRhino's Head: https://www.strava.com/routes/3047632216582693968
Please take care along the route, which follows and crosses busy roads (please use crossings) and may be uneven or slippery in places. The route is being shared to be used at your own discretion and risk and please do so, but have fun and enjoy
Hope you all enjoy and for those taking on any running challenge including the inaugural Rob Burrow Leeds Marathon wishing you good luck in your training and event.
---
Thank you for checking out my page. Making a donation is fast, easy and secure thanks to Give as you Live Donate. They'll take your donation and pass it onto Motor Neurone Disease Association and Leeds Hospitals Charity.
My updates
8 months ago
Please find directions for #LeedsRhino from Roundhay Park - starting at the Pedestrian Crossing near the gates on Princes Avenue opposite the tennis courts.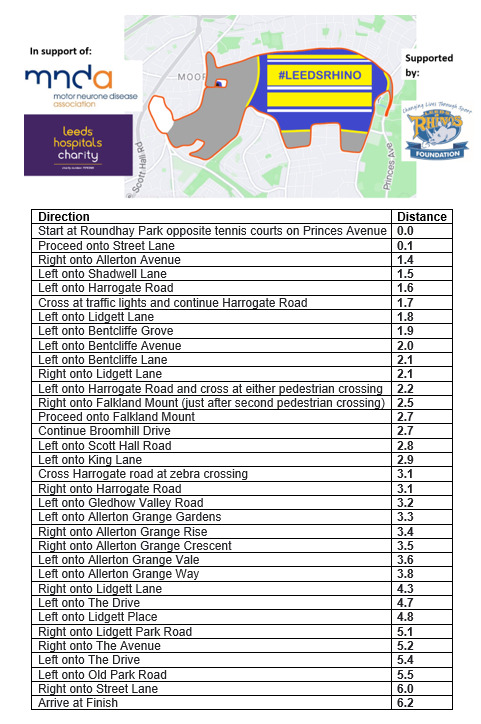 9 months ago
Loved running/cycling #RoundhayRudolph as a 'herd' of Reindeer this morning in Christmas Eve. Merry Christmas everyone from all the 🦌 🦌 🦌 🦌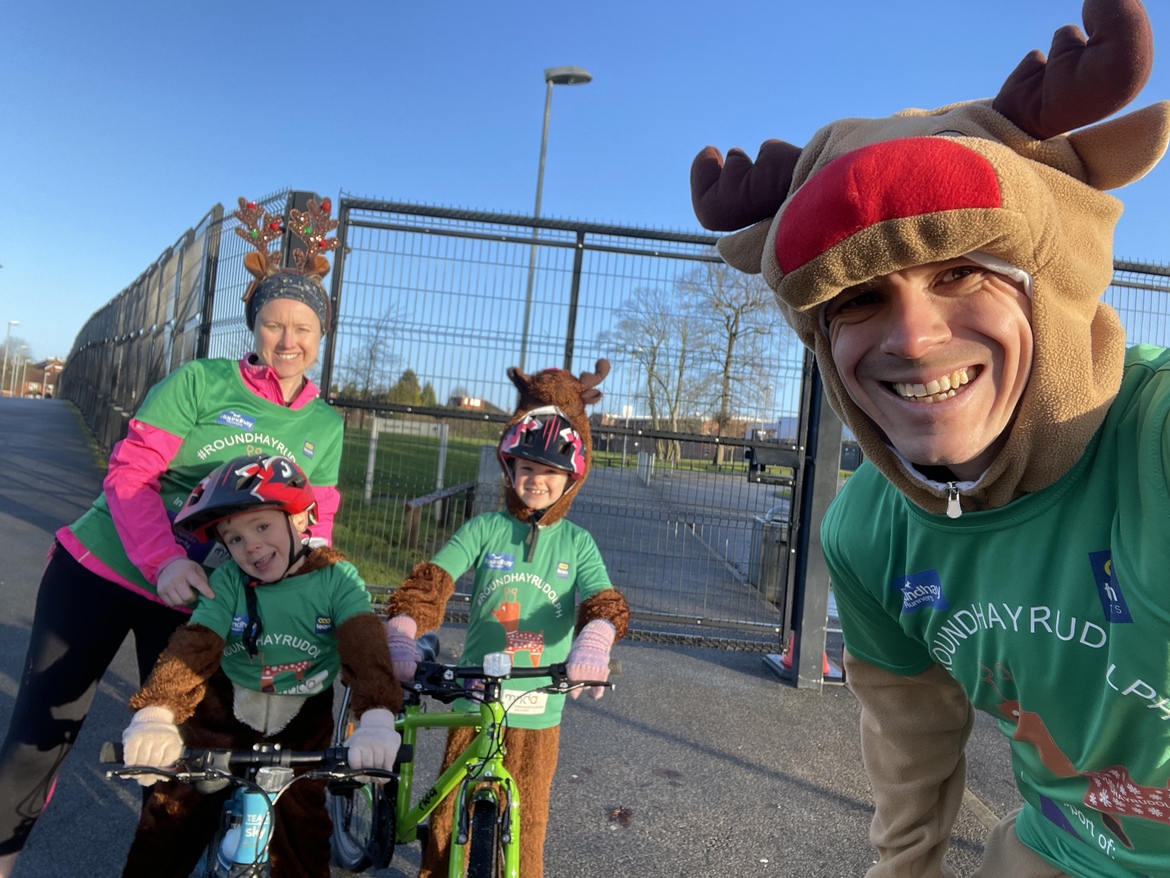 9 months ago
The kids and I have been promoting #RoundhayRudolph in our fab t-shirts. We love these t-shirts from TeamShirts and love wearing them as we take on the route.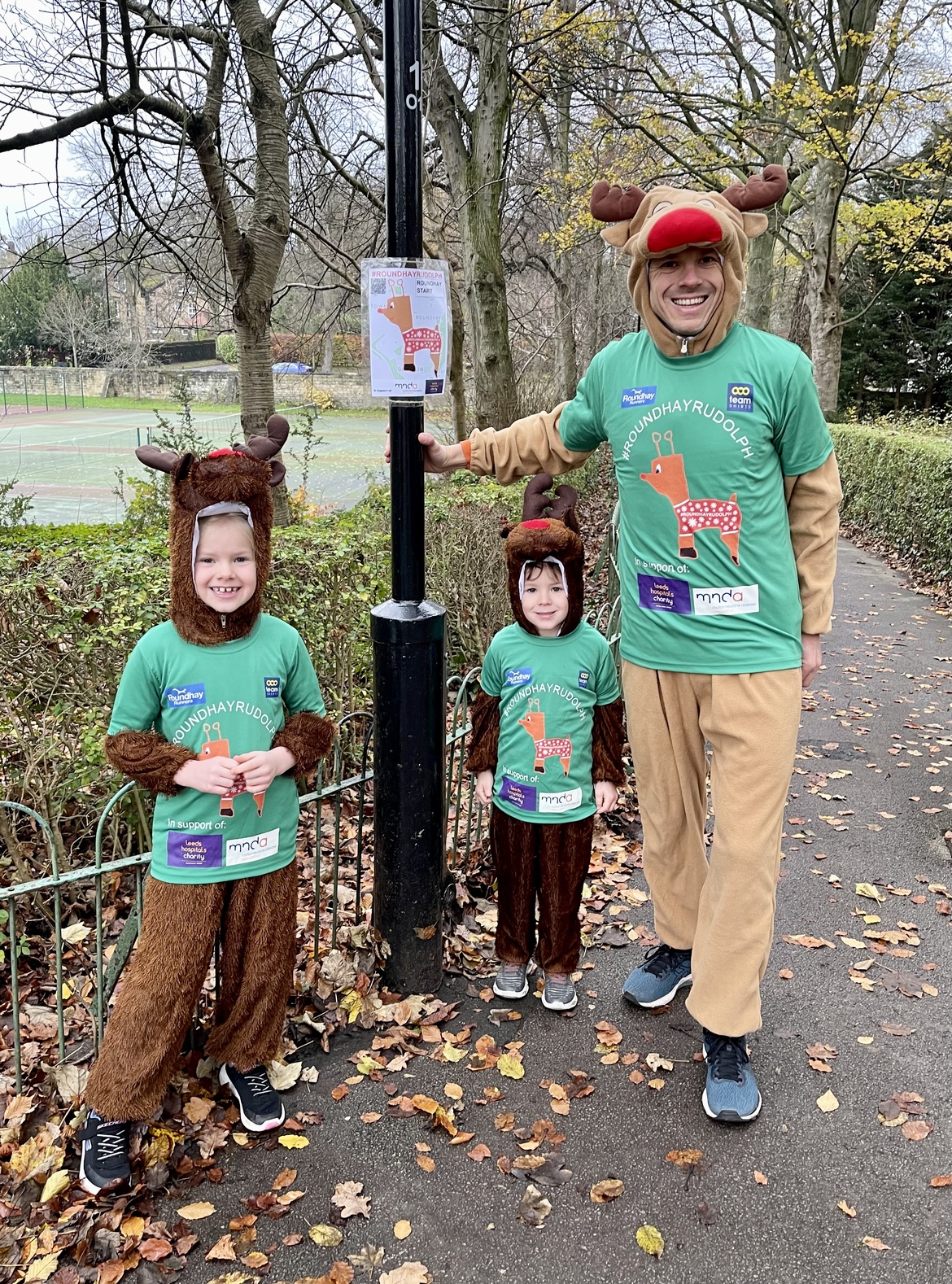 10 months ago
Please see below detailed map with reference points, which can be used with the detailed directions for #RoundhayRudolph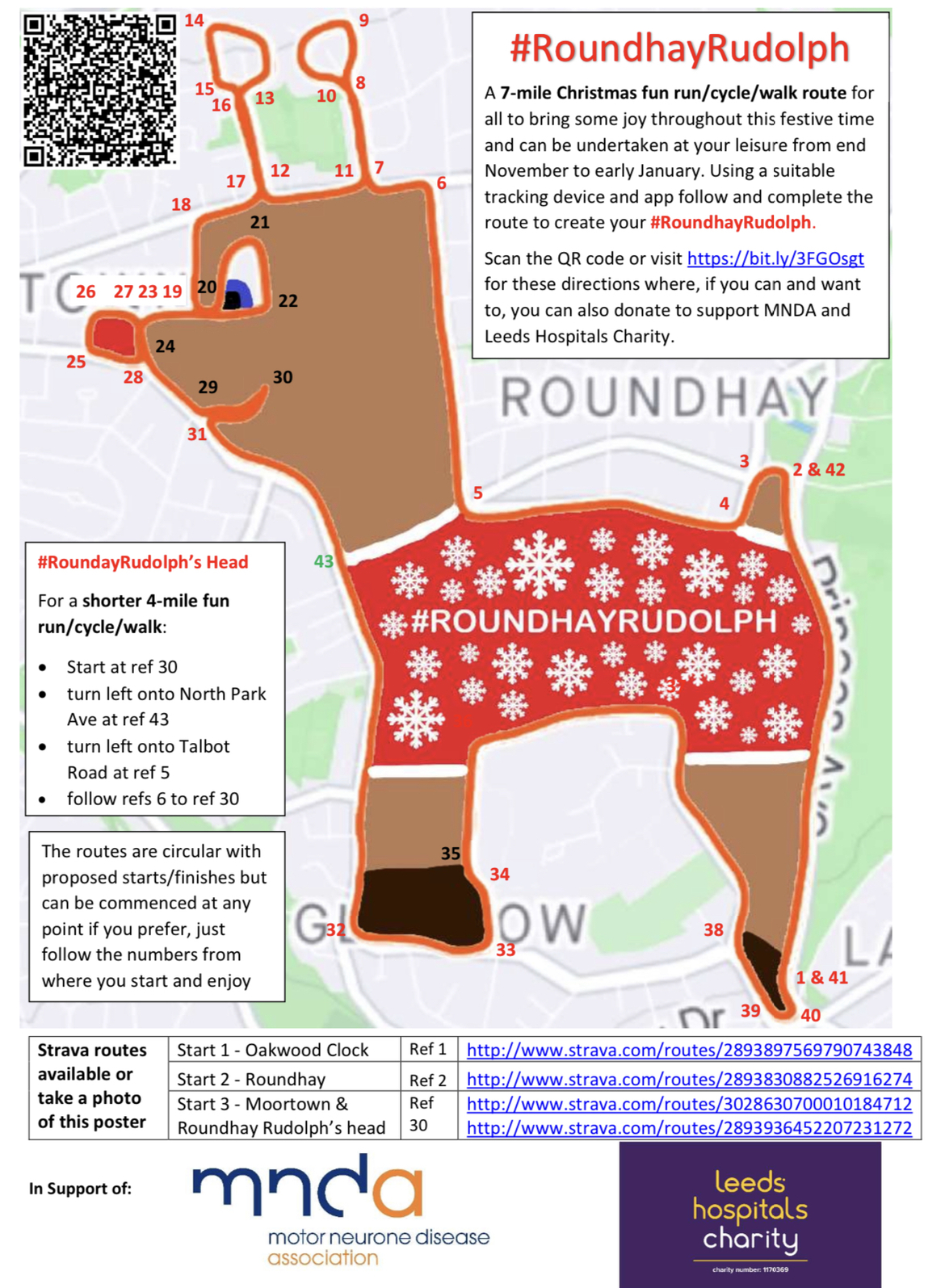 10 months ago
Please see below detailed directions for #RoundhayRudolph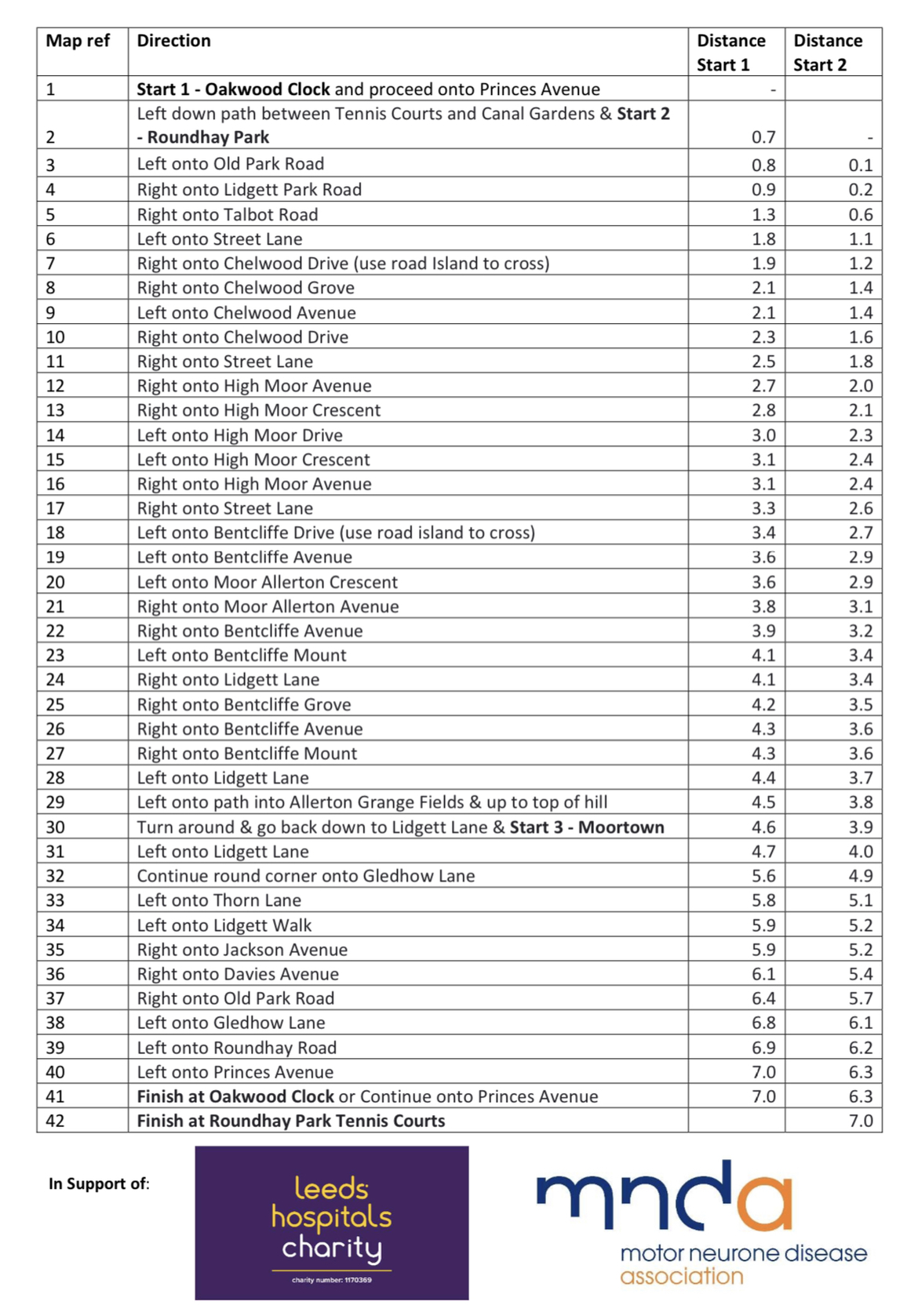 More great ways you can raise funds
I've smashed my £3,777 target - help me raise more
Your donations will help the great work Motor Neurone Disease Association and Leeds Hospitals Charity do.
Donate now