This page is closed and is not accepting further donations
Recent donations
3 months ago
Mrs Catherine O'Brien
£10.00
We really enjoyed the family quiz, thanks Grumpy's
3 months ago
Edward Mason
£10.00
3 months ago
The Stantons
£5.00
3 months ago
Buddy the Elf
£10.00
3 months ago
Dan and Sarah
£10.00

Grumpy's Leeds are raising money for Leeds North And West Foodbank
Santa Stop Here! Farsley Food Drive
Event date: 13th December 2022
Our story
✨ Grumpy's is a lively Bar + Wood Fired Pizza place in Sunny Bank Mills, Farsley.
Back in December 2020 we joined forces with Alaina from Baere Accessories, Sarah Sax from Farsley Fire & Smoke and Paul from Rodley Scaffolding to create a Community Lights Switch On during Lockdown in Farsley.
During the outdoor event Santa took to the streets on the back of Paul's van accompanied by Sarah and her Saxophone to bring some well needed Christmas cheer to the local community!
❤️ AND THIS YEAR WE'VE DECIDED TO GET THE GANG BACK TOGETHER IN THE NAME OF CHARITY!
Santa will be touring the streets once again on Tuesday 13th December from 6pm to collect non-perishable food donations - and this year he could stop at your house to personally give gifts to your household's little ones!
🎅 HOW TO ENTER THE COMPETITION
1. Make a donation to Leeds North and West Food Bank via this page (donations will go directly to them) Any donation small or large is gratefully appreciated and counts as an entry!
2. Head back to Grumpy's Leeds on Facebook or Instagram and comment on the original Competition Post to let us know you have entered, doing this allows us to contact you if you win!
3. For extra points, share this page or our competition post to encourage others to support our local Food Banks too!
4. Four winners will be contacted via Facebook or Instagram on Tuesday 6th December, one week ahead of the event.
Additional Info....
Leeds North and West Food Bank don't think anyone in our community should have to face going hungry. That's why they provide three days' nutritionally balanced emergency food and support to local people who are referred to them in crisis. They are part of a nationwide network of foodbanks, supported by The Trussell Trust, working to combat poverty and hunger across the UK.
⭐ If I win, how many children can I invite to meet Santa at my house?
Santa will be on a very busy journey around Farsley so he will only be able to stop for a maximum of 5 minutes per winning household.
Santa will remain on the vehicle but his elves will provide up to 4 children with a gift each per winning household. Names and ages of children will be requested when we contact you to let you know you have won!
⭐ I don't live in Farsley but have Friends or Family who do
Grandparents, Aunties, Uncles and Family Friends can also enter on behalf of a little one living in Farsley - if their name is chosen the prize can be transferred to whoever they wish! Similarly, you may also wish to arrange to meet up at a friend or family member's house who does live in Farsley and attend the event from there!
⭐ I don't live in Farsley but I do live close by
Don't worry, you can also enter and instead of visiting your home you will be invited to join us at Grumpy's where Santa will make a special stop on his journey there, just for you!
⭐ I live in Farsley but my street may not be suitable for Santa's van to drive up and down
Don't worry, we can arrange to stop in a safer spot close to your home.
⭐ Want to help donate to Leeds North and West Food Bank on the evening?
We will also be collecting non-perishable food and Christmas goodies on the evening during our tour of Farsley! Look out for announcements on our Facebook and Instagram page where we will post a list of items needed by the charity. Grumpy's will then drop these items into the Leeds North and West Food Bank's Distribution Centre on your behalf - helping everyone to enjoy Christmas this year!
Any other questions please contact Alex at Grumpy's via hello@grumpysleeds Subject: Santa Food Drive, FAO Alex
---
Thank you for checking out our page. Making a donation is fast, easy and secure thanks to Give as you Live Donate. They'll take your donation and pass it onto Leeds North And West Foodbank.
Our updates
3 months ago
Here's a list of all of the items Leeds North & West Food Bank need help with, if you'd like to donate anything just pass it to our volunteers as we journey around Farsley!x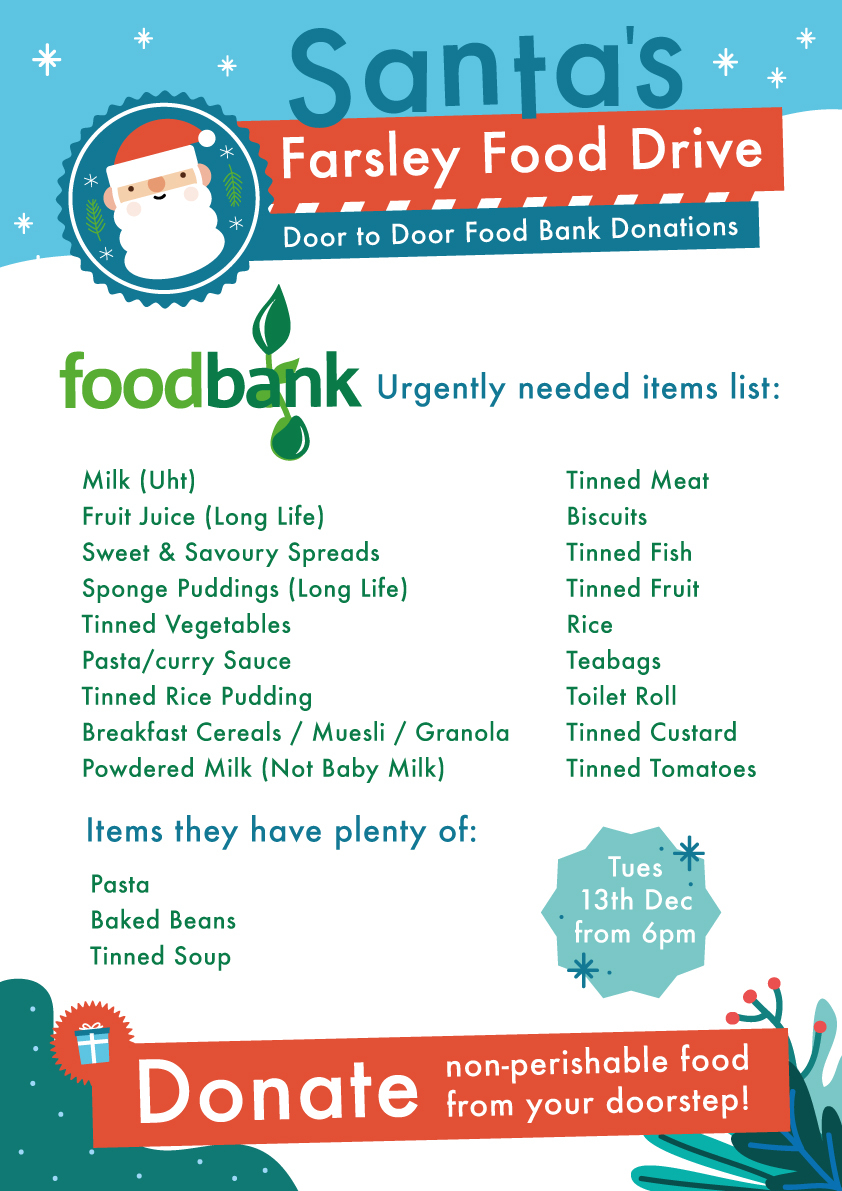 3 months ago
Please find a map of tomorrow's Farsley Food Drive attached!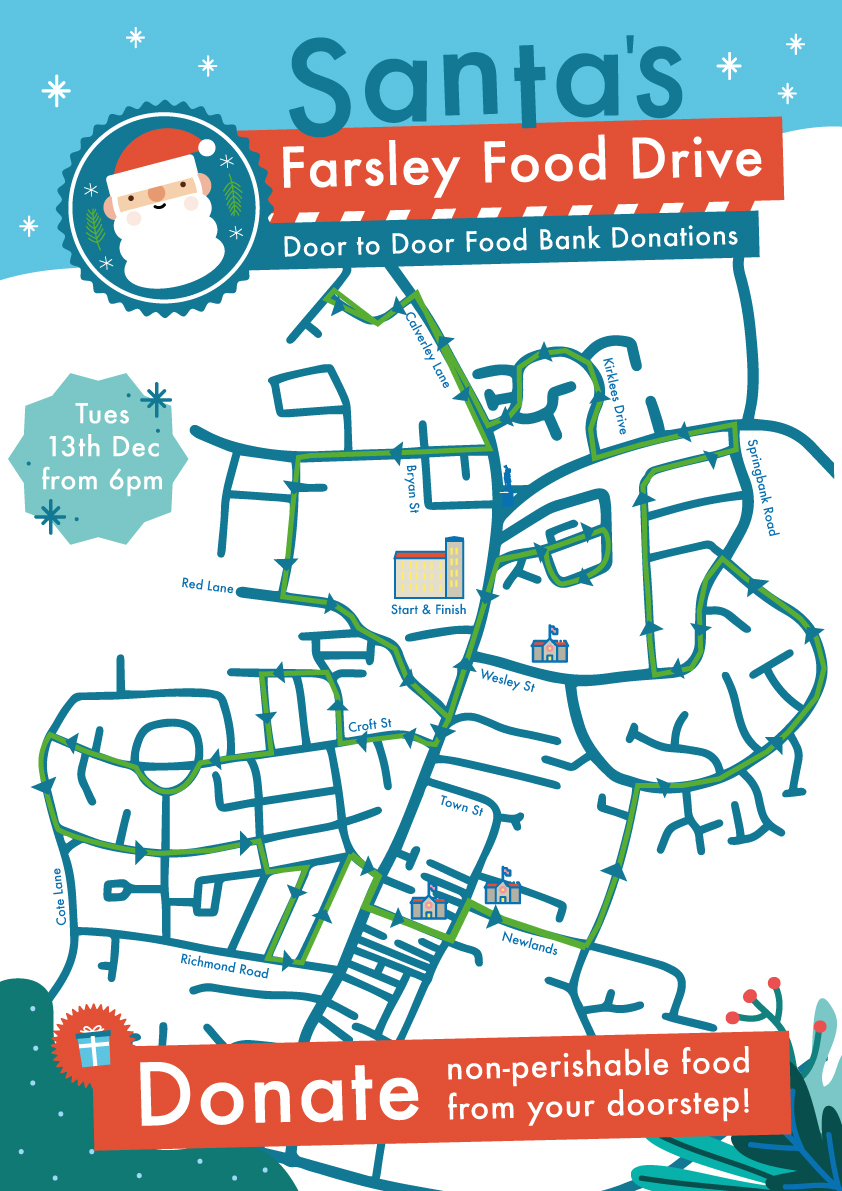 More great ways you can raise funds