This page is closed and is not accepting further donations
Recent donations
Go for it Skydive!!! Well done Sarah!
Braver than us, Good luck.x
4 months ago
The Dickens'
When I did my first parachute jump, the guy I was strapped to asked me how long I'd been an instructor!!!

Sarah's Skydive for Girlguiding Midlands
Event date: 23rd July 2023
My story
I have volunteered as a Guide leader in Sileby, Leicestershire for 20 years, encouraging girls and young women to challenge themselves and to make the most of every opportunity. The girls have often asked me 'Is there anything you wouldn't do?' and my answer has usually been the challenge I have now set for myself! I will be completing a tandem skydive on Sunday 22nd October (postponed from July) in aid of Girlguiding Midlands.
Girlguiding Midlands is part of Girlguiding: a leading UK charity championing girls and young women. Our volunteers build girls' confidence and raise their aspirations by giving them the chance to discover their full potential. We encourage all girls to be a powerful force for good and provide a space where they can be themselves, have fun, build brilliant friendships, gain valuable life skills and make a positive difference to their lives and their communities.
Our group has benefited from many unique opportunities organised by Girlguiding Midlands including camps at Alton Towers and Warwick Castle and even a sleepover at Shrewsbury prison! We have also had numerous girls, who would otherwise have been unable to take part, enabled to attend local and international camps and even a residential trip to France with financial support from the Girlguiding Midlands Making a Difference Fund.
---
Thank you for checking out my page. Making a donation is fast, easy and secure thanks to Give as you Live Donate. They'll take your donation and pass it onto UK Skydiving Adventures to process and send to your chosen charity.
My updates
1 month ago
When Girlguiding Midlands offered the opportunity for leaders to skydive I just knew I had to take it. What better way to encourage my guides to try something new and always look for the next adventure? It was also a great opportunity to raise funds and awareness of what Girlguiding offers young people and adults alike. After the planned summer jump was postponed due to inclement weather the 22nd October date was set at Skydive Langar. A chilly but bright day offered perfect conditions for the flight up to 14,000ft over the flooded landscape of Leicestershire and Lincolnshire. I had a little time to consider what was to come but was reassured by my instructor so we were good to go as soon as the door opened. A tandem skydive doesn't really offer the opportunity to think about whether you want to do it, before you know it you are out of the plane and free falling towards the ground. Noisy and cold but exhilarating, it doesn't really feel like you are falling. I wasn't really able to process the view but trying to smile for the camera! After the longest 45 seconds of my life the parachute was deployed and it became quiet and peaceful as I floated to the ground. I was able to take the controls, steering and doing a few adventurous spins, before the instructor took the reins and guided me to a careful but soggy landing. I did it! Very proud of my achievement, it is one to tick off the bucket list but I'm not sure I am in a hurry to do it again! If you get an opportunity take it, it changes your whole perspective on the world!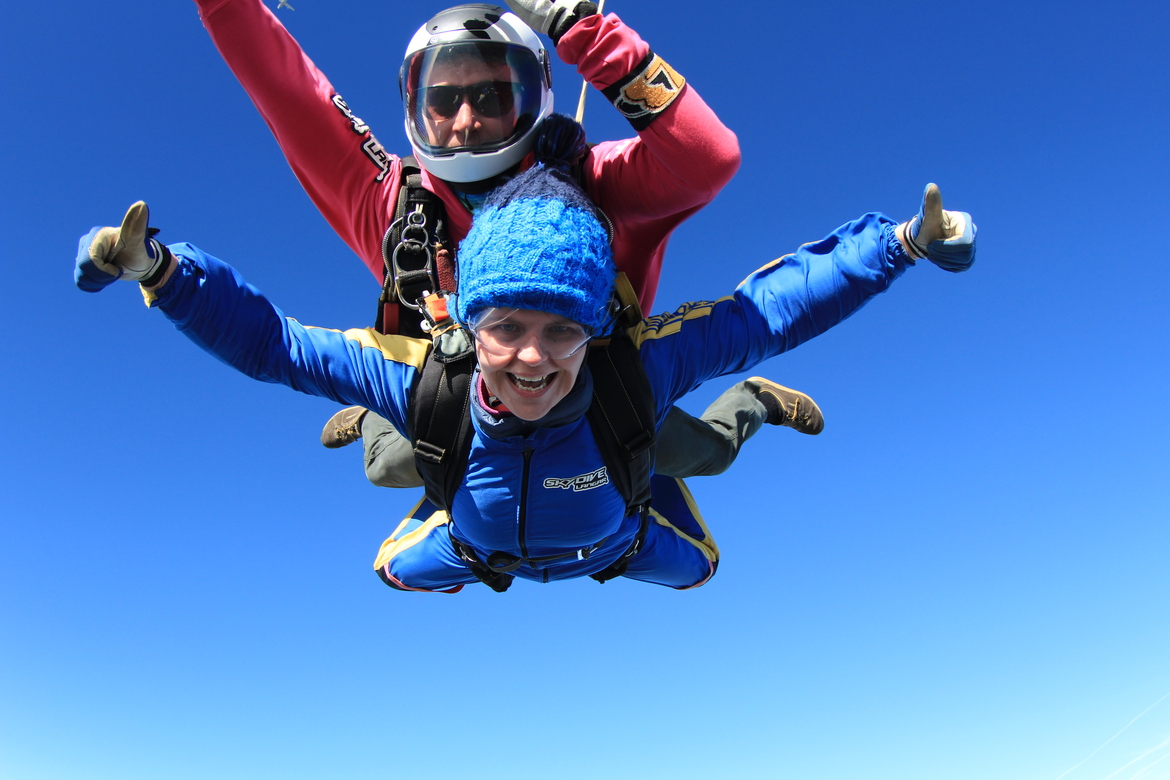 4 months ago
The great British weather has meant that the skydive has been postponed. Rest assured I will still jump out of a plane but will have to wait until Sunday 8th October. Thank you to everyone who has sponsored me, it is greatly appreciated.
More great ways you can raise funds