Recent donations
2 days ago
Sheila CHERCHI
3 days ago
Jeffrey Mchenry
Absolutely fabulous achievements. Well done all.
3 days ago
The Young Family
£5.00
Well done Steven and all that did the cycle, a great achievement for a very worth cause 👏
Unbelievable effort for a truly worthy cause. Well done.
1 week ago
Kirsten Duncan
Well done Robert and everyone else. An amazing cycle given the weather conditions.

Stuart Thom are raising money for My Name'5 Doddie Foundation
The Longest Night & The 24-Hour Spin
Event date: 21st December 2022
---
Share this page with your friends:
Our story
Due to the weather in Northern Ireland the two upcoming events have been swapped around.
The 21st December some of the larger group will be completing a 24-hour spin in Bloomfield Shopping centre, Bangor and the main event. Starting at 10pm on Tuesday 20th December the team will be cycling on indoor bikes / turbos until Wednesday 21st December..
The longest night now take place on Saturday 11th march 2023.
In 2020 during one of the COVID lockdowns a peloton of 12 completed the 'Long Weekend', cycling 410 miles round Northern Ireland in 3 days.
March 2023 some of that crew make up a group of 16 who will be completing the 'Longest Night'.
The peloton will start at the Royal Belfast Golf Club on Saturday 11th March and cycle 270 miles within 24-hours visiting Royal County Down Golf Club and Royal Portrush Golf Club before returning back to Royal Belfast Golf Club.
The event is to raise vital funds and continue to raise awareness for the My Name'5 Doddie Foundation to conduct research into Motor Neurone Disease.
Dodie Weir OBE, who earned 61 caps for Scotland and also represented the British and Irish Lions in 1997, faced his biggest challenge as he battled the disease, a condition that affects the brain and nerves.
He set up the My Name'5 Doddie Foundation in 2017 after announcing that he had been diagnosed with MND, to help raise awareness and funds to find a cure for this devastating disease.
Sadly, Doddie passed away on Saturday 26th November, but his legacy goes on and the foundation will keep striving to find a cure to help everyone affected by this cruel disease.
Doddie.. This is for you.. RIP
---
Thank you for checking out our page. Making a donation is fast, easy and secure thanks to Give as you Live Donate. They'll take your donation and pass it onto My Name'5 Doddie Foundation.
Our updates
1 week ago
Torrential rain and strong winds made the cycle even more treacherous.. 12 started out and 6 managed to complete the epic event.. well done all…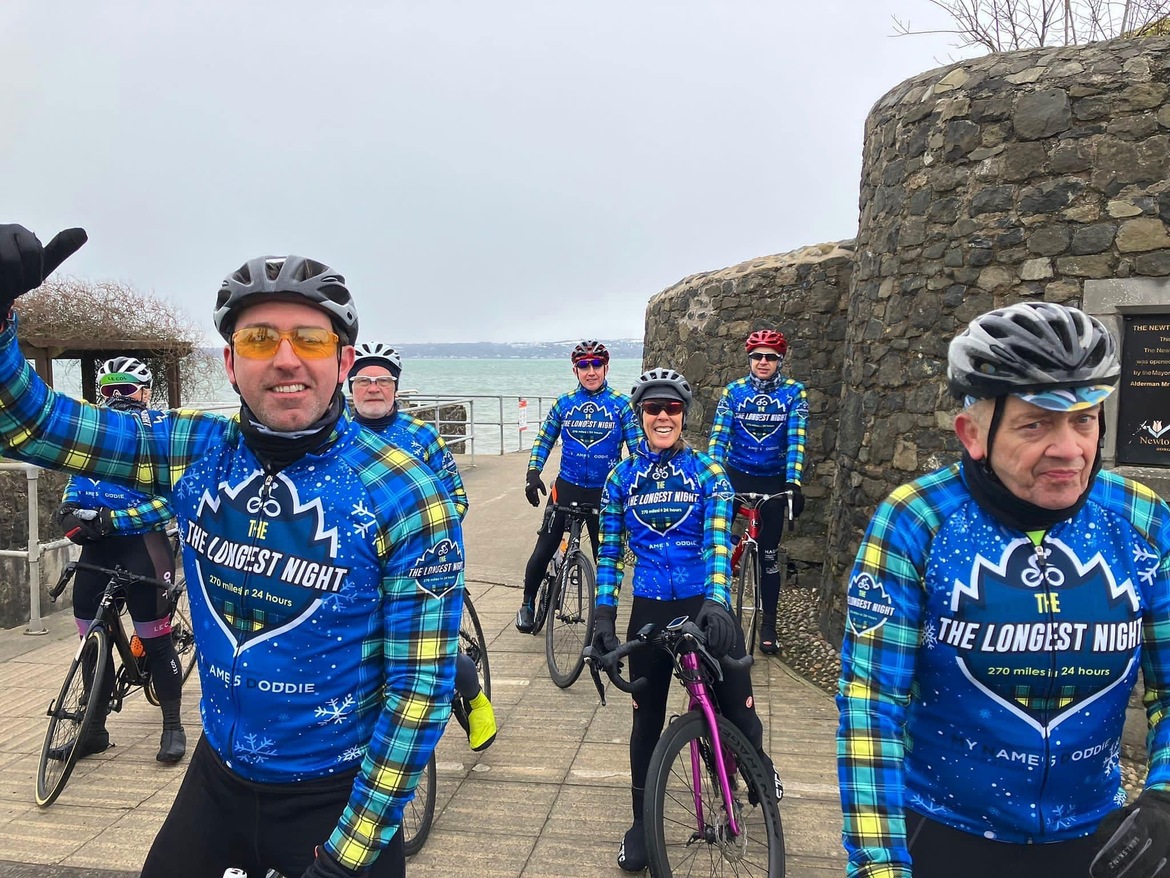 1 week ago
Due to the recent snow the team start at 07:30 on Saturday morning and will be covering the 270 miles along the coast from portaferry to cushendall and back and a few more miles..
The Guinness will taste nice on Sunday…
3 weeks ago
The 11th March, re-scheduled date has come around already.. The team set off from The Royal Belfast Golf Club just after Midnight on Friday (Saturday am), and will be cycling through the night, day and night for 270 miles, arriving back at Royal Belfast before 23:59..
Stevie Barlow is on his 6th event with Stu.. Returning from Wales 2022 are Phil, Tony, Stephen, Coralie & Simon..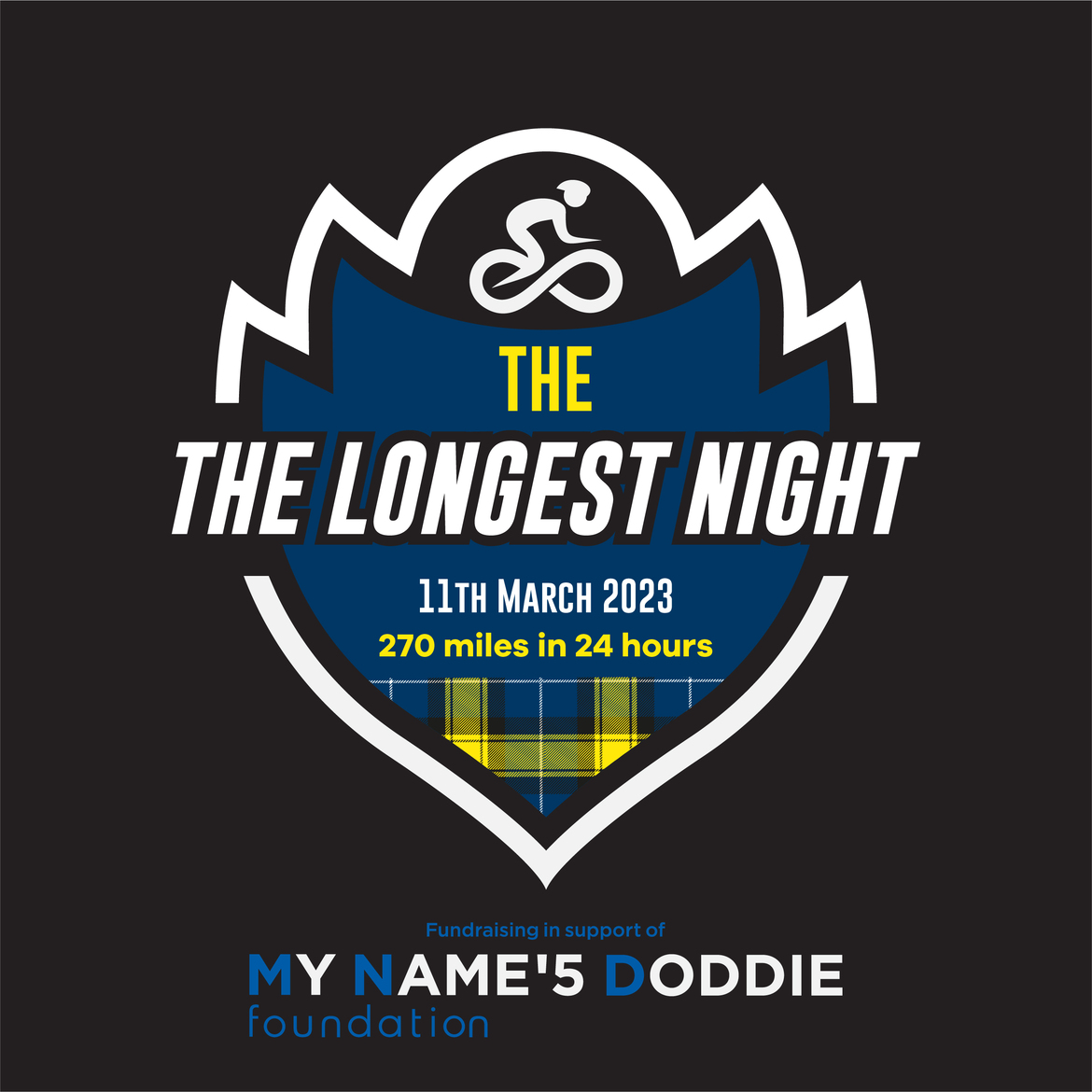 3 months ago
Incredible effort by the team as we cycled inside for 24 hours.. some sore bodies tonight..!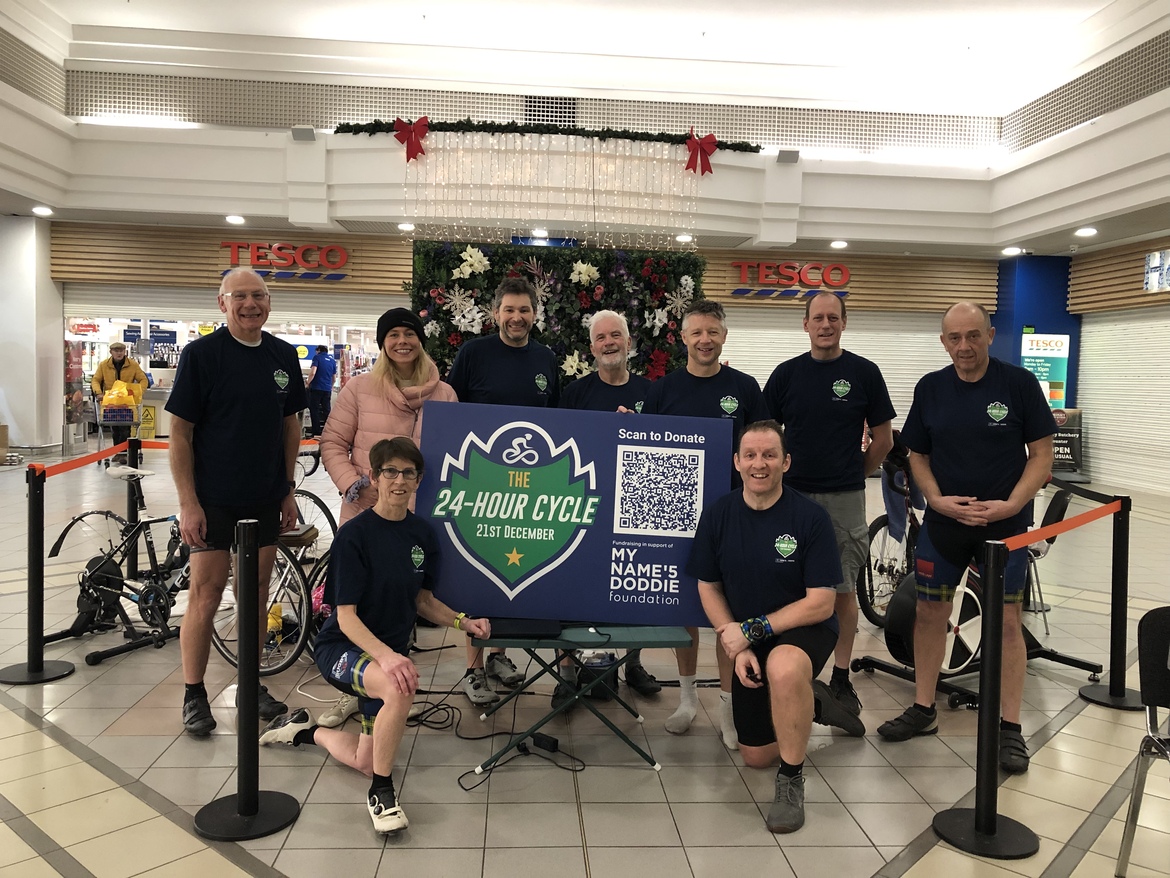 3 months ago
Half way through the second block.. Graveyard shift… 2am until 5.15am…
Stay awake..!!
Powered by

More great ways you can raise funds
We've smashed our £10,500 target - help us raise more
Your donations will help the great work My Name'5 Doddie Foundation do.
Donate now