This page is closed and is not accepting further donations
Recent donations
£10.00
Well done, love Andy & Em xxx
3 months ago
The Hilbert's
£10.00
Well done you two, from all of us! Xxx
Well done for walking all that way, you did well. It was a fun day, and for a great cause. Xoxoxox
3 months ago
Helen Hallmark
3 months ago
Sheila Kirwan
3 months ago
Christine Parkinson
£10.00
3 months ago
The Deightons
£10.00
Good luck Charlotte and Phil, great cause. Hope the weather is nice for you walk 😊

Charlotte Yates is raising money for Woodlands Animal Sanctuary
Walking for Woodlands Animal Sanctuary
Event dates: 17th May 2021 – 17th September 2021
My story
Update: we completed the walk on monday 7th june walking 10.28 miles. We had a great time and saw some gorgeous views as well as a few deer 🦌 🥾
I volunteer at Woodlands Animal Sanctuary and i was told about the walking 10km/6.2 miles challenge to raise money for the Sanctuary.
The Story:
On an average walk we (me and my boyfriend) usually walk 4 - 6 miles, so we decided to make it a bit more challenging and are going to be walking up Pendle Hill and along The Witches Trail. We have never walked these walks, so it will be an exciting challenge!
We are looking forward to our challenge and we hope to raise some money for animals in need - from injured hedgehogs to rehoming cats and hand rearing kittens, as well as the Sanctuary's farm animals, all of the money raised will be a much needed help for the Sanctuary.
Also don't forget to check out the Sanctuary's teas and tours, as well as tours suitable for toddlers and a drop off bin for your old clothes into the clothes bin in the Sanctuary's car park.
---
Thank you for checking out my page. Making a donation is fast, easy and secure thanks to Give as you Live Donate. They'll take your donation and pass it onto Woodlands Animal Sanctuary.
Charlotte Yates is fundraising as part of
Woodlands Walk
17th May 2021 - 17th September 2021
View campaign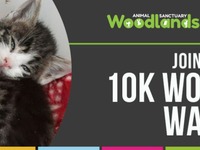 More great ways you can raise funds