This page is closed and is not accepting further donations
Recent donations
2 years ago
Pauline Richmond
2 years ago
Suzanne, Duncan & Jessica
2 years ago
Abigail Murphy
Well done woody and Hector Xx
2 years ago
JANICE LEITCH
£10.00
2 years ago
Jennifer Lawrence Wynne
2 years ago
May McCulloch
£10.00
Good luck Marion,Woody,Hector Snow.
2 years ago
Sharon Griffiths

Woody & Hector Walk
Event dates: 1st April 2021 – 31st May 2021
Marion Mctaggart is raising money for Paws2Rescue
My story
As you all know we rescued our two darling boys from this Charity. They do a fantastic job rescuing all types of animals from suffering in Romania. In addition to rescuing they are also committed to prosecuting & educating locals and children about neutering and cruelty to animals so that hopefully the transpiration of dogs to the U.K. can stop. We are going to commit to walking 150km each month. Please help by donating. Every penny counts and all lives matter 💙 💙xx
---
Thank you for checking out my page. Making a donation is fast, easy and secure thanks to Give as you Live Donate. They'll take your donation and pass it onto Paws2Rescue.
Marion Mctaggart is fundraising as part of
Walk a kilometre in their paws
1st April 2021 - 31st May 2021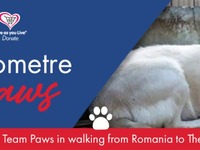 Powered by

More great ways you can raise funds