£0 Become their first supporter!

Poppy M is raising money for Paws2Rescue
Avery's walks!
Event dates: 1st April 2021 – 31st May 2021
---
Share this page with your friends:
My story
After waiting 10 years, we finally adopted the dog of our dreams in August 2020 - Avery. We adopted her through the amazing Paws2Rescue and are so thankful for them working with Georgiana Neagu to make this happen.
Avery has brought so much joy into our lives and we are forever changed because of the incredible and selfless work Georgiana and the whole Paws2Rescue team conduct daily.
If we could raise even £10 for them, this would support a helpless puppy, dog or senior from an otherwise difficult, if not deadly existence.
Please join Avery and us in 'walking a kilometre in their paws' - for she is one of the lucky ones ❤️
---
Thank you for checking out my page. Making a donation is fast, easy and secure thanks to Give as you Live Donate. They'll take your donation and pass it onto Paws2Rescue.
Poppy M is fundraising as part of
Walk a kilometre in their paws
1st April 2021 - 31st May 2021
View campaign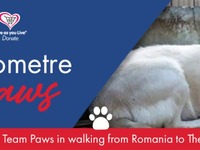 More great ways you can raise funds
Help me raise more
Your donations will help the great work Paws2Rescue do.
Donate now