This page is closed and is not accepting further donations
Recent donations
7 months ago
Debbie Usiskin
Well done Rebecca amazing!
7 months ago
Simon Andrew Johansson
Great effort Rebecca. Well done. Xx
7 months ago
Cathy and Mike
Hope it all went well today Becky, such an amazing thing to do, well done! X
7 months ago
Shelley and Guy

Becky runs the London Marathon 2023
Event date: 23rd April 2023
Rebecca Eastick is raising money for North London Hospice, YoungMinds and St Michael's Hospice, Hereford
My story
I remember watching the London Marathon on TV when I was younger and thinking how much fun it looked to run around the streets of London with huge crowds of spectators. It's been on my to do list for a while but having done a couple of half marathons a few years ago I decided that the leap to a whole marathon was too much.
As I'm always telling my kids that they can achieve most things with a little hard work and determination, I decided I should take my own advice. I signed up for the Marathon in 2021 but didn't get a ballot place but I tried again in 2022 and to my amazement was successful.
I confess to have done very little running last year but my friend Jenny asked me to join her at our local 5k Parkrun in Grovelands Park last July. I didn't enjoy it much and had to walk quite a bit but I was determined to keep going until I got better. Fast forward to now and I'm running three times a week and I'm planning to run 32k on 31 March which will be the longest run I do before the big day. Yikes!
I'm taking the opportunity to raise some much needed money for three charities that are close to my heart. Two of them are hospices because funding is always an issue and good care at the end of people's life should not be a luxury: North London Hospice (and where I work) and St Michael's Hospice in Hereford who cared for my wonderful grandfather Alan in the last months of his life so that he could stay at home and enjoy the incredible view over the Black Mountains from his bed. He would have enjoyed hearing all the running updates.
I'm also raising money for YoungMinds who are doing great things to support children and young people's mental health to avoid them reaching crisis point. Mental health support shouldn't be something that young people have to jump through hoops, or wait for years to access.
---
Thank you for checking out my page. Making a donation is fast, easy and secure thanks to Give as you Live Donate. They'll take your donation and pass it onto North London Hospice, YoungMinds and St Michael's Hospice, Hereford.
My updates
7 months ago
Thank you so much for your encouragement and support. What an incredible day I had on Sunday! There were some tough points along the way but I ran the whole thing and finished in 4:39:02. Xx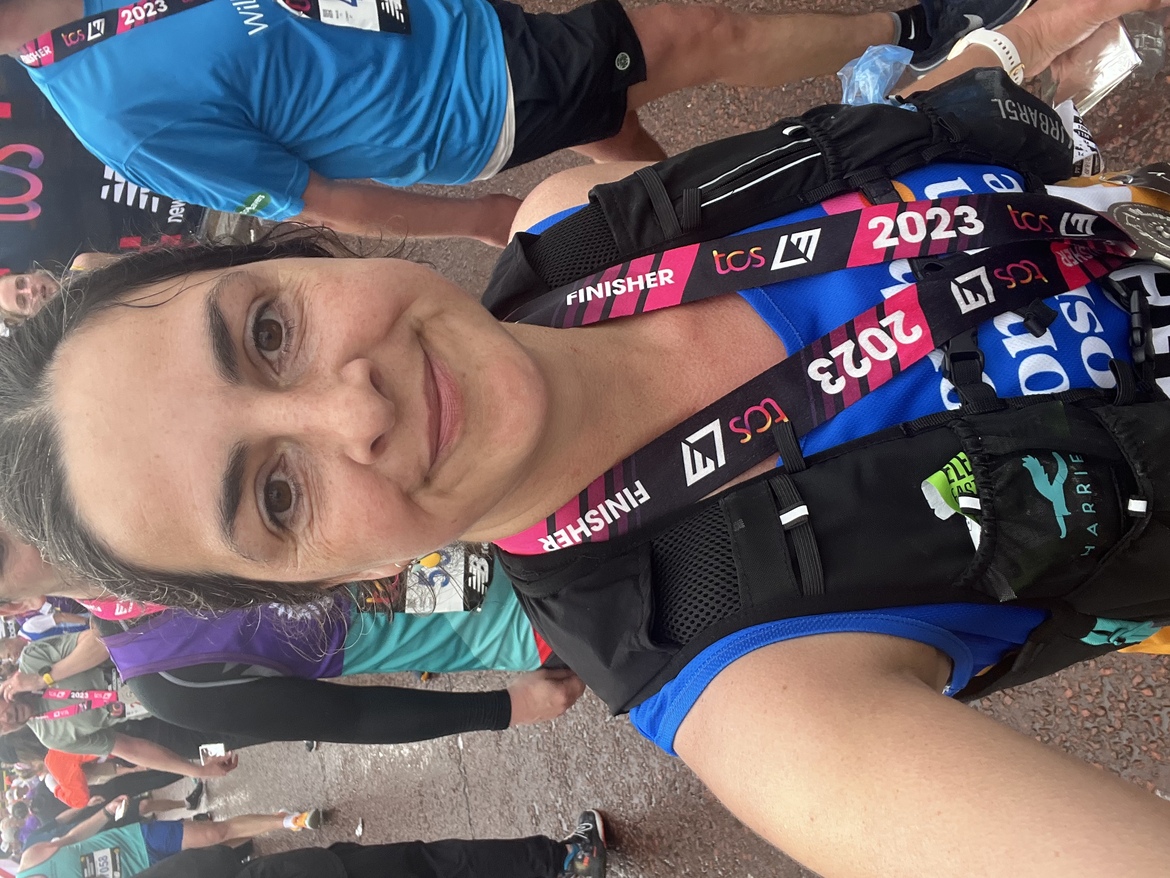 7 months ago
London Marathon 2023!! 🏅4:38:02
44.0km distance
5:05:45 time
6:32min/km speed
7 months ago
Mini marathon!
1837m distance
0:16:03 time
8:00min/km speed
7 months ago
Evening Run with my son. We ended up spending a long time rescuing a baby bird who'd been caught by a cat!
2488m distance
0:28:47 time
10:45min/km speed
7 months ago
Last long run before LM. Knee hurts now. It hasn't ever hurt before!
13.0km distance
1:32:45 time
6:40min/km speed
This page is in memory of
Alan Johansson
My 3 charities
St Michael's Hospice, Hereford
Charity number: 511179
Powered by

1 5 9 . 5 km Total distance ran
More great ways you can raise funds