Recent donations
Well done Rob-keep going😀
Good luck Mr Dunn love the Collyer family x
Good luck from Adam and Mrs P
1 week ago
Hannah Barton-brown
Good Luck Mr Dunn you can do it !!!
1 week ago
Harper Debenham Family x
£5.00
Good luck Mr Dunn! From Donna, Joe, Joshua & Isla x
1 week ago
Nicola Stevens
1 week ago
Lynsey & Wayne Lake
Good luck Rob! From the Lakes x

ROB DUNN is raising money for DEBRA
BIKE, RUN, WALK, RUN, BIKE, RUN AND A RUN TO FINISH
---
Share this page with your friends:
My story
From time to time I take part in a few running and cycling events throughout the year. I enter these things for normal purely selfish reasons in that I want to do them.
I am a keen plodder, admittedly not very quick and a little wobbly, and also like to get on my bike at the weekends. I am fortunate that I am a member of a great local running club and have some close friends with whom I cycle. Just do it for a bit of fun.
This year I have entered, what I consider, some big events. Some call them races but it is about being able to breath at the end for me.
1. Ride London - is a 100 mile cycle starting in central London, heading out to the countryside of Essex before finishing (hopefully) on Tower Bridge
2. HARP 24 - Harp is a local Southend charity working those members of the community who are homeless. HARP 24 is a 24 hour non stop
run/walk/crawl through the woods of Hockley and Cherry Orchard. The person who completes the long distance with 24 hours is the winner. The record is 127 miles. Last year I got 30 miles.
3. London Duathlon - is a multi event which comprises of a 10k run followed by a 44k bike ride finishing with a 5k run. The duathlon takes place in the glorious surroundings of Richmond Park.
4. The iconic Great North Run - this has become one of the must do runs in the UK. Run on the streets and through the city of Newcastle the atmosphere is second to none. The course is 13.1 miles, a half marathon.
So for this year I have decided not to be totally selfish and along the way would like to raise a little bit for a charity. DEBRA is a charity close to the hearts of pupils, staff and Kingston Primary School community.
---
Thank you for checking out my page. Making a donation is fast, easy and secure thanks to Give as you Live Donate. They'll take your donation and pass it onto DEBRA.
My updates
2 days ago
CPJ - TIME TRAIL RUN
5001m distance
0:28:01 time
5:31min/km speed
5003m distance
0:32:07 time
6:25min/km speed
1 week ago
Hi All
Thank you for your support and sponsorship. Just thought i would give you a little update. Completed Ride London yesterday after nearly 7 hours in the saddle. A great route and event.
Next is Harp24 in June
Thank you
Rob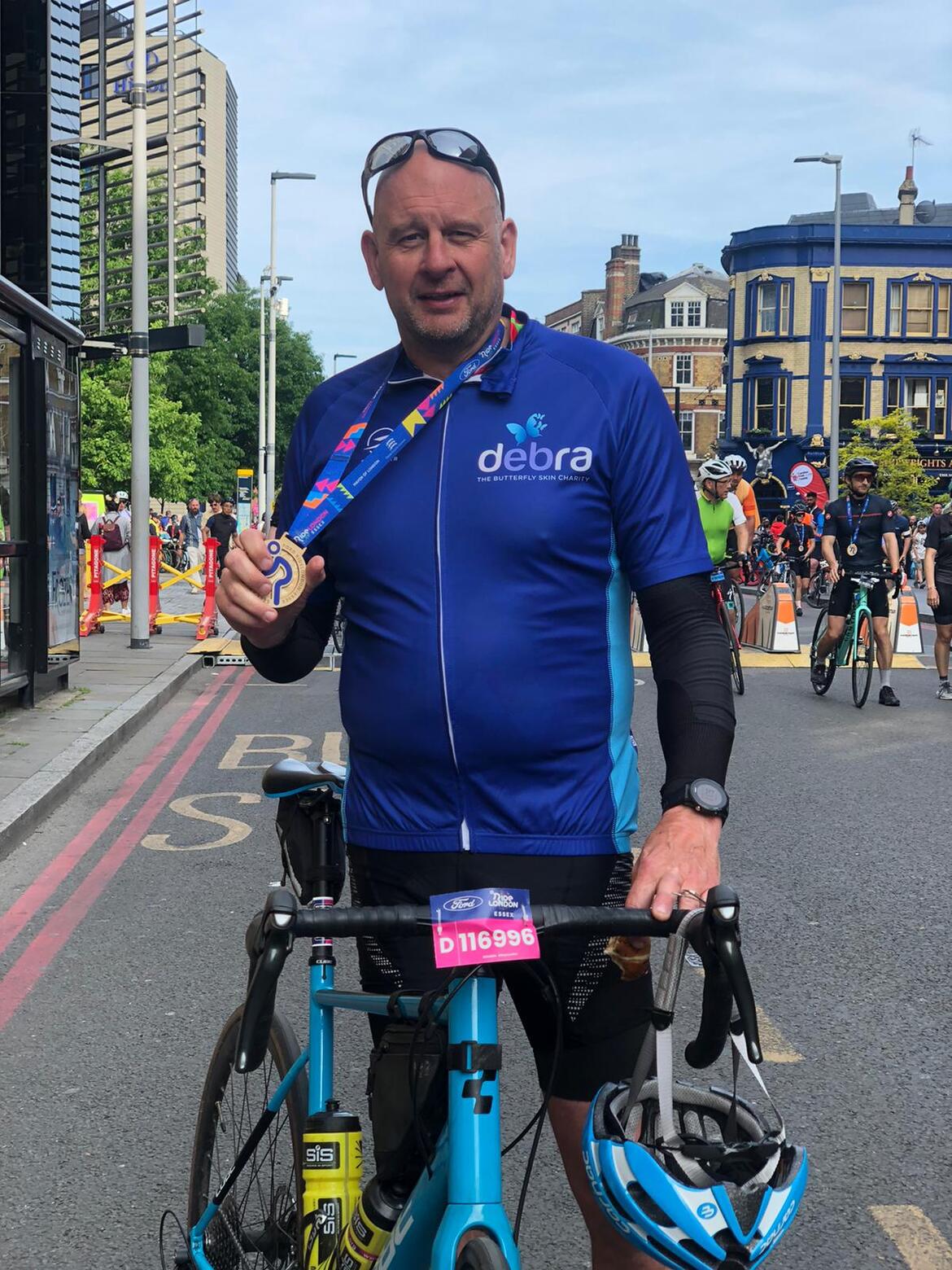 166.2km distance
7:18:29 time
2:26min/km speed
7382m distance
0:31:23 time
4:03min/km speed
Powered by

4 6 9 . 2 km Total distance
More great ways you can raise funds
I've smashed my £1,000 target - help me raise more
Your donations will help the great work DEBRA do.
Donate now