Recent donations
1 month ago
Lori & Jo Gardner
Hope it's a great day for you.
1 month ago
Alison Currie
good luck lasses -will hopefully be joining james in the support team this year xxxx

Linzi Betts are raising money for Àban
Coldingham Brave Bayers on Tour! Linzi, Martha, Sally & Sharron's swim page
---
Share this page with your friends:
Our story
After the success of last year's 1st outdoor non competitive swim for us we thought we'd do it again...
We've enthused more Brave Bayers to join us too ...though Martha's convinced she only said "maybe" 🤣
The organisers have updated the route and provided an alternative so we've no excuses! This year it's an evening swim on Sunday 25th June across the Beauly firth, approx 1200m (tidal) if you swim in a straight line (not us then) and the water likely to be tropical Scottish summer temp of +11'c 🥶
Prep so far has been rather sporadic (more thinking, less doing) though we're sure the excellent vibe and support from last year will carry us through.
We yet again have some personal challenges to tackle in preparation for this such as improving stamina and overall fitness, increase concentration spans, being able to breath whilst exerting oneself, slimming down into wetsuits, combating fears of the deep and murky water, acclimatising to longer periods of time in the cooling water. All whilst juggling work, families, life and everything in-between!
We will try and do a blog as we swimble along, as we really want you to share in our adventure (pain).
First mission: Group photo.
Second mission: Pray to Mother Nature to sort the swell out!
Third mission: Get swimming
Photo for attention - Feeling the love!
All donations raised are going direct to worthy local charities that support nature and outdoor programmes.
(We are all self supported for this event - No entrance fees, accommodation, fuel or any other associated cost for us are coming out of the donations).
Please feel free to come by and join us on our journey, swims will be posted regularly.
Thank you
The Brave Bayers - Linzi, Martha, Sally and Sharron.
---
Thank you for checking out our page. Making a donation is fast, easy and secure thanks to Give as you Live Donate. They'll take your donation and pass it onto Àban.
Our updates
1 week ago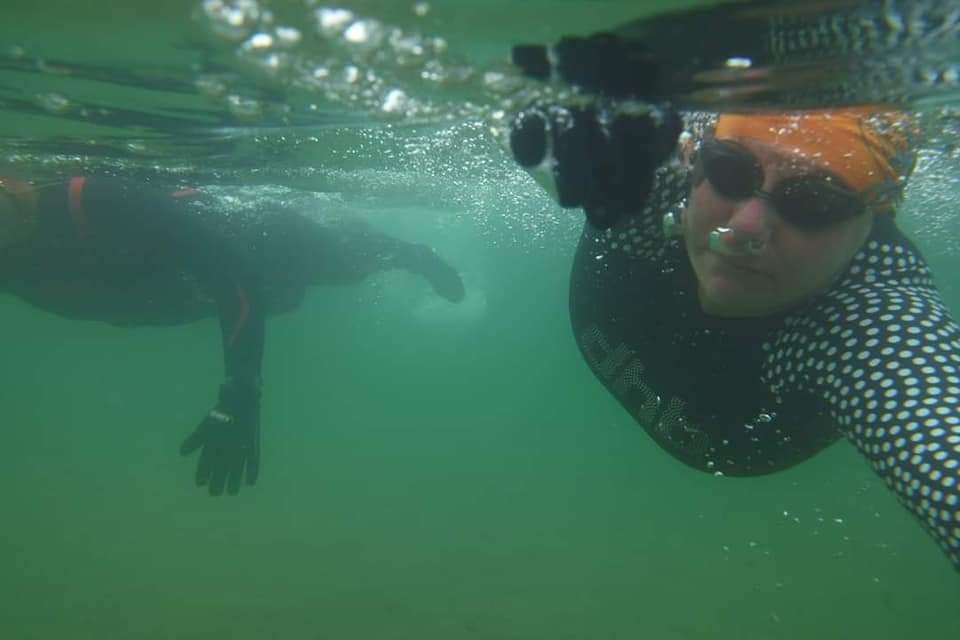 More great ways you can raise funds
Help us reach our £400 target
Your donations will help the great work Àban do.
Donate now