Recent donations
11 hours ago
Enda M Donnelly

Emergency Relief for Palestinians in Gaza
Walk for Palestine are raising money for Sheffield Palestine Cultural Exchange
---
Share this page with your friends:
Our story
We are fundraising to pay for urgent humanitarian relief for Palestinians, especially those innocent civilians in Gaza suffering from the vicious Israeli onslaught. Approximately 20,000 people have been killed already, almost half of them children and the relentless daily bombing of innocent civilians continues. People are starving and living on the streets sleeping on cardboard. Hospitals, schools, churches, mosques and other places of supposed sanctuary have been bombed. The Sheffield Palestine Cultural Exchange have direct links to teams working on the ground to support as many people as they can with food parcels and essential items.
All funding will go via Sheffield Palestine Cultural Exchange to The Gaza Emergency Relief Fund. See https://www.sheffieldpsc.org.uk/ for more information. Here is a link to a report about the use of funds compiled on 4 Nov 2023 https://bit.ly/Gaza-ER-report.
As part of this we are organising a city wide SPONSORED walk on Saturday 2 December 10.30am-12pm with sponsored groups walking from many locations, fundraising as they go and meeting in the city centre.
You don't have to wait for the day you can DONATE now.
---
Thank you for checking out our page. Making a donation is fast, easy and secure thanks to Give as you Live Donate. They'll take your donation and pass it onto Sheffield Palestine Cultural Exchange.
Our updates
11 hours ago
THANK YOU ALL our Big Walk for Palestine proved to be an amazing Day for Sheffield showing our solidarity for Palestine to raise much needed funds for our friends in Gaza. Sheffield is awake and across the city has shown our support. We walked 7 routes bringing hundreds of people of all ages from across our diverse city and across our communities. We have raised a definite £10,000. Not all shown here as there were cash donations on the day and sponsorship being brought in and sent direct to the Emergency Fund. With still more to come.
Thank you 🙏 to all who have support this - An idea that popped into someone's head just a month ago.
We felt proud to be a tiny part of a show of millions across the world who will have gathered in solidarity with Palestine again yesterday, today and tomorrow.
We are not here for ourselves we are in it together. 🇵🇸 if you'd like to donate you still can https://donate.giveasyoulive.com/fundraising/emergency-relief-for-palestinians-in-gaza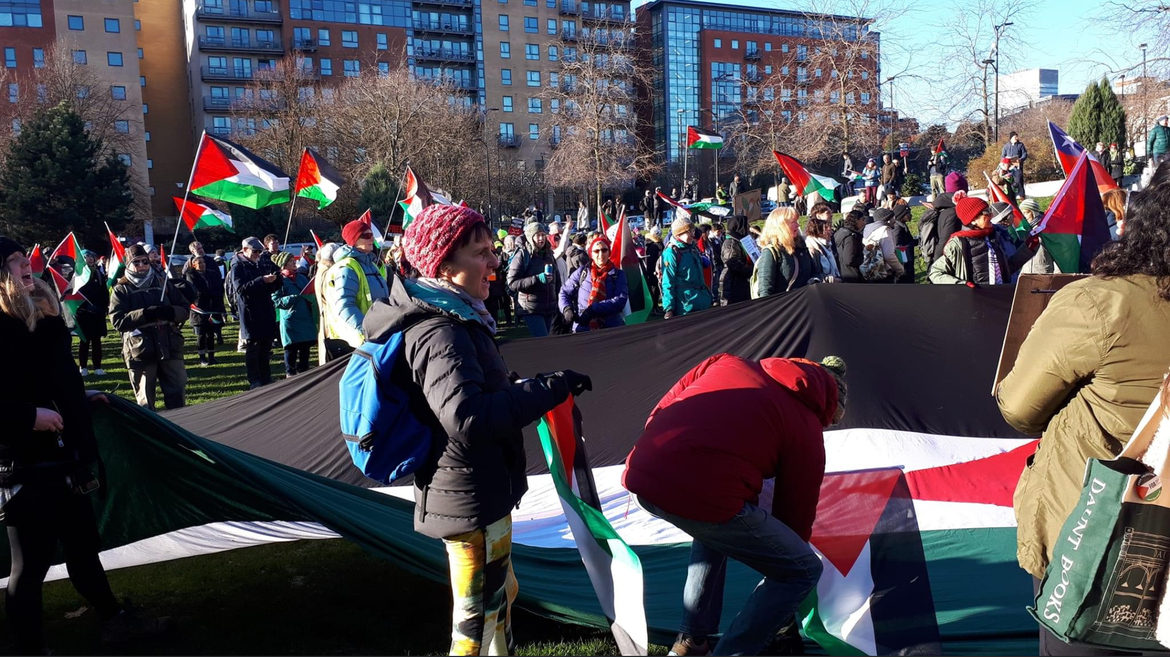 3 days ago
Really great to see the donations coming in and the support for our friends in Gaza. Another tragic day for the innocent Palestinian civilian people who are being rained upon with bombing again today as the Israeli army reignites their bombing with determination. Our hearts go out to you and all we can do is walk and hope that the money we raise will alleviate some of the suffering. What is really needed is for the west to stop their support of Isreal and call for immediate CEASEFIRE. We heard today on the radio that Isreal is looking for the creation of a new reality inside the Gaza strip. Clearly a reality that does not include the Palestinian people and which our governments have a duty to make a stand against. How many people have to stand in peaceful solidarity for them to listen. How many more thousands of people do we to have to hear have died. How many more innocent people have to die.
Thank you for your support.
4 days ago
Thanks to everyone that has donated to this appeal so far.
Just to let you know that every £400 raised feeds 1000 people with basic meals. This will be a solidarity gift from the people of Sheffield helping Palestinian children women and men maintain their dignity at a time when they have been forced to leave their homes.
Thank you.
Hope Banksy won't sue us for using his image to say what we all really want.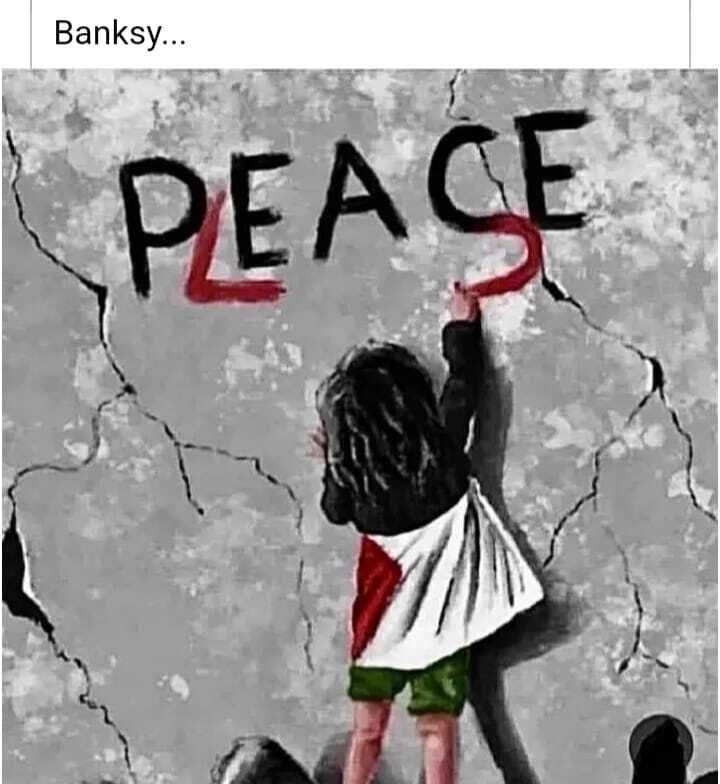 1 week ago
How To Get Involved… Lots of information here if you'd like to join one of our walks.
If you need to know more please email us bigwalkforpalestine@gmail.com
Thankyou 🙏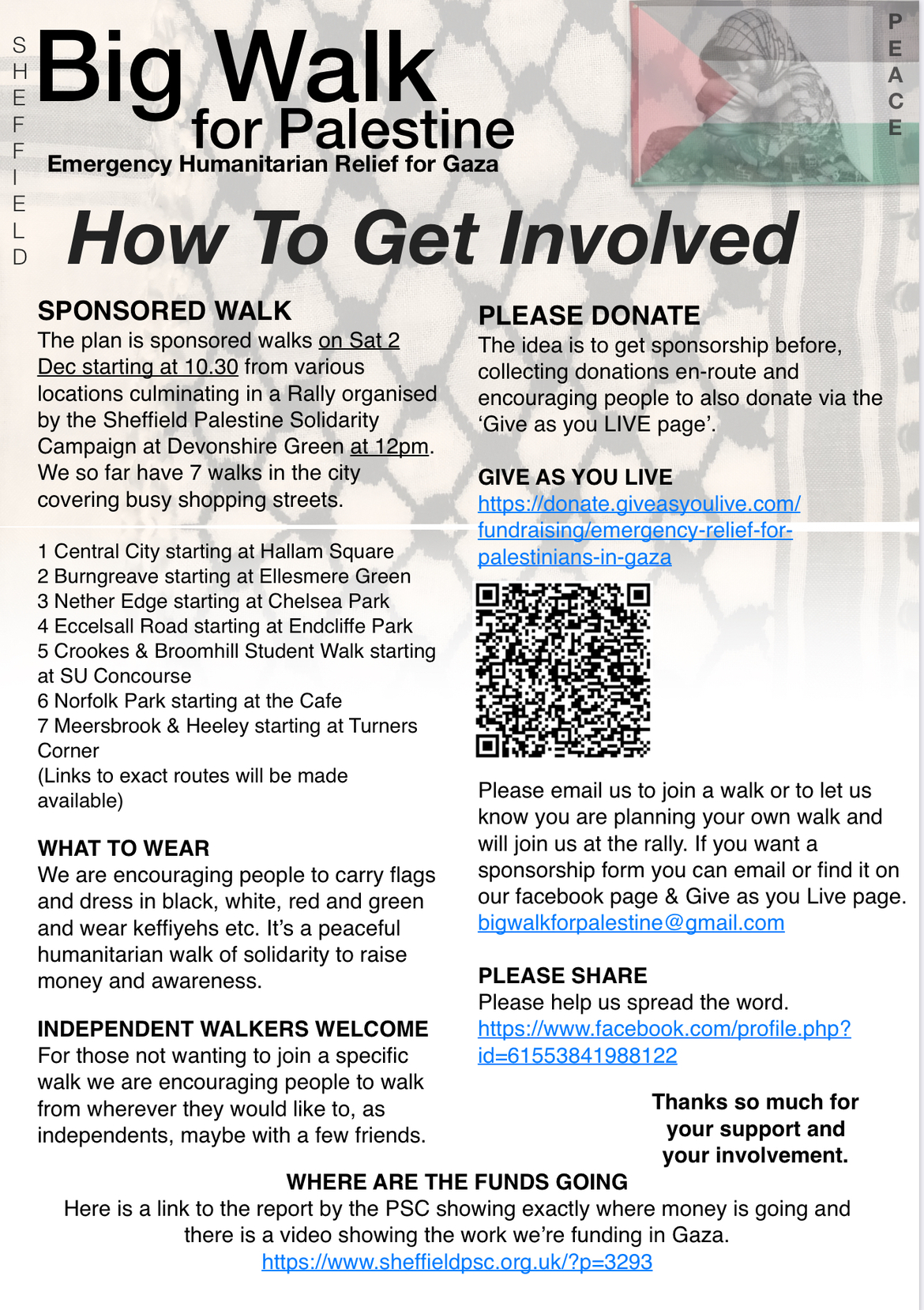 1 week ago
Thank you so much for your generosity. It's great to see the donations coming in and we know that many of the walkers have already got tons of sponsorship for the walk. Plans for the Big Walk are coming along and we will post an update of how you can join us across the city on 2 Dec. 🙏💕🙏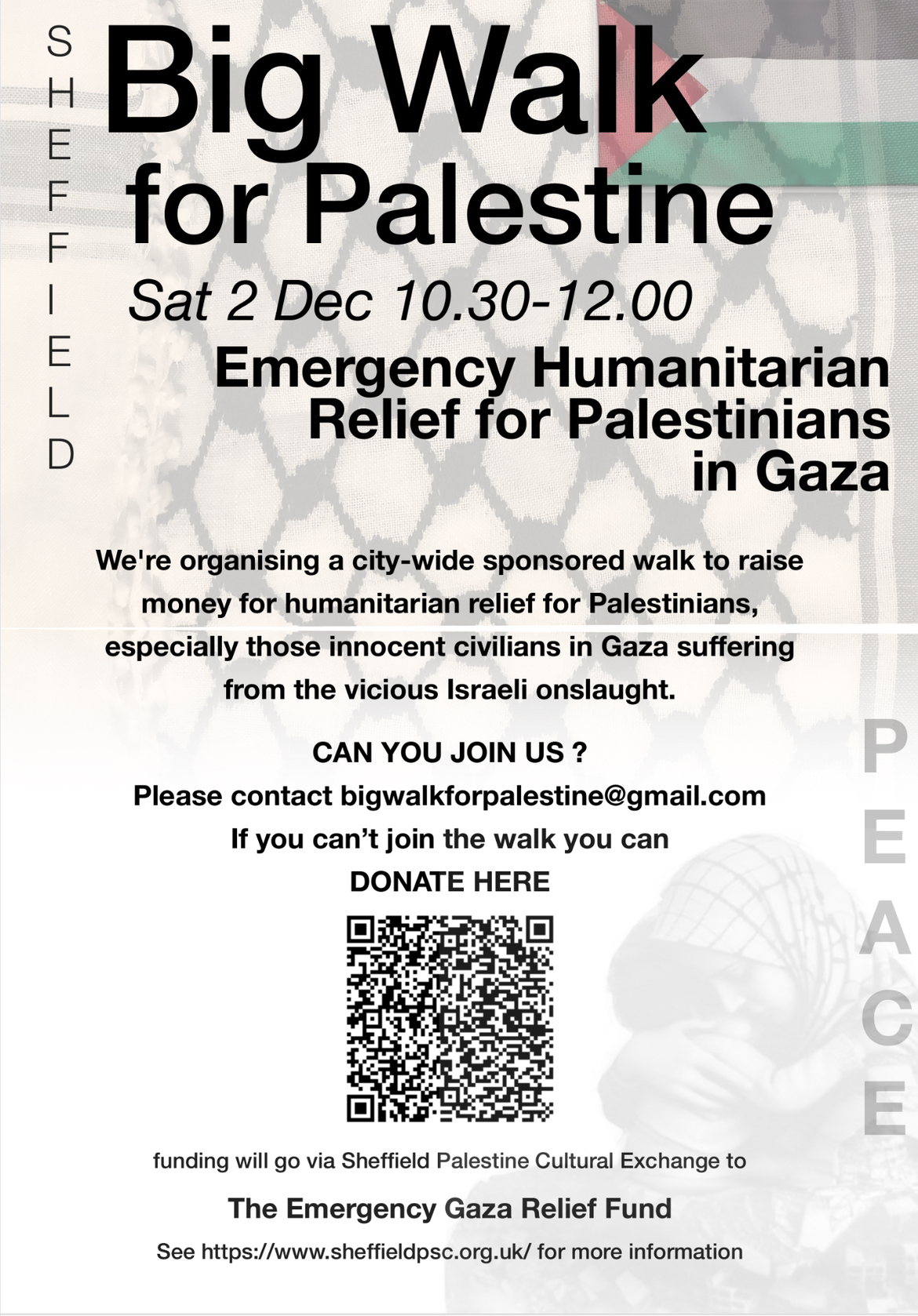 More great ways you can raise funds
We've smashed our £6,000 target - help us raise more
Your donations will help the great work Sheffield Palestine Cultural Exchange do.
Donate now