Recent donations
2 weeks ago
Tom & Antonia
Happy Wombling and hope you get the right result from the match as a reward.
3 weeks ago
Jane vlietstra
£10.00
Brilliant cause MA and hope you enjoy the challenge x
1 month ago
Paula Thorvaldsen
1 month ago
Mary-Ann Turnbull

Mary-Ann Turnbull is raising money for AFC Wimbledon Foundation
Leaving my bike at home
Event date: 30th April 2022
---
Share this page with your friends:
My story
As you know this club is very dear to my heart, and relegation anxiety is NOT the way I would choose to end this season, the first in our glorious new stadium. Whatever, I'm doing the Wombles Walk on 30th April to raise money for the AFC Wimbledon Foundation.
The Club through the Foundation has always been part of its community in Merton Kingston and Wimbledon, using sport to help education, social inclusion and well-being. It was therefore was no surprise when from early on in covid, the Dons Local Action Group was helping those struggling. Immediately obvious were the food collection points at supermarkets and at the home matches. Not surprisingly given our team colours there has been recent practical support for Ukraine.
To raise funds, I've chosen to walk to the stadium for the last match of the season. The Wombles Walk starts on Wimbledon Common, where AFC Wimbledon held football trials 20 years ago. The route joins the Wandle Way and arrives at Plough Lane before the last game of the season, against Accrington Stanley. Yes I agree, not exactly a long way, but if you could send even tiny a bit of sponsorship for the AFC Wimbledon Foundation that would be much appreciated.
---
Thank you for checking out my page. Making a donation is fast, easy and secure thanks to Give as you Live Donate. They'll take your donation and pass it onto AFC Wimbledon Foundation.
Mary-Ann Turnbull is fundraising as part of
Wombles Walk... back to Plough Lane
View campaign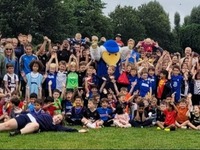 More great ways you can raise funds
I've smashed my £200 target - help me raise more
Your donations will help the great work AFC Wimbledon Foundation do.
Donate now