Recent donations
7 months ago
The Guerriers
Top Godfather! RIP Freddie. In our hearts forever ❤️
7 months ago
Lindsey and Paul Doyle
Well seeing as you made it, here's another donation from our boy….
7 months ago
Kathryn Woodward
Well done Paul. You are a star 🌟
7 months ago
Jenny Weidner
Good luck Paul! Go and smash it for a second time!

London Marathon 2023 / LEJOG 2023
Paul Critcher is raising money for DEBRA
---
Share this page with your friends:
My story
Further to last years London Marathon, I have been given a last minute opportunity to run again for DEBRA to which I could not decline.
My running started almost a year ago now in memory of my Godson Freddie Fincham who passed away on the 3rd of January 2021 at the age of 14. Once again I will be running the Marathon in Freddie's memory. Fred was the best of us all, He had an amazing soul. He was so kind, thoughtful and would always put others before himself. He always made others laugh and would always put a smile on our faces.
Freddie like others with EB was so brave whilst dealing with his condition, Although in constant severe pain his positive outlook meant this never held him back. The thought of this pushed me to take on the marathon last year and its the same this year #bemorefreddie. Whilst taking on the challenge last year it opened up my awareness for EB and I have been made aware so many other stories through DEBRA, the EB community and social media. We miss Freddie so so much, he will live in our hearts forever and although there is nothing that can bring him back we can raise awareness and funds in his memory to help some of the bravest people in the world. Those that have the EB condition and the family's and friends that offer so much support.
Along side the marathon I am also challenging myself with LEJOG 2023 which is a virtual run from Lands End to John O Groats. 874 miles in total which will need to be completed by the end of the year. I am currently 215 miles into the challenge
Any support no matter how small would be greatly appreciated. Our hope is that our small part in raising money and funds for DEBRA will mean that collectively someday there will be no more suffering.
---
Thank you for checking out my page. Making a donation is fast, easy and secure thanks to Give as you Live Donate. They'll take your donation and pass it onto DEBRA.
My updates
7 months ago
2nd London Marathon completed, that was really hard. Thank you for all of your support, donations and sharing. The money raised will really help charity DEBRA. I will be continuing to try and raise as much money as I can for them through the LEJOG challenge that I'm currently taking part in.
347 miles into the 874 miles.
Once again thank you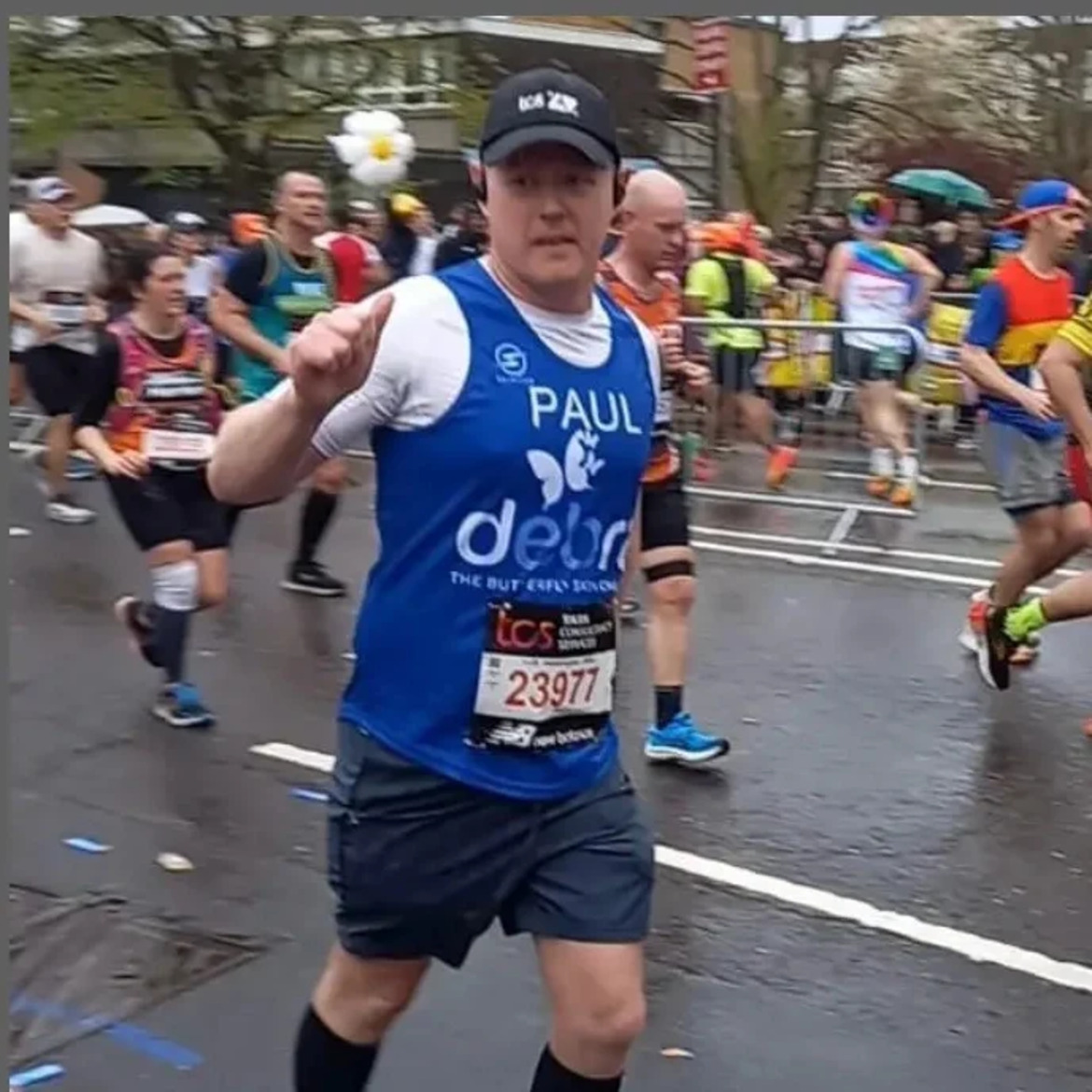 More great ways you can raise funds
Help me reach my £2,000 target
Your donations will help the great work DEBRA do.
Donate now