Recent donations
£4,100.00
+ £1,025.00 Gift Aid
£4,500.00
+ £1,125.00 Gift Aid
7 months ago
Marie Poland
£100.00
So grateful for all the support you offer!

Friends of NLFO are raising money for AFRINSPIRE
New Life for Orphans Uganda - Building
---
Share this page with your friends:
Our story
New Life For Orphans Uganda was established in 2013 to support orphans and vulnerable children in the Mityana District of Uganda. The children who NLFO support suffer due to family problems, early marriages, loss of one or both parents, HIV-AIDS and child labour. The organisation is mostly active in the Banda Sub-County in which 28% of children are orphans and 68% of children below the age of 15 have no access to education.
Since its establishment in 2013 the organisation has grown, and the number of children in the care of NLFO has increased from 10 to 50. As the organisation continues to grow due to the large number of children in need in the region, the hope is that more children in the area will be given access to education as well as good housing.
The work of NLFO has been observed in person by four eye witnesses of friends in the UK so far to date - one trusted Ugandan national church pastor (2017) and three different UK citizens visiting Uganda at three different times (2018, 2019 and 2021), each with past experience in and knowledge of the country and culture.
In September of 2021, after years of renting facilities, NLFO needed a place of their own. So friends and supporters of NLFO from around the world helped them raise £6000 for phase one of a building project to finally have their own shelter on their own land.
NLFO is currently (1 Dec 2021) seeking to raise an additional £4800 to complete phase two of the building project, putting in doors, windows, plastering walls and getting basic furnishings. The photo above was taken in mid-November with the children in front of the new building during the visit of a friend from the UK.
They also have regular day to day needs, such as food, clothing and medicine, and would love to host Christmas Gift Packages for the kids. A full list of the break down of costs needed currently (1 Dec 2021) can be found below. We will update this page from time to time as needs are met.
Please will you consider joining other friends of NLFO from around the world to give as much or as little as you are able, as often as you can, and share this page around with others you know who may be able to help? Thank you so much in advance. NOTE (updated April 2022) - Give As You Live now supports recurring donations, making it simple to support the ongoing daily needs of NLFO with a regular monthly contribution via this fundraising page.
If you have any questions, please feel free to contact New Life for Orphans CEO, Sserubiri Davis at newlife.orphans (at) yahoo.com. If you wish to speak with international friends of NLFO (mostly in the US or UK, but other places as well), Davis can put you in touch with us.
PLEASE NOTE: This fundraiser has been set up by individuals who support NLFO and is facilitated by Afrinspire, UK registered charity number 1163774. All money given on this fund raising page will pass through Give As You Live to Afrinspire and on to New Life for Orphans in Uganda. If you wish to give directly to Afrinspire and not to NLFO, donations for the general work of Afrinspire should be made through www.totalgiving.co.uk/charity/afrinspire-1163774
BUILDING PROJECT PHASE TWO
5 Doors = £420.11
15 Windows = £945.3
Flooring = £462.11
Wall Plaster = £157.54
Labour = £430.61
Water Tank = £630.16
Solar panels = £630.16
Metallic Bunk Beds = £630.16
Blankets, Mattresses & Sheets = £525.13
SUB TOTAL = £4831.28
DAILY NEEDS
Clothes = £756.19
Food = £420.11
Medication = £315.08
Scholastic Materials = £420.11
School Fees = £525.13
Staff = £210.05
SUB-TOTAL = £2646.67
CHRISTMAS 2021 GIFT PACKAGES
£420.11
TOTAL NEEDED (1 DEC 2021) = £7898.06
---
Thank you for checking out our page. Making a donation is fast, easy and secure thanks to Give as you Live Donate. They'll take your donation and pass it onto AFRINSPIRE.
Our updates
3 months ago
Give As You Live now supports monthly recurring donations through this fundraising page. No matter where you live in the world, it is now so much simpler to become a monthly supporter of NLFO to help with their ongoing daily costs. Many thanks again to everyone who gives monthly, from everyone in the NLFO community!
3 months ago
April 2022 Update
The NLFO community is making great progress with the building. What remains needed now is £400 more toward installing a kitchen and £2000 for tempered glass for the windows and doors throughout the building (all the window and door frames are in, just the glass is needed now). If you can contribute toward these final building costs, please use this donation page to give securely through the registered UK charity Afrinspire, who will then send the funds on to NLFO - and everyone in the NLFO community sends you their thanks in advance.
The daily ongoing needs listed in the original post above remain roughly the same, every three months, though costs do fluctuate. Davis and the whole NLFO community sends their thanks once again to everyone who donates monthly toward their ongoing costs in support of the now 60 children accessing services from NLFO.
We have included an April photo and video with this update for you all as well. Any questions, as always, please do feel free to contact New Life for Orphans CEO, Sserubiri Davis at newlife.orphans (at) yahoo.com. If you wish to speak to any of the international friends organising and sharing this donation page, Davis can put you in touch with us. Many thanks again to everyone for your support of NLFO.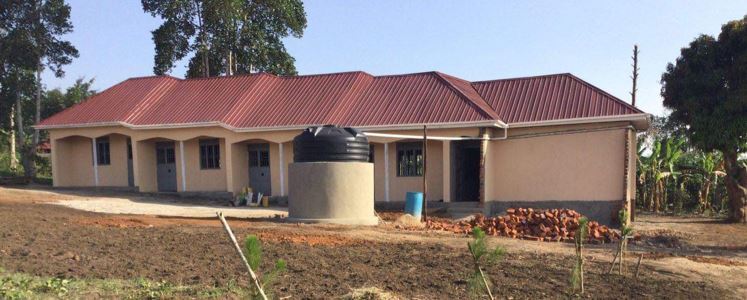 More great ways you can raise funds
We've smashed our £15,000 target - help us raise more
Your donations will help the great work AFRINSPIRE do.
Donate now