This page is closed and is not accepting further donations
Recent donations
2 years ago
Tomlins Joanna

Rob's Work Out 4 Waste Warriors
Event dates: 1st November 2021 – 30th November 2021
Rob Mackenzie is raising money for CLEAR Community
My story
Working with just 5 Indonesian villages, this year we've saved 1,500kg of plastics from entering the ocean. 7,500 villages still to go so we need your help!
I'm aiming to cover 200km in a mix of walking, running, and cycling to support CLEAR's Waste Warriors Project. With your help, I'd like to raise £200.
Or why not join me? Set yourself a target and create your own fundraising page.
I'm a trustee at CLEAR and I'd love you to sponsor me. Ocean plastics are a global problem and we want to stop Indonesia from being the second-largest polluter. We are in empowering villagers in Java to start recycling waste and stop plastic pollution on land and sea.
Mentors from CLEAR deliver a programme of workshops and training giving women the skills, knowledge, and confidence they need to become Waste Warriors. The funds raised by this event will help us to pay for the trainers and mentors.
---
Thank you for checking out my page. Making a donation is fast, easy and secure thanks to Give as you Live Donate. They'll take your donation and pass it onto CLEAR Community.
My updates
2 years ago
London - last leg
7185m distance
1:55:18 time
9:58min/km speed
2 years ago
Run #10 last #WorkOut4WasteWarriors runs
5062m distance
0:30:54 time
5:58min/km speed
2 years ago
Cursecombe loop #workout4wastewarriors
21.4km distance
1:39:18 time
4:07min/km speed
2 years ago
#9 run #Workout4WasteWarriors
4954m distance
0:28:33 time
5:43min/km speed
2 years ago
Lettaford loop #Workout4WasteWarriors
13.1km distance
4:22:46 time
15:25min/km speed
Rob Mackenzie is fundraising as part of
Workout4WasteWarriors
1st November 2021 - 30th November 2021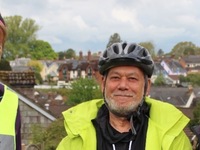 Powered by

2 0 0 . 2 km Total distance
More great ways you can raise funds