This page is closed and is not accepting further donations
Recent donations
7 months ago
Adrian Blower
Mark - Amazing challenge and a great charity, I know you will achieve your personal and fundraising goals
Your mad crazy but what an amazing thing to do! Gotta admire your dedication. Good luck x
7 months ago
The Ibbotson's
Good luck and good on you - you complete maniac xx
7 months ago
Ally Case @ Travel Counsellors
Well done Mark, totally inspirational
7 months ago
Steven Gready
With you every step of the way Buddy !! Sort of …..
7 months ago
Simon Cresdee
7 months ago
Mark Summers
7 months ago
Lou Broderick
Why not buy a nice sports car like a normal man in mid life crisis - May your poor body carry you through this epic stupidity and I look forward to hearing all about it .

Thames Ring 250 miles of non-stop torture!
Event dates: 26th April 2023 – 29th April 2023
Mark Hillier is raising money for The Stable Family Home Trust
My story
Hey and thanks for reading my page!
Those who know me know that over the last few years I've been on a quest to push myself to the absolute edge both physically and mentally by participating in a variety of Endurance based foot races both here in the UK and Europe.
And at the end of each year I think that will be it - I'm done. My body is beginning to fall apart and I'm finding that training for events is becoming harder and harder. But then I hear about a race that just seems impossible, it gets in my head and I stupidly enter it. As a result, 2023 will be my biggest year and, I genuinely hope it'll be my last before I really do my body permanent damage.
I'm entered in to two daft events this year, and thought that for the first I would try and raise some funds for a charitable trust that is close to my heart. So, with that in mind, on the 26th April I'll be one of the idiots participating in the Thames Ring 250, a non-stop 250 mile race that will take me on a ridiculously large loop starting in Streatley-on-Thames following an anti-clockwise loop east along the Thames, up the Grand Union Canal and back to the Thames via the Oxford canal and finally back to Streatley-on-Thames.
There are cut-off times every marathon distance as well as an overall cut-off, and when I need to get an hour or so's kip it'll be by the side of wherever I am at the point I figure I have to stop. Approximately 30% of those who start make it to the finish, so it seems like an event that should definitely tick the boxes of having to deal with physical and mental torture. For more info: https://www.challenge-running.co.uk/races/thames-ring-250/
The cause I'm running for is The Stable Family Home Trust (AKA The Stables) based in Bisterne, Hampshire (my wife Fiona works for them). They're not a well known charitable trust BUT they provide a wide range of services to people with learning disabilities and their families: providing residential living, supported living and a variety of day services.
In a nutshell, they do some truly brilliant stuff for the people they support and are well worthy of our support. For more info see: www.sfht.org.uk/
Thank you so much for visiting this page and for any funds donated – it really will make a difference. x
---
Thank you for checking out my page. Making a donation is fast, easy and secure thanks to Give as you Live Donate. They'll take your donation and pass it onto The Stable Family Home Trust.
My updates
7 months ago
With just a few days to go now until the start of this horror (10am Wednesday 26th) - I'm in full kit prep mode...pondering what item(s) I'll no doubt forget to bring.
Race organisers have now posted the tracking link as follows: https://live.opentracking.co.uk/250tr23/ + looks like there are links to FaceBook and Instagram so I assume organisers will be posting photos and updates along the way.
There's still time to sponsor me.! 😊 Fundraising page is here: https://giveasyoulive-emails.com/2EQZ-1FGF0-74SLZ8-WWEIQ-1/c.aspx
And as a reminder, I'm raising money for the Stable Family Home Trust based in Bisterne, Hampshire.
Thanks you to everybody for your generous support + don't forget to fire in a few messages of support / abuse whilst I'm out there!
Mark..x
9 months ago
Just in case anybody wants to see the route, it's now attached. Race starts and finishes near Goring (you'll see the green and red pin drops near Reading).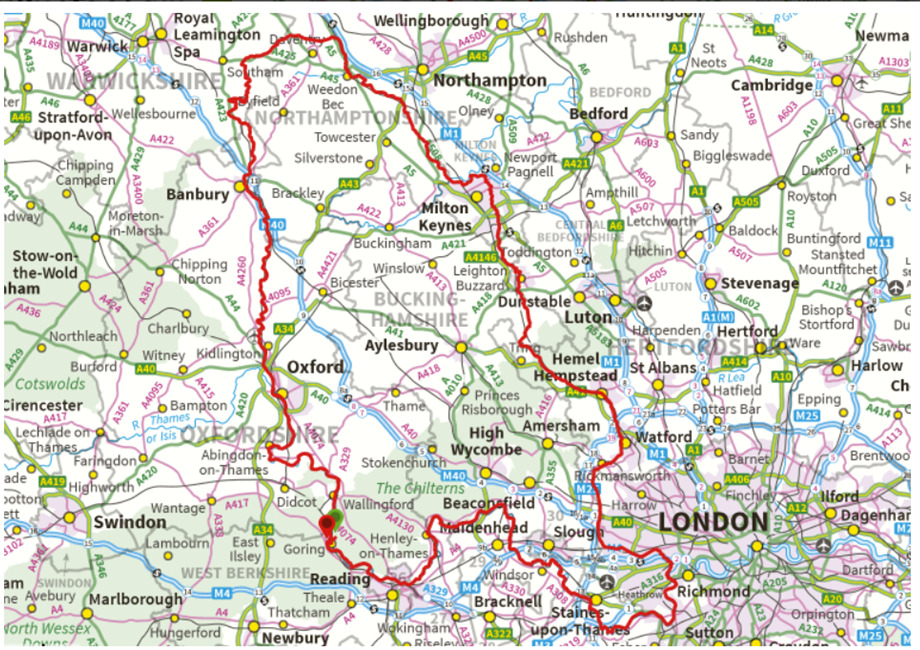 More great ways you can raise funds